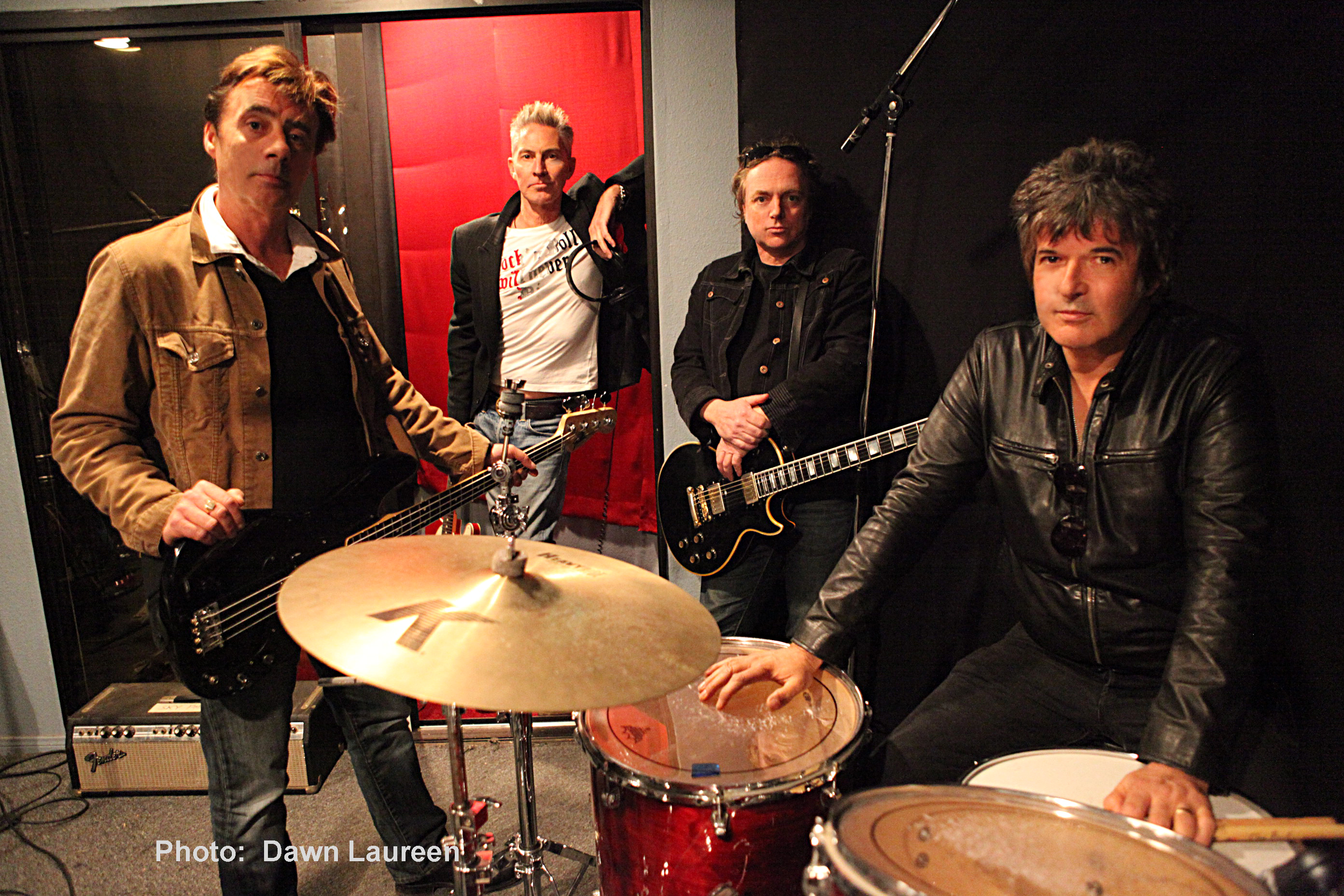 This Friday, May 17, all-star supergroup The International Swingers bring their rock and roll swagger to The Sunset Strip for an intimate show at the Viper Room. Comprised of legends Clem Burke (Blondie), Glen Matlock (The Sex Pistols), James Stevenson (Generation X, Gene Loves Jezebel) and Gary Twinn (Supernaut, Speedtwinn), the band draws on an enviable arsenal of material popularized by their legendary respective bands.
Before hitting the stage for the ultimate jam session, three of the four Swingers took the time to speak with TSS.com about their first experiences performing on The Sunset Strip, the "rules" of performing cover songs and how "nothing is sacred in rock n' roll…"
What was your first show on The Sunset Strip? What do you remember?
Clem Burke: My first show was in February 1977 at the Whisky with Blondie. It was a six day run, two shows a night with Tom Petty & The Heartbreakers as our opening act. Phil Specter came to a show and asked if he could produce us… In between shows the first night, I got a jaywalking ticket crossing Sunset going to the liquor store across the street. There was a record shop next door that had a huge mural of our first album hanging outside, and that was where I got my ticket!
Gary Twinn: My first show on The Strip was with Twenty Flight Rockers at the Whisky.
James Stevenson: Gene Loves Jezebel at The Roxy in October of 1985.
Are there rock and roll "rules" for performing cover songs? Are certain songs considered sacred and un-coverable?
Burke: That would depend on your motivation in the first place… I recall reading about Jimi Hendrix covering "Sgt. Pepper's Lonely Hearts Club Band" the day after it came out, with The Beatles in the audience! In general once a song is out there, it's fair game. Nothing is sacred in rock and roll, there is no such thing as no!
Twinn: Most of the covers we play are either written or recorded by one of us, like Glen with "Pretty Vacant." Above all, the four of us love to play rock and roll, so I don't think there's anything that's off the table, even if it's just for one gig… We've been writing a lot of new songs so I think the covers will be mostly replaced really soon.
As you've all been doing this rock n' roll thing for a while… Have you found that it's easier to get along with veterans who have been in the game a long time? Is there less bickering amongst a group like this compared to when you were in a young band?
Stevenson: No. I think there's more bickering as you get older…
Twinn: The International Swingers was formed by a bunch of friends so we could go on holiday to Australia and play some shows. We really did used to hang out and socialize at parties or each other's houses before that. There were no plans to take it any further but I think it became evident once we started playing shows that there was a good chemistry between the four of us and that's not something you can take for granted. It's practically a sin not to pursue something that works so well.
Burke: Most people when they're young and in a band have a sort of gunslinger attitude, especially guitarists out to make a name for themselves. We're a band of friends that enjoy playing together and have nothing to prove. We've been there, done that and still enjoy it. No one answered an advert to be in this band. It's about the thrill you still get from being on stage in front of an audience, the rush and excitement a band and music can create. It's magic !
Do you recall a singular moment in your career where you knew, "This is it! I've made it!"
Twinn: Yes, when my old band won a bunch of awards on Aussie TV; but then 10 minutes later I thought, "Oh fuck, it's all over!" And I was right both times.
Stevenson: Yes, when I joined Generation X in 1980. Unfortunately the band imploded six months later.
Who are The International Swingers of tomorrow?
Stevenson: I hope there's never another group like ourselves… one is enough!