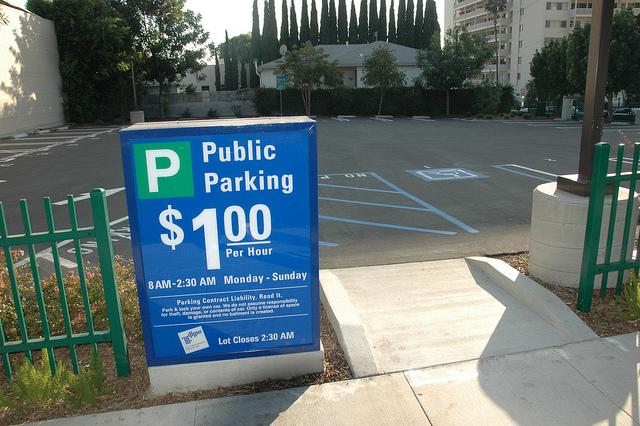 Sorry to bust some myths, but The Sunset Strip does boast more than a few affordable parking options. The City of West Hollywood launched the newest public parking lot on Dec. 22. Located at 9056 Sunset Boulevard, on the southeast corner of Sunset Boulevard and Doheny Drive, and is in close walking proximity to the Key Club, Talesai, Rainbow Bar & Grill and The Roxy Theatre. The lot is open daily from 8 a.m. – 2:30 a.m. with rates of $1 per hour.
The lot is in addition to the Queens Road and Sunset public lot (8459 Sunset) near the "east end" of The Sunset Strip that is open daily from 8 a.m. – 2 a.m. with rates of $1 per hour from 8 a.m. – 6 p.m. and $2 per hour 6 p.m. – 2 a.m. This lot does have a max two hours per visit, so although it may not be the choice for a full night out on the town, it is a perfect affordable parking option if you are looking to grab lunch, happy hour drinks, a quick show, or dinner at one of the nearby establishments.
The City also operates a public parking lot located near the middle of The Strip at 8756 Sunset (near Horn). This lot offers easy access to Red Rock, Mirabelle, Book Soup, The Viper Room, Pi On Sunset and Isla. Rates are $1 per hour from 8 a.m. – 5 p.m., $4 flat rate after 5 p.m. weekdays, and a $6 flat rate after 5 p.m. on Friday and Saturday (no time limit).
Lots located near the west end of The Sunset Strip at 9040 Sunset (near Doheny) and 9000 Sunset (near Hammond), offer flat rates of $5 after 5 p.m. on weekdays and $7 on weekends, giving you ample time to grab drinks, dinner and a show. These lots provide easy access to The Roxy Theatre, Rainbow, Talesai, Cat Club, Whisky A Go-Go, Duke's Coffee Shop, Key Club, B.O.M., Frankie & Johnnie's Pizza, Sunset Deli and Shamrock Tattoo.
For more information about parking on The Sunset Strip, visit the parking section of TheSunsetStrip.com.