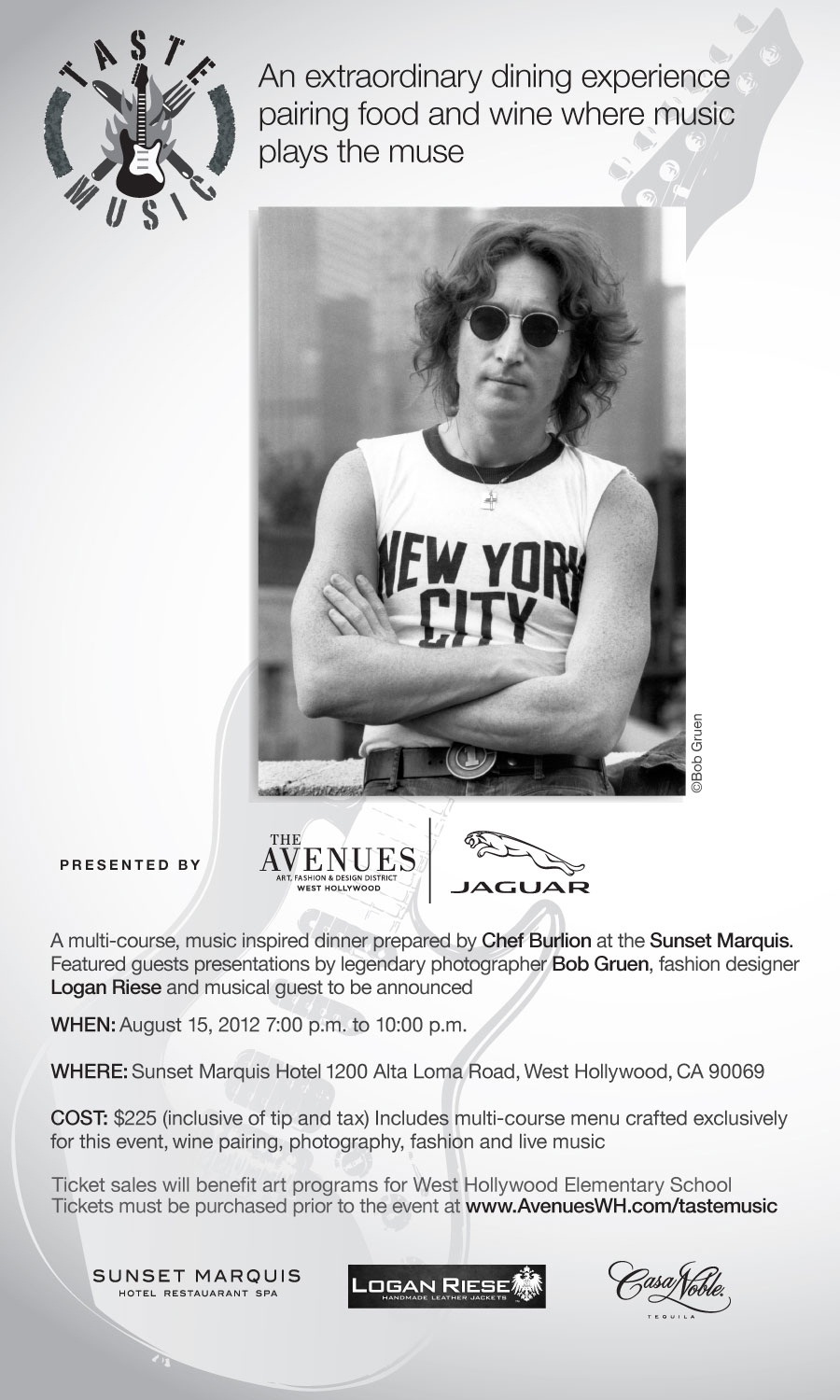 The Avenues: Art, Fashion and Design District of West Hollywood presents their signature fundraising event, Taste Music, an extraordinary dining experience where rock culture plays the muse, August 15, 2012 at the Sunset Marquis Hotel.
Taste Music will present a multi-course menu and wine pairing inspired by legendary photographer and featured guest Bob Gruen, fashion designer Logan Riese and to be announced musical guest. The evening is a backstage pass into music history with Gruen's forty-year legacy ranging from Muddy Waters to Madonna as well as his iconic image of John Lennon wearing a New York City t-shirt.
Carlos Santana's very own Casa Noble Tequila will serve as the evening's opening act. Guests will be treated to a multi-course menu crafted exclusively for the event by Chef Burlion of the Sunset Marquis. During each tasting, the chef, sommelier and artists will present personal contributions to the menu sharing insider philosophies and inspirations behind the evening's fashion, art, food and wine selections.
The benefit dinner, hosted by The Avenues: Art, Fashion and Design District, will raise funds for West Hollywood Elementary School's art programs, and marks the beginning of West Hollywood's fifth annual Sunset Strip Music Festival. The cost of this intimate evening including cocktail and wine pairing, live artwork and fashion presentation is $225 per person inclusive of tip and tax. Tickets must be purchased prior to the event at www.avenueswh.com/tastemusic.
Taste Music is part of The Avenues' Taste Art dining series. Taste Art traditionally pairs West Hollywood's premier art galleries and restaurants for culturally-enriching dinner experiences. Taste Art is a one-of-kind event that engages and immerses diners in an evening of art and haute cuisine.
For more information, please visit www.avenueswh.com.