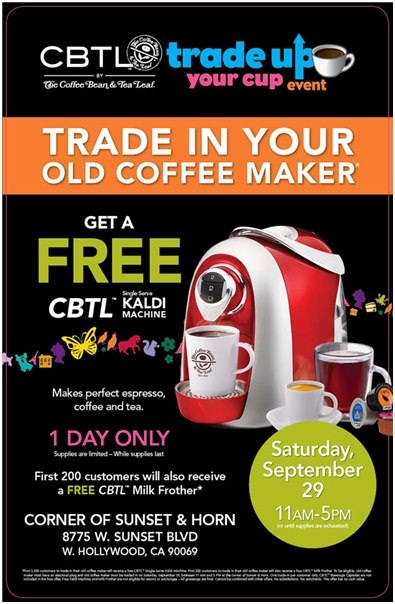 You may not be aware, but this Saturday, September 29 is a truly amazing holiday. One celebrating your favorite thing about the morning. It's "National Coffee Day"!
The Coffee Bean & Teal Leaf on The Sunset Strip is celebrating with a new "Trade Up Your Cup Event," which will allow you to exchange any new or used coffeemaker for a brand new CBTL Kaldi Machine (valued at $179.95, while supplies last).
Eligible coffee machines collected will be recycled by Athens Services to be properly recycled or redistributed to non-profits and schools throughout Los Angeles by LAShares.org, a non-profit material reuse program — so while you enjoy your new coffeemaker, you can also enjoy some satisfaction knowing that your gently used older coffeemaker is getting a new life as well.
The event starts at 11 a.m. and continues until 5 p.m. (or until supplies last) at the West Hollywood City Parking Lot located next to The Coffee Bean & Tea Leaf on The Sunset Strip (8755 Sunset Boulevard). Guests will also be able to sample 12 signature varities, including espresso, coffee and tea, for use with the new machine. The first 200 people in attendance will also receive a free CBTL Milk Frother (valued at $59.95).
So get out and get ready to celebrate National Coffee Day by treating yourself to a new machine while recyling and repurposing your old one!
For more information and details, please visit www.CBTL.com or www.facebook.com/CBTL.