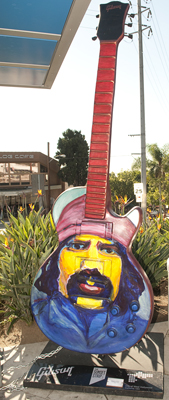 Cheech & Chong are returning to The Sunset Strip on Tuesday, Nov. 16 to sign a larger-than-life art guitar created to celebrate the internationally comedy duo. The painted guitar is one of 26 10-foot replicas placed along The Strip as part of the Gibson GuitarTown public art project. The signing will take place at 2 p.m. outside of The Roxy Theatre.
The guitar was designed by artist Margaret Garcia to celebrate the successful careers of the duo, both on stage and off, who got their start performing in West Hollywood's The Troubadour as well as The Roxy Theatre (which was featured in "Up In Smoke") and The Comedy Store. Each side of the guitar is dedicated to a portrait of Cheech Marin and Tommy Chong. The guitar also pays tribute to The Sunset Strip's role in developing comedy as well as music.
Cheech & Chong defined an era with their hilariously irreverent, satirical, counter-culture, no-holds-barred comedy routines. Cheech Marin and Tommy Chong's phenomenal success began on the stand up comedy circuit, which led to nine hit comedy albums and eight hit films, breaking box office records, shattering comedy album sales and mesmerizing fans. With nine albums released from 1972 through 1985, Cheech & Chong were nominated for four Grammy Awards, winning the Grammy Award for Best Comedy Album with their third album, Los Cochinos, released in 1973. Their stunningly successful comedy streak transitioned to film in 1978 with their first movie, "Up In Smoke," the highest grossing comedy of 1978, topping $100 million at the box office. Cheech & Chong co-wrote and starred in a total of eight feature films together.
This year the duo kicked off the "Cheech & Chong: Get It Legal" North American tour. The tour is in partnership with the Marijuana Policy Project (to promote policy change through laughter) and is the follow-up to their highly successful 2008 reunion tour, "Cheech & Chong: Light Up America." The tour continues in February 2011, with dates in Winnipeg, Canada (Feb. 4), Calgary, Canada (Feb. 6), Cleveland, OH (Feb. 12) and Sacramento, CA (Feb. 19).
Award- and grant-winning artist Margaret Garcia's work is currently in the collections of LACMA, the Laguna Art Museum and the personal collection of Cheech Marin. She also completed the public art installation for the Universal City Metro Station in Los Angeles. Her work is saturated with a wildly expressive palette. Flat compositional space is firmly rooted in the tradition of Mexican folk art.
"I define Chicano art by making it," she says. "My work is personal and also embraces the cultural common ground of my community and the history of Los Angeles."
GuitarTown Sunset Strip launched in August. Each guitar sculpture celebrates a musician, personality or artist unique to The Sunset Strip's history and Gibson Guitar. The project unites The Sunset Strip's art, music and business communities and will later raise funds for numerous charitable organizations. GuitarTown Sunset Strip is supported by the City of West Hollywood and the West Hollywood Marketing & Visitors Bureau. www.gibson.com/sunset-strip