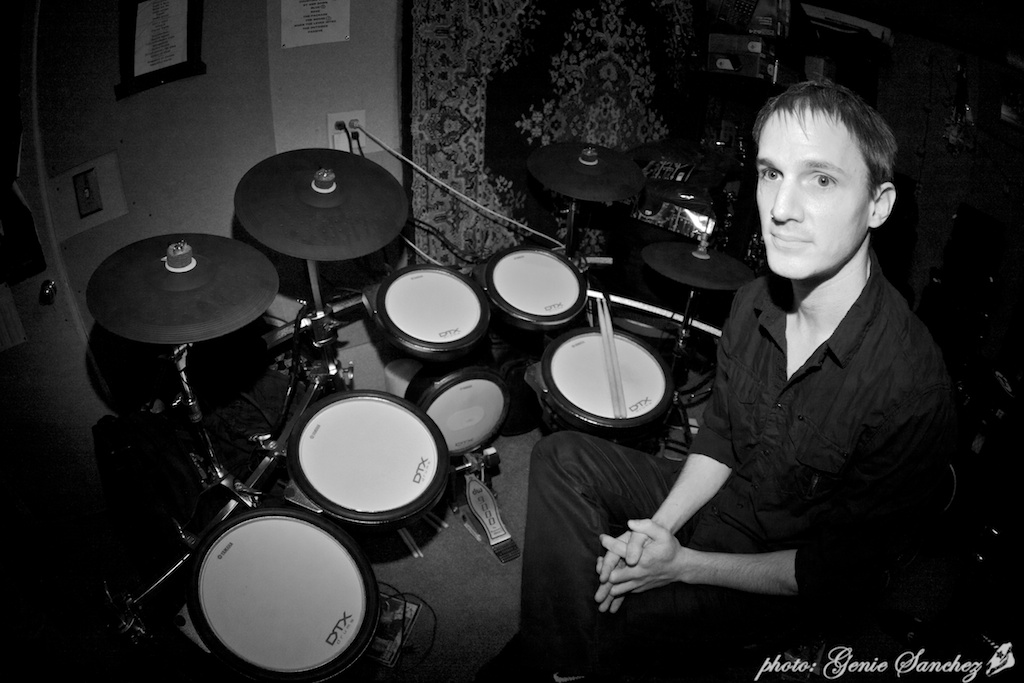 Already comprising the rhythm sections of the family tree of bands made up of A Perfect Circle, Ashes Divide, Puscifer and Carina Round, drummer Jeff Friedl and bassist Matt McJunkins are gearing up to unleash their own passion project, The Beta Machine, this year.
Featured on the recently released track "By And Down" – A Perfect Circle's first new single in nine years – Friedl and McJunkins have really made their mark in the music community and aren't stopping there, as they push the boundaries of their talents and time, attempting to launch their own musical endeavor, as well as juggling the demands of so many other successful projects. A good problem to have for two guys who seven years ago were gigging out with everyone and anyone, just trying to eke out a living in the L.A. music scene.
TSS.com recently sat down with the duo — and a few felines — at Fridel's house to discuss their new project and what the future holds in 2014
Tell us a little bit about how you both got your start.
Friedl: I moved out here to L.A. in 2004… I was playing with anybody and everybody that I possibly could just to pay the bills, and in 2007 I got word through the grapevine that Ashes Divide was having auditions. [A Perfect Circle and Ashes Divide founder Billy Howerdel] had completed the record and was looking for a band… I went though that whole process for like a year and eventually that's how Matt and I kinda got linked up. It was just totally random that we got paired together for the Ashes audition…
McJunkins: I went to [Musician's Institute] here in Hollywood and before Ashes I was just doing a lot of session stuff. I was playing with this band called Ages prior to Ashes Divide… I knew that I wanted to be involved with Ashes as soon as I heard the music; as soon as I knew that he was looking for people. And I just sort of had this feeling that this needs to happen! I was already a fan of APC and I just knew in my mind that this was where I was supposed to be, what I wanted to be doing stylistically.
APC just released the "By And Down" single, their first new track in nine years, which you both were a part of. How's that feel?
McJunkins: I'm really glad that's out. It's the first new studio track anyone's heard in a long time. Tracking and wiggling around the bass part, as well as the drums, and locking in a performance that compliments Billy and Maynard's song and makes sense was really something we're both proud to have been a part of…
Friedl: The process was a little different, too, with this one… The 'keeper version' of the song wasn't recorded until after our tour was over, and I think that's kind of the reverse of Billy's usual writing process with Maynard. The song was being played live and figured out on the road…
We were working on the song even before it was an A Perfect Circle song. We work on stuff with Billy often before he even knows what project it's necessarily going to be for; that's part of his writing process… So we just do what's right for the song and eventually when it shows its true colors it goes one way or the other.
So what is Puscifer? There's sort of different characters, costume changes, even the musical genre seems to shift from time to time. For people who are not familiar with the band, can you give us a dummy's guide?
McJunkins: Seeing it live is definitely the way to get the best idea. It's sort of like a mad circus show, at least that's how many reviews/critics have described it.
What is Puscifer..? That's sort of the age old question. That question is what really, actually, sums up what it is. At one moment it might be one thing, and by the time the next record or the next tour starts it might be something completely different. Just from the time we've started playing with them, there's been so many different incarnations, from country versions of songs, to remixes, to versions of the songs that only exist live… There's different costumes, different characters. It's actually a lot of fun because you sort of exercise all of your different musical skills. We never even really know what's going to happen from day to day. It really tests our boundaries…
Friedl: In fact the first day that Matt and I even met Maynard – the meeting was set up through Billy when Maynard was looking for a rhythm section for the band – I asked him, 'So, what is this?' And he said, 'I don't fuckin' know…but we're gonna figure it out. I want you to learn what's been recorded, throw it all away and then come up with your own versions of the songs.'
Basically he wanted us to remix original versions. I guess that's sort of the improvisational side of the band; that we never really know what we're going to be doing. Even at sound check the day of a show, we might completely change the vibe of a song… You never know what he's going to want to do. Really keeps us on our toes!
And your new project, The Beta Machine. What can we expect?
McJunkins: We both – I think coming from similar backgrounds, having been session guys, and playing a lot of different styles, growing up cutting our teeth doing Latin stuff, or punk shows, or metal shows, or jazz, or whatever – sort of started off just getting ideas down. We would record and keep anything we thought was interesting or sounded cool to us for any reason, until we found a common thread. The more we did it, the more we gravitated towards this certain sound, this certain thing that we have now.
Friedl: We're thinking that eventually we'll probably need roughly five people for the live incarnation, so we're still piecing that together right now… We've both taken meetings at [notorious celebrity sex tape/pornographic film company] Vivid Entertainment just in case this band doesn't work out [laughter].
With the large circle of bands you're both involved with, are there plans for a lot of collaborations on The Beta Machine project?
McJunkins: Doing some amount of collaborations in the future is definitely something we've discussed, if people are interested…
Friedl: We certainly want this project to have its own legs, be able to hold its own. We're not intending for things to be this sort of hip-hop style collaboration, where there's multiple guests on every single song, but our intention is to make sure that this is our own thing and that we're confident with our writing and our relationship as a rhythm section.
We've done remixes for other things, written a ton of stuff for other bands, some of which hasn't worked out and we've stored it back in our own little vault of jams. That's sort of how The Beta Machine got started, just endlessly writing and collaborating.
You've both played multiple shows, with multiple different bands on The Sunset Strip. I seem to remember an Ashes Divide residency at the Viper Room a couple years back. Any particular memories or moments that stick out in your minds?
Friedl: I think my favorite nights on The Strip I just can't remember [laughter]… Yeah, I mean that residency was really fun. It was four weeks of just really great shows, great turn outs, cool guests… Playing with Filter at The Roxy last year was really fun as well…
McJunkins: That residency in particular was really fun. It was one of the best times I've had because I'd never done the residency thing before. So just getting to know everyone that worked there and developing this rapport with everybody… It's kind of a rare thing. It became this little weekly occurrence; it was like poker night at the Viper Room.
Friedl: We just made some great friends, and there certainly was this really cool family vibe going on at the Viper Room, a really quaint, historical club… It was great to play there on a weekly basis and get to know everyone.
And finally coming up in May at The Greek, you guys will be playing this Cinquanta concert thing for Maynard's 50th birthday – back to back sets with both Puscifer and A Perfect Circle. So the question is, what does one actually buy Maynard, a man that probably has everything, for his birthday?
Friedl: Maybe one of those wine glass holders that's like a necklace? [laughter]
————-
Catch both Matt McJunkins and Jeff Friedl playing back to back sets with Puscifer and A Perfect Circle for Cinquanta: Maynard James Keenan's 50th Birthday Celebration May 10 and 11 at The Greek Theatre. And check out their performance of "The Prey" with Maynard James Keenan during night three of the Ashes Divide Viper residency. A Perfect Circle played their first show at the Viper Room in 1999.
www.thebetamachine.com www.facebook.com/thebetamachine