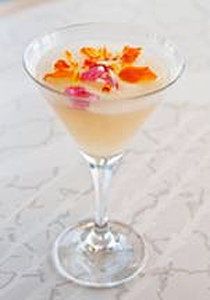 To celebrate LA Fashion Week, The London Bar is launching a haute cocktail menu that won't break your fashion-forward wallet. The London After Five "wild fashion week" menu will be offered weekdays from 5-7 p.m. and features a selection of cocktails and bar bites priced at $5.
Sit back and rest your fabulously heeled feet while enjoying a Wildflower Martini (Absolut wild tea, cranberry juice, orange liquer and fresh lime juice); a Wild Vintage Mojito (Absolut wild tea, muddled mint leaves, simple syrup and fresh lime juice topped with soda water); or a refreshing Wild Fashionista (Absolut wild tea, lemon juice, simple syrup over ice).
The bar bites menu features twists on traditional bar fare, with items that include curried vegetable samosas, braised oxtail slider with pickled cucumber and fish and chips.
And to ensure you don't break a sweat or wrinkle your clothes, The London also offers $5 valet parking.
LA Fashion Week kicks off on March 11. For a full calendar of events, visit FashionWeekLA.com.