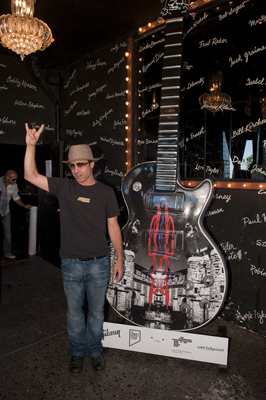 It's been two years since we honored rock legend Ozzy Osbourne at the Sunset Strip Music Festival, and we're happy to welcome him back to The Strip this Monday, Jan. 10, when he signs the custom, 10-foot-tall art guitar created in his honor as part of The Sunset Strip's GuitarTown.
The signing takes place at 2 p.m. outside of the House of Blues, where Ozzy performed this past June to a crowd of his biggest fans. Rumor has it that he may even bring one of his close friends to the signing.
Ozzy's guitar was designed by local photographer and artist Nic Adams, who has photographed bands from Rage Against The Machine and Beck to Run DMC and Iggy Pop throughout his career. The "Prince of Darkness" guitar uses photographic imagery and a modern design to celebrate Ozzy's iconic status.
In September 2009, Ozzy–who has sold more than 100 million records both with Black Sabbath and as an award-winning solo artist–was honored for his achievements and his impact to the legacy of The Sunset Strip at the Sunset Strip Music Festival. The multi-platinum, Grammy Award-winning, Rock and Roll Hall of Famer also performed a headlining set at the festival, where for the first time a significant portion of The Strip was closed to traffic for a multi-stage music event. Ozzy continues to entertain crowds, and on Feb. 1 he will launch the second leg of his U.S. tour with Slash featuring Myles Kennedy at the Gibson Amphitheatre in Los Angeles.
The guitar is part of GuitarTown, a public art project that features 26 10-foot tall fiberglass Gibson Les Paul model guitars strategically placed on the legendary Sunset Strip in West Hollywood. The oversized Gibson guitar sculptures were created by locally and nationally acclaimed visual artists and placed along the 1.6-mile Sunset Strip in front of the boulevard's landmarks and businesses, including the Whisky A Go-Go, The Roxy Theatre and Sunset Marquis. GuitarTown is supported by the City of West Hollywood and the West Hollywood Marketing & Visitors Bureau.
For more information about GuitarTown, please visit www.gibson.com/sunset-strip.
Photos: Ozzy Osbourne performs at the 2009 Sunset Strip Music Festival (photo courtesy Erik Voake); Artist Nic Adams with the "Prince of Darkness" guitar at the Aug. 12, 2010, unveiling (photo courtesy Andrew Herrold).