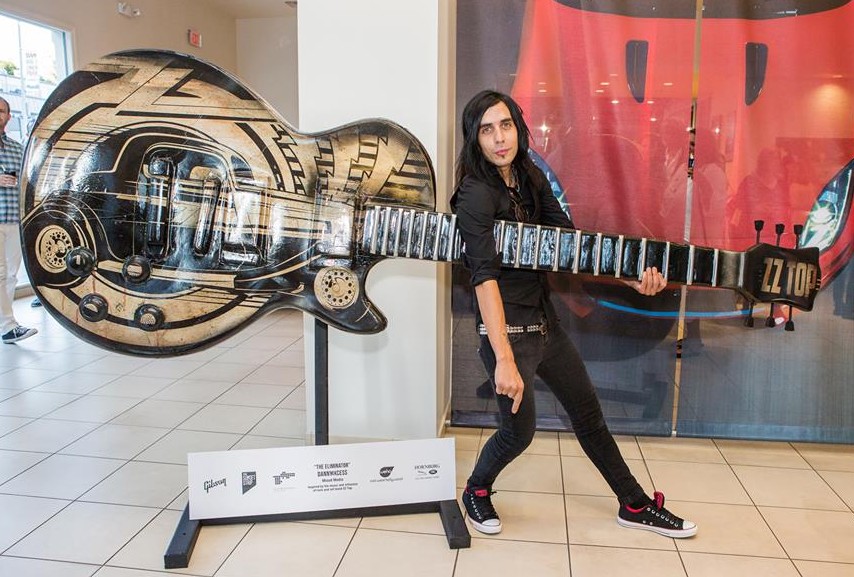 In 2010 the Sunset Strip Business Association (SSBA), the City of West Hollywood, Visit West Hollywood and Gibson Guitar launched GuitarTown – a public art installation featuring more than 25 ten-foot tall fiberglass guitars placed in front of the boulevard's landmark businesses (Whisky A Go-Go, The Roxy Theatre, Sunset Marquis, etc.) along the legendary 1.6-mile Sunset Strip. Each guitar is uniquely painted/decorated by a selected local artist to reflect the historic past of The Sunset Strip and the artists who are part of the Gibson Guitar family.
Now entering phase four of the project, GuitarTown is once again seeking talented visual artists to create the next round of embellished guitar sculptures. Play a part in creating a one-of-a-kind piece of art seen by thousands of people who visit or live near The Sunset Strip. Deadline for APPLICATION submission is Monday, July 7 by 5 p.m. (early submissions are encouraged). If chosen, your guitar will be featured at one of 20 prominent sites selected for this public art installation.
VISUAL ARTISTS RECOGNITION:
Each Artist selected for The GuitarTown Exhibit will receive the following:
$150.00 gift certificate for art supplies.
Credit and recognition for their guitar design throughout the GuitarTown Project, including name on plaque associated with artistic guitar.
Headshot, bio and photo of guitar featured in the GuitarTown catalog.
One commemorative GuitarTown catalog.
Two (2) VIP tickets for the seventh annual Sunset Strip Music Festival street fest scheduled for September 20 & 21.
The guitar artwork shall be featured on the Guitar Town website.
All selected artists participation will receive wide recognition and unparalleled exposure.
Past artists of note have included: tattoo artist Kat Von D, street artist Shepard Fairey and Mike Shinoda of Linkin Park.
————
To see the work from previously selected artists, please visit www.thesunsetstrip.com/guitartown
(pictured above: GuitarTown artist Danny Curnen with ZZ Top-inspired art guitar)