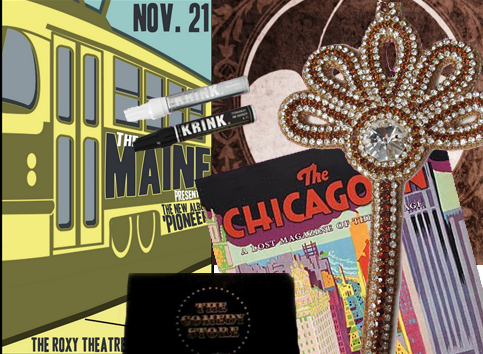 So, that plan to knit everyone on your holiday shopping list wool sweaters didn't work out as planned. Don't panic. We've got you covered with gift ideas that range from deals to splurges. And with these unique items and experiences being offered by Sunset Strip businesses, everyone on your list will still feel like you personally selected each gift especially for him or her. And as a double bonus, many items can be purchased online and shipped directly to you, so no need to deal with those $25+ checked bag fees.
ENTERTAIN ME
Councertgoers on your list will delight in special "passes" from the Key Club and Roxy Theatre that give the recipient unlimited access to shows. The Key Club's six month pass is valid Jan. 1 – June 30, 2012, and grants the recipient and one guest access to shows during these dates. So if you play your cards right, you may get to be that plus one from time to time ($125).
The Roxy's ClubRox 2012 grants access to Roxy shows and events throughout the year, plus access to On The Rox, front of the line access, drink discounts, exclusive information and first dibs on shows via email, and VIP/+ ones when available. The pass is good for all of 2012 and all you have to do is RSVP when you want to attend a show. ($200 per pass or $100 to "renew" 2011 ClubRox passes.)
Additionally, you can give the gift of laughter to someone you love with The Comedy Store's gift cards. The cards can be used like a Comedy Store credit card and are good for purchases towards drink, food, admission and merchandise. And if that's not enough, each purchase comes with two free passes, so you or your guest can visit the Store and use the card for the food and beverages. Cards are available in increments to fit any budget. ($20-$100. Please note The Comedy Store is ages 21 and older, only.)
1920S AFICIONADO
Is your sister swept up in the drama and style of "Boardwalk Empire"? Maybe your cousin only frequents speakeasy style bars with mustached mixologists? Satisfy their lust for the '20s with a host of Prohibition era items. Live! On Sunset has two items for the fashionista. For those looking for high style on a small budget, pick up vanilla scented lip balms created by Perfumeria Gal in Madrid. The balms are housed in a unique art nouveau style tin that celebrates the image and style of the time. ($7) For a splurge, select a glamorous flapper-style headband with floral detail and rhinestones. ($72)
Those who may wish to take a more historic approach will enjoy "The Chicagoan: A Lost Magazine of the Jazz Age" available at Book Soup. The book features pages, articles and art from the magazine, which debuted in 1925 as a way to contradict the image of Chicago as being ridden with organized crime, political mayhem and industrial squalor and instead focused on the style, art and sophistication of the city during the jazz age. ($45-$65).
ARTSY
Your mom already spends too much time on Pinterest. Encourage her to unleash her inner graffiti artist with Craig "KR" Costello's set of Krink markers made exclusively for The Standard. Created by Costello, he used this home-brew of markers for his own influential graffiti writing in NYC during the early '90s. The special gift set includes five K-71 markers in colors cyan, yellow, magenta, black and silver – perfect for all of your Basquiat-inspired tags. ($48)
Give a piece of rock and art history with prints of custom flyers and posters from The Roxy Theatre. Created by artist and musician Danny Excess, the works are perfect for the fellow music and art lover on your list. And with limited quantities of each available, you can be sure your gift is one-of-a-kind. ($29.99 – $120)
REST AND RELAXATION
Looking to pamper someone on your list? OleHenriksen is offering a host of gift packages with options priced under and over $50. Their "three little wonders" mini gift set provides the recipient with a seven-day transformation that hydrates and protects the skin ($35). Or splurge and surprise someone with OleHenriksen's "taste of indulgence" spa and massage package. The two hour session includes sea salt scrub, 50-minute Swedish massage and 50-minute customized facial ($270).
Also, if you know someone who lost their job this year and could use a little extra rest and relaxation, make sure they enter OleHenriksen's contest to win one of 100 complimentary spa services. To be eligible, send your story (500 words or less) about how losing your employment has affected your life, the changes you had to make and how a OleHenriksen Face/Body Spa service could brighten your day. Submissions must be received by Saturday, Dec. 24 at 6:00 p.m. via email to OHSpaDay@olehenriksen.com. Randomly selected winners will be announced Jan. 6, 2012 via email and/or telephone. Please include your first and last name, date of birth, address, phone number, email and service preference with your submission.
PAPARAZZI SHIELD
Whether it's the sunlight or the constant flash from cameras, Los Angeles can be a brutal city for sensitive eyes. Add some style – while also saying, "Hey, I care about your eyes" – with fashionable offerings from Sunset Strip optical retailer Oliver Peoples. For the Kanye West adoring guy on your list, the retro-inspired Callan frame is the perfect blend of trendy meets iconic style. Perfect for your private jet. ($325)
And for the fashionable lady who may need a place to store her shades, check out the Vivienne Westwood Red Label frilly snake heart bag available at Code C. It's also the perfect size for deflecting those menacing camera flashes. ($119.40)
For a full list of retailers on The Sunset Strip, check out the Shopping section of TheSunsetStrip.com.
–C Kemp