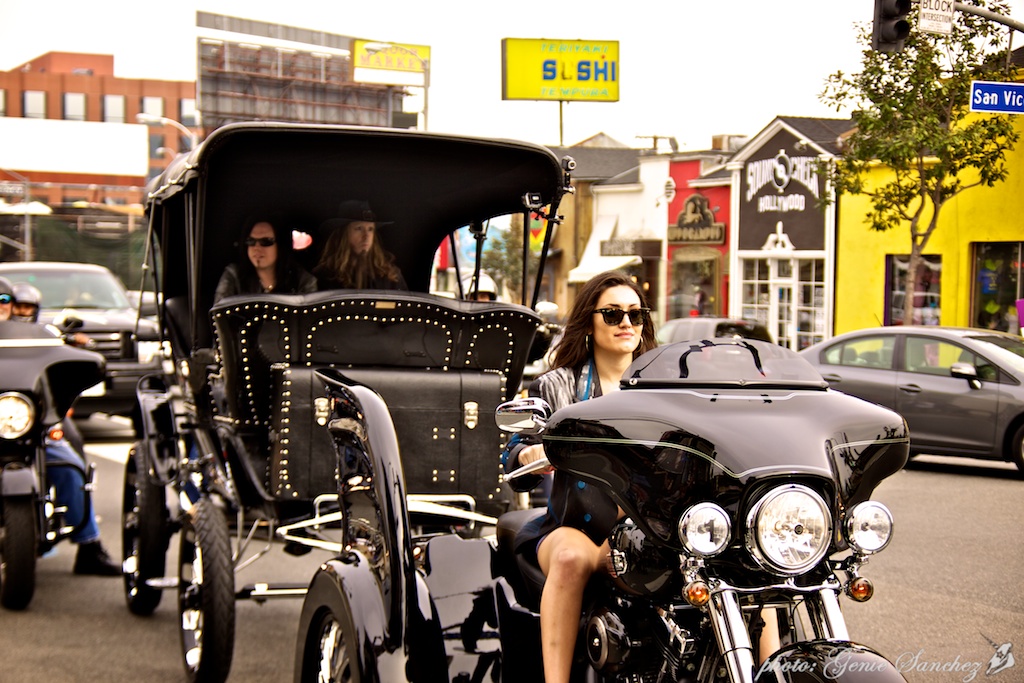 Now in its sixth year, the Mayhem Festival announced this year's lineup in a party-slash-press conference with bikers and metal heads parading down The Sunset Strip. Orange County Hells Angels member, actor, musician and bike builder Rusty Coones, and his biker brethren escorted members of bands performing on this year's tour down Sunset Boulevard to the Whisky A Go-Go on Monday afternoon.
A limited number of fans of all ages were invited to this event and spent their afternoon lined up around the corner eagerly awaiting news of the tour's featured bands, as well as performances inside by Huntress and the undeniable crowd favorite and Sunset Strip friends, Butcher Babies. The event also provided time for a Q&A session with Rob Zombie and Five Finger Death Punch. For a full list of artists performing and additional details, visit
MayhemFest.com
.
Tickets for the festival can be purchased on site at
SoundCheck Hollywood
record store, located on The Sunset Strip (8875 W. Sunset Blvd.).
Photo Gallery:
1-4: Bands and bikers parade down The Sunset Strip
5: Fans pose with members of Butcher Babies
6: Ivan from Five Finger Death Punch thanks members of Hells Angels
7: Rob Zombie arrives at the Whisky
8: Fans line up
9-10: Q&A with Rob Zombie and Five Finger Death Punch
11: Huntress performs
12-13: Butcher Babies perform
–Genie Sanchez