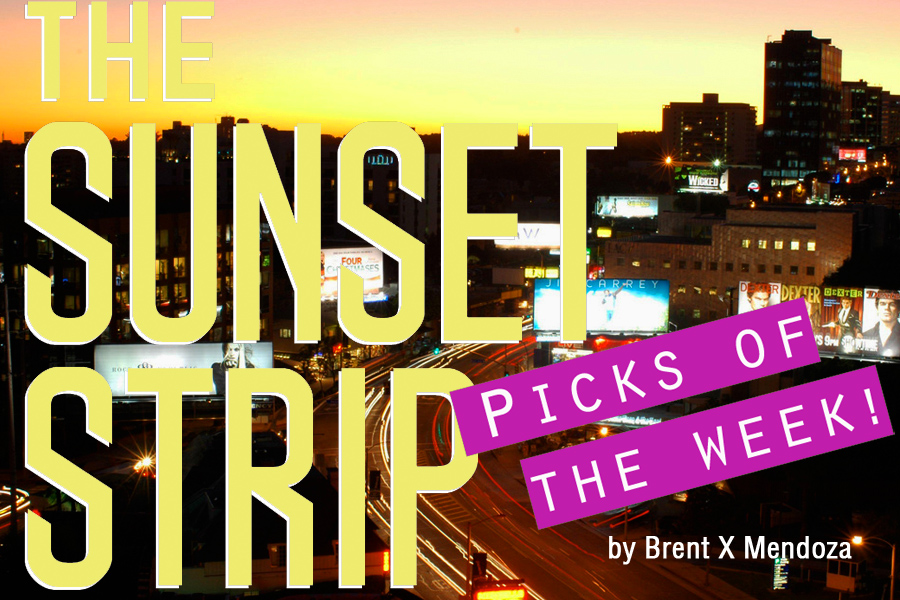 Start your week with a seasonal, fresh cocktail from Zahra Bates at Eveleigh's Guest Bartender Series. This Monday night event showcases a top mixologist in the restaurant's back bar. Bates, who has experience at Chateau Marmont and Michelin two star restaurant Providence, will be serving up cocktails from 7-11 p.m. Monday nights are also "Industry Nights" and feature select cocktails and bar bites priced $3-$8. www.theeveleigh.com
Get some "Good Vibrations" on Tuesday, March 20 when Rock and Roll Hall of Famer and founding member of The Beach Boys Al Jardine drops in at The Roxy Theatre. The legendary musician will deliver classic hits, and a new assortment of Southern California rock tunes with a little help from his friends. Tickets are $16.50. Also on Tuesday, head upstairs to On The Rox for an industry night presented by Meetable and Rock n' Roll magazine. The night is a celebration of musician Nik Kai, the youngest Gold Gods Award nominee, and features performances by Street Famous, Bad Suns, Luis Villegas, Steville Miller and Metal DJ Will. This event is free for music industry professionals and kicks off at 7 p.m. www.theroxyonsunset.com
Japan Night returns to the Viper Room on Wednesday, March 21! This annual event brings the hottest rock n' roll talents stateside to showcase the best in Japanese rock. Also gracing the bill, don't miss another special import performance by UK buzz band fiN, playing an early industry set for "those in the know." Doors open at 7:30 p.m. Tickets are $10.
www.viperroom.com
Sam Tripoli and his The Naughty Show return to The Comedy Store on Thursday, March 22 for yet another evening of adults only, hardcore laughs. This XXX variety show will feature the comic stylings of Bobby Lee (Harold & Kumar), Owen Benjamin ("The Tonight Show") and Michael Kosta ("Chelsea Lately"), as well as a burlesque performance by Elaine Laine Hoxie, pole dancing by Breezelle Fox, music by Clownvis and a special guest appearance by adult film star Andy San Dimas. What a mouthful! Doors open 9 p.m. and tickets are only $10. The Store is always ages 21 and older. www.thecomedystore.com
Friday, March 23 Wagatail presents drum and bass/electronica duo Conspirator at The Roxy Theatre. One of the many splinter groups formed by members of Philly's trance fusion pioneers Disco Biscuits, Conspirator will take the stage along with fellow e-tastic music makers Justin Paul and KJ Sawka. Doors open 8 p.m. Tickets are $15. (Don't forget your glow sticks!) www.theroxyonsunset.com
Super Sized Pick of the Week: Spend your entire Saturday, March 24 exploring The Sunset Strip…
Starting at 4 p.m. GNR legend Duff McKagan stops by Book Soup for a signing and discussion about his tell-all memoir, It's So Easy: And Other Lies. www.booksoup.com
From Book Soup, head West to the "James Lot" (the large vacant space adjacent to Hustler Hollywood) to learn a little local art history at the closing reception of the Artist Tower of Protest (you know, that large sculpture you've driven by the past two months and wondered about.) Meet the curator and artists, and enjoy live music and food trucks from 4-6 p.m.
Finally, cap your night off by heading across the street to the Whisky A Go-Go for Hey! Ho! Lets Go! A Tribute To The Ramones. Contact the Whisky for times and ticket info.
www.whiskyagogo.com
After a week's worth of sinful delights on The Sunset Strip, spend your Sunday, March 25 repenting in true rock n' roll fashion at the House of Blues' divine institution known as Gospel Brunch. Delight in a traditional, family style Southern bounty while enjoying the spirit-lifting sounds of a full gospel choir. Doors open 11:45 a.m. Tickets are $19 children, $32.50 seniors, and $40.50 adults. www.hob.com
Stay informed of Sunset Strip news and events throughout the week by following on Twitter @TheSunsetStrip or Facebook.com/TheSunsetStrip.

–Brent X Mendoza, @brentXmendoza