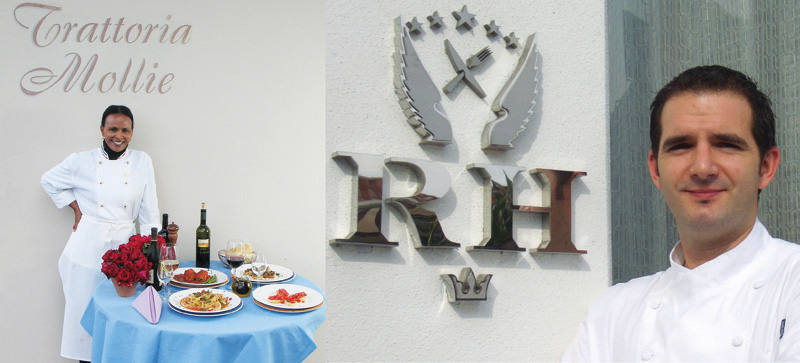 No, it's not a new reality TV show from Fox. "Chef Swap" is a unique dining experience that is sure to bring delight to the hearts and taste buds of Los Angeles food lovers.
Beginning this Thursday, Dec. 2 through Saturday, Chef Sebastien Archambault from RH restaurant will swap kitchens with Chef Mollie Ahlstrand from Trattoria Mollie in Santa Barbara. The chefs will create tasting menus showcasing dishes that have made their restaurants favorites among foodies and critics alike.
During Chef Ahlstrand's residency at RH, guests will be treated to Italian fare that helped distinguish Trattoria Mollie as one of National Geographic's "Ten Best Destination & Special Restaurants in the World." Menu highlights will include crostini ai funghi, ossobuco con verdura and panna cotta.
"When I travel in Europe, Asia or here in the U.S., I always enjoy experiencing the work of fellow food professionals," said Ahlstrand. "I look forward to Sebastien's visit to Trattoria Mollie to introduce him to my beloved Santa Barbara customers so they may enjoy a new food experience. I hope to meet new and visit with old friends from the beautiful Los Angeles communities."
Chef Archambault's turn in the kitchen at Trattoria Mollie will expose Santa Barbara diners to his specialties, including a terrine of Hudson Valley foie gras, homemade duck confit with sautéed potatoes and green onions and warm plum pie with bourbon vanilla ice cream.
"Chef Mollie and I share a similar approach to cooking because we both emphasize fresh, locally-sourced ingredients," said Archambault. "Cooking food in the kitchen of a chef you respect is not only exciting for both of us, but the result is great food from a different destination."
The Chef Swap dinner at RH and Trattoria Mollie is $65 (non-inclusive) per person. For reservations at RH, please call 323-785-6090.