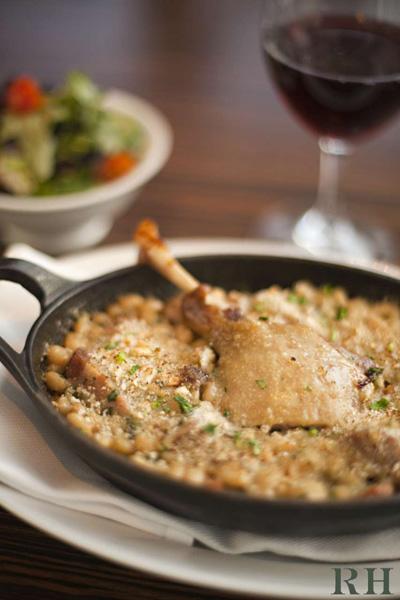 RH Restaurant at Andaz West Hollywood has launched its seasonal spring menu. Keeping with its market-to-table concept, the restaurant's new executive chef, Pierre Gornes, has created a menu that features seasonal vegetables and meats and showcases Southwest French cuisine.
"As I've learned from many great chefs, delicious food starts with good produce and ends with good execution and respect for what you are cooking," says Gornes.
The seasonal dishes confirm this statement, as Gornes illustrates his culinary care and respect for fresh produce and meat with items that include perigord spring green pea and mint soup; whole roasted Boothbay Harbor lobster in cocotte with glazed baby rainbow carrots, pearl onions, heirloom potatoes and shallots; and Gornes' favorite dish, dry aged grass fed New York steak with hand cut tripled fried french fries.
"I'm sure people think 'steak frites…I can get that anywhere in L.A.,' but that's not been my experience," says Gornes. "It's certainly a French staple but the steak frites I enjoy most, the kind I grew up eating and cooking in France, haunts my mind and palate. I'm excited to add this dish to the menu and am hoping that it will bring the kind of joy to RH guests as it does to me."
RH's updated lunch menu keeps the focus simple with some amazing salads and sandwiches. A new additon to the menu includes roasted Holt Farm beets with romaine hearts, sliced radish and sherry vinaigrette. Gornes is also paying homage to the time he spent cooking in Paris by adding the jambon beurre to the menu. A sandwich that's eaten regularly for lunch, jambon beurre, which translates directly to ham and butter consists of a baguette, butter, ham or turkey with swiss cheese and butter lettuce.
Gornes served as sous chef at RH since 2009 and was named the executive chef in March. Like his predecessor Sebastien Archambault, Gornes was born in the Southwest of France and has worked in highly acclaimed kitchens including the Hotel Bel Air and two Michelin starred restaurants, Les Ambassadeurs at the Hotel de Crillion in Paris and the Alain Ducasse bistro Aux Lyonnais in Paris.
For the complete RH menu, visit www.RHwesthollywood.com. For more information and reservations, please call (323)-785-6090.