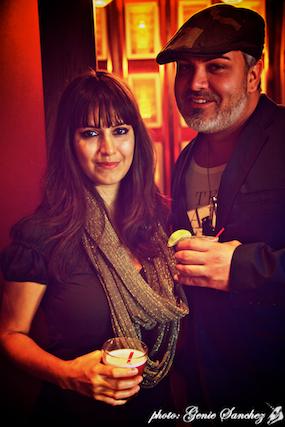 Best known as the stick-wielding hurricane behind L.A. greats Sabrosa Purr, Mahsa Zargaran has been quietly crafting her own beautifully dark and melodic tunes that are finally seeing the light of day under the pseudonym Omniflux.
The Iranian born musical prodigy wrote, recorded and produced all her own tracks – eerily dark and complex soundscapes reminiscent of bands like Bats For Lashes, Portishead and even composer Clint Mansell. An admirable accomplishment for any musician, but what's even more impressive is the fact that Zargaran had little to no exposure to any rock/pop music until moving to the States at age 15.
With the release of an online EP, and an artfully surreal new video, this "female force to be reckoned with" has been catching a rapidly growing buzz among L.A.-based tastemakers and bloggers with a sound that is truly innovative, unique and strikingly emotive.
Between marathon writing sessions, and her numerous other musical projects, Zargaran found time to take a quick break for a round of margaritas, apps and good conversation at The Sunset Strip's newest cornerstone of Latin cuisine, Rosa Mexicano. Here's what she had to say about Omniflux, women who really rock, playing piano and discovering American pop music.
Where does the name Omniflux come from? Why use a moniker for a solo project?
I wanted a name that represents ever growing and evolving and the constant motion towards that goal. So I came up with Omniflux.
I never write about myself. I write about characters, stories and pictures that come to me from a source that is much bigger than me… So it made sense to use a moniker, especially because my sound doesn't fit into the singer/songwriter genre.
Tell us about Omniflux.
It's something that has been in the works for a couple of years now… Kind of something I've been doing between Sabrosa Purr shows and other projects. I've just sort of been taking my time and writing a lot.
Last year, in March of 2010, I took the whole month and wrote a song every day, and came away with 31 songs. So the songs I'm releasing right now came out of that batch.
And then this year again, it was really strange because…one night I was writing, and I was so inspired, and while I was recording I looked up at my computer and realized it was March 1 again.
So I was just thinking, what is it about this date, this time of the year that makes me want to sit down and record? So again, I decided to do the same thing this past March and write a song every day, and I'm finishing those up now and will be releasing those in a few months.
And you wrote, recorded, produced everything yourself?
Yes, the only thing I didn't do was the final mix. I did a rough mix and sent it to my friend Greg Panciera in Chicago, and he tweaked things, made it sound a million times better. I don't know, I just don't have the patience for mixing. Sitting there and fine tuning kick drum for hours [laughs]. No thanks!
When you sit down to write, what's your sort of "go to" instrument of choice?
You know, I try to always do it differently because if I do it the same way three or four days in a row, they start sounding the same to me… If I'm changing it up constantly, it's always a new adventure. Sometimes I just start with a baseline, or a lot of times lately I start with drums and program everything.
I generally just get a beat in my head… Sometimes I just record a melody that I think of in the car and start from there with vocals. I never really think of what chord would go well after it. I never think of that stuff…
I've played classical piano since I was five and piano is definitely my first instrument. I'm really good at it, but what's funny is that I don't apply my piano skills at all. I mean I can play really complicated piano pieces – like classical stuff – but it's funny because most of my songs don't even have piano in them. If they do it's usually stuff a seven year old could play: really minimal, and I generally loop it.
When I first started writing there were a lot of really complicated piano parts, and the more and more I wrote, I realized it didn't really call for that, so why just throw it in? It's more about how everything compliments each other. I really like minimal art in general.
What's "Purple Castle" about?
Basically the way I write is very visual, and I don't ever think in terms of words… I think it's because I grew up in Iran, I was there until I was 15, and then moved to the U.S. and had to learn English when I got here.
I…didn't get to a poetic literary level in my first language, so I was at a fifteen-year-old level, not a lyricist [when I moved from Iran]. And here I had to learn English from zero. I think because of that, I never really thought in terms of words, because I was kind of caught between two languages. Everything is kind of a sequence of images, and that's what I end up writing about.
Were your parents musicians? Where do you think your "musicality" came from?
I don't know. We don't have any musicians or artists in the family. Everyone is very academic minded. I think it has a lot to do with my playing classical piano since I was so young. I started piano before I learned to read.
They wanted to put my brother into piano lessons. They thought, "He's 10. It's time he learns an instrument," and I just copied everything he did. I was the annoying younger sister, and I said, "I want to play piano, too." So they put me in lessons, and I loved it. My brother ended up quitting and I stuck with it… My mom said that after I had my first lesson, I came back and practiced obsessively, and then went back the next week with some songs that I wrote. So I guess I did have that early urge to create something. I remember not wanting to learn how someone else did something. I wanted to make my own way to do it.
So you're "that artist" who will sit in your room for 12 hours a day just obsessively writing songs?
Totally! My parents would put me to bed, and I'd wait until their lights were turned out and like a half hour later I would get up and turn my light back on and be up until four or five a.m. practicing… It's always been in my nature – total night owl – and now I'm up until 6 a.m. I pushed it [laughter].
And your bandmates in Sabrosa Purr are all supportive of your solo endeavor?
Yes! In fact they encourage me all the time. Like [guitarist/vocalist] Will [Love] himself, if he sees me slacking off he's like, "What are you doing? Why aren't you working on your music? Get off Facebook."
They're really supportive of my music, and they offer their help in any way they can. I know I'm really lucky. It's not always like that in bands, because people often think, "What's going to happen if her music takes off? What's going to happen to the band?," and maybe they do think that, but they don't voice it.
Growing up in Iran did you have much exposure to American pop music?
No clue. I didn't know some of the biggest bands in the world… I didn't know who The Beatles were until a few years after I moved to the U.S.! I knew some European bands. I knew Depeche Mode. I knew a lot of Swedish music like Abba, Roxette, Ace of Base, because it made its way into Iran. But the first time I was like "Whoa what is this?" was Depeche Mode, "Personal Jesus." I couldn't believe what I was hearing!
…I wasn't even thinking of writing music back then, I never thought of it as an option, I just thought everyone in the family is doctors and engineers and lawyers, that's probably what I'm going to do.
Then I decided I didn't want to do any of those things. For a while I decided I wanted to be an architect, so I pursued that. And funnily enough it was my dad who said, "What are you doing? Why are you doing architecture? You need to be doing music," which is pretty unheard of… I wasn't surprised, because he had been supportive of me all my life, but no one else could believe it. Especially for a Persian dad to say that, because in Iran you can't really make money off of your art. You can't really do that here either [laughter]. Only a small percentage of people can do that, but it's almost impossible [there] to live off of your art, so everyone goes the academic route. I just always thought about it as something cool that I can do as a hobby, but my dad always really believed in me and thought that I could do something different.
Being a female drummer, do you feel like there's still a stigma when people see you live? Do you get a lot of those sort of backhanded compliments like, "Wow you're really good for a girl"?
I do, I do, and I think it's weird… One thing I'm trying to change, is the stereotype that female musicians are not as good, and that they can't rock out. I think that's so sad. If people see a great guy drummer, no one would go up and say something, but for people to see a girl who's good, it surprises them. Why not? Why shouldn't we be as good?
And I get it, most parents aren't going to put their little girl in drum lessons. The girls do ballet or piano lessons and the boys do the harder stuff. So you have a lot of girls who grow up and are great piano players and are good at that kind of thing, so it makes sense that there's not as many girls that rock, but it's not because we aren't capable. It's because our society puts us in that box. So I'd like to change that.
I mean I was in that same box… I played piano all my life, and I didn't play drums until a year and a half ago, and I made a decision to change that because it's important to me: how people view women, how they categorize them.
I think that's my big goal in life outside of music, or anything else specific, is basically to represent women in a very positive and empowering light. Not in the cliché feminist way, but just powerful, smart… I feel like everything we watch and everything we're exposed to makes women look totally inferior and it's not the case, so I'd like to change that.
———–
Special thanks to Rosa Mexicano located at 8570 Sunset Boulevard.
http://rosamexicano.com

Photos courtesy of Genie Sanchez.
For more information about Omniflux, visit the website, Facebook page or Twitter.


–Brent X Mendoza, @brentXmendoza