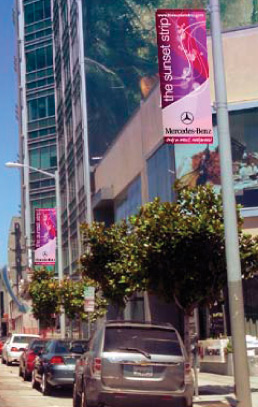 New for 2007, the Sunset Strip Business Association has launched a vertical banner sponsorship program that identifies the renowned Strip that runs through West Hollywood.
The new banners clearly mark The Sunset Strip for visitors and tourists while simultaneously providing sponsorship space to fund future marketing programs and enhance the existing goals of the Association.
Cruise down The Strip, and you will see the banners that were designed to unite the famous restaurants, hotels, music venues, bars and premier shopping locations in a classy, unique style that's fitting for such a legendary destination.
The Sunset Strip's Banner Sponsorship Program hosts 120 double-sided street pole banners from Doheny Road to Havenhurst Drive, opening 240 faces of incomparable opportunities for expanded visibility for sponsors.
To kick off this exciting program, Jack Daniel's has signed on as the first sponsor and will be part of the banner design for the next six months.
"Jack Daniel's is a great match for the Sunset Strip. Both are icons of nightlife, rock n' roll and entertainment," said Todd Steadman, Executive Director of the SSBA.
Last month, the SSBA Board of Directors adopted a revised Program of Work that will incorporate new revenue resulting from the Jack Daniel's partnership. The monies will go towards enhancing security and street maintenance, as well as a comprehensive marketing program that will include a branding and positioning study for the Strip, further development and promotion of the website, and a public relations effort.
"The new revenues will take the Association to the next level and will be reinvested in the Sunset Strip and the businesses," said Michael Spencer, President of the SSBA and General Manager of the Association.
For more on the Sunset Strip Banner Program, contact Todd Steadman at 310-659-7368 or steadman@thesunsetstrip.com.
ABOUT THE SUNSET STRIP BUSINESS ASSOCIATION (SSBA)
The SSBA is a nonprofit corporation run by Sunset Strip business owners in West Hollywood with approximately 200 members in the hotel, restaurant, retail, valet/parking and nightclub businesses. Created in 2002, its directive is to manage the Sunset Strip Business Improvement District under contract with the City of West Hollywood. The goal of the Association is to provide security, street maintenance, public outreach and marketing of "The Strip."