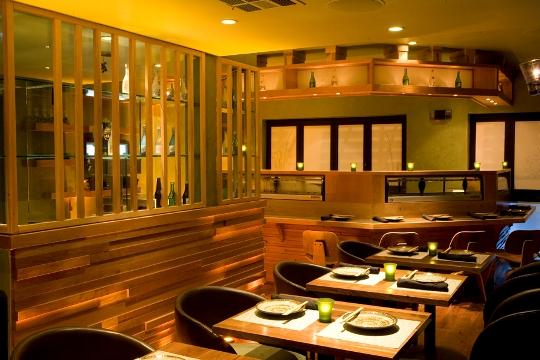 Sushi on Sunset has returned to the Sunset Strip with some new twists. The brainchild of restaurateurs Ardi Entezam, Michael Charles and Jonnie Forster, Sushi on Sunset East/West Fusion revitalizes the former stomping ground of Hollywood stars of yesteryear with a modernized dining experience, while maintaining its 'anything goes' attitude. The restaurant officially opened its doors on September 8.
Sushi on Sunset East/West Fusion joins the culinary expertise of two established chefs to create an innovative east-meets-west menu. Critically acclaimed Culinary Director Rodelio "Rod" Aglibot explores Pan-Asian cuisine and his prowess in the kitchen by elevating the dishes with fine-dining flair yet producing tastes that are familiar and comforting. Master Sushi Chef Tetsuro "Tetsu" Ahn of Kyoto offers his culinary expertise to the sushi bar.
"We have created dishes at Sushi on Sunset East/West Fusion that you may have never tried before but the end result is a taste that is familiar and comforting," noted Aglibot.
Dishes include lemongrass skewered salmon drizzled with plum sauce and red rice; pan roasted striped sea bass with Asian-style paella; and caramelized chicken and mango with rice noodles. An impressive list of hot and cold starters such as the crispy salmon mitzuna salad topped with tomato-miso vinaigrette and pickled onions; ahi tartare with avocado on "S.O.S." crispy rice; grilled Korean-style sesame short ribs with Asian slaw; and grilled Asian rubbed lamb in lettuce cups with cucumber aioli can be enjoyed as an appetizer or entrée, depending on your appetite.
Initially designed by Thomas Schoos, the design duo of Norm Schurman and James Meraz updated the spacing creating a warm, contemporary ambiance with hints of Japanese motif for the two-story sushi lounge space. The 99-seat interior is enhanced with clean lines and dark, hardwood floors. The upstairs houses the main dining room as well as and the 20-seat private dining area that is donned with an impressive wall of green jade and features an amazing view of the L.A. skyline.
Sushi on Sunset East West Fusion is located at 8264 W. Sunset Boulevard, West Hollywood, California. It's open for dinner Sunday through Wednesday 6 p.m. – midnight and Thursday through Saturday 6 p.m. – 1 a.m. For reservations, please call 323.656.8377.
Photo courtesy of Jessica Boone.