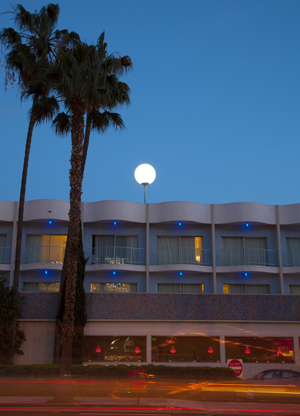 June is proving to be a very artistic month on The Sunset Strip with many great works to check out along the boulevard. Exhibits from international and locally acclaimed artists can be found in The Strip's hotels, galleries and on the street itself. And did we mention it is all free?
Prism gallery recently opened a new exhibit showcasing a selection of paintings by Andy Warhol. "Andy Warhol Black & White" features a series of silkscreened black-and-white works from the mid-80s. The pieces include representations of newspaper and magazine illustrations, advertisements, diagrams and maps, with the themes of consumer culture, death and religion intertwined. The exhibit is on display through June 24. For gallery hours, visit www.prismla.com.
Piero Golia's long awaited Luminous Sphere on top of The Standard hotel has arrived! The sculpture is visible to both pedestrian and vehicular traffic, and it lights up when Golia is in town (the artist travels between his homes in Italy and Los Angeles). In an interview with the Los Angeles Times, Golia noted that he hopes the piece "becomes part of [commuters] daily experience. Maybe drivers will think the light connects to the weather—that it turns on or off for sunny days. Though my friends will know that it's also a code for when I'm in town." www.standardhotels.com/hollywood
Andaz West Hollywood will open its new art series "Art Seen At The Andaz" on June 14. The exhibit showcases the avant garde spirit of the hotel and will feature works including Jacob Hashimoto's The Departure, a 12-foot high multi-layered tapestry engaging both The Sunset Strip and the RH lounge; Kirsten Everberg's striking painting White Birch Grove, East (After Tarkovsky) that adorns the major wall of the RH Restaurant; and Anne Collier's evocative depiction of a woman's eye that immediately attracts guests' attention in the hotel's lounge. Additionally, paintings, photographs and sculptures from Robert Walker, Benny Chan, Danny First, David McDonald, Daniel Wheeler and Macha Suzuki will also be on display. www.westhollywood.andaz.com
The City of West Hollywood has partnered with the Museum of Neon Art to present a citywide exhibit: "On Route—66 Lights." The public art display features vintage and contemporary neon on historic Route 66 (Santa Monica Boulevard) and The Sunset Strip. Four large-scale classic neon lights are on display in the City: three in the center median of Santa Monica Boulevard near Barney's Beanery, and one at Plummer Park. For more information, including a walking map with information on more than 50 neon signs throughout the City, visit Weho.org.
Photo: Piero Golia's Luminous Sphere