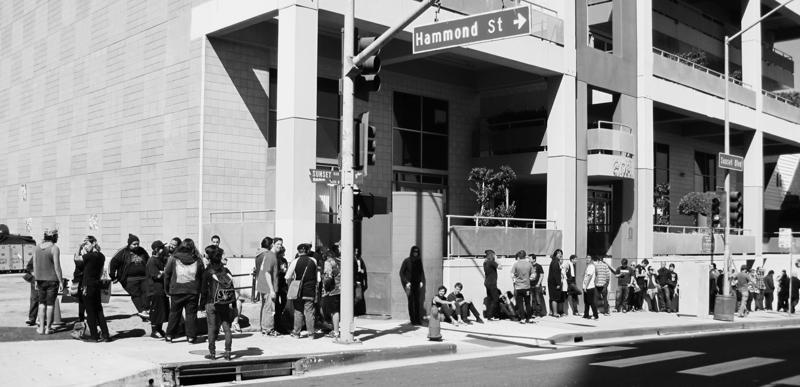 New York Restaurateur Adam Newton Overhauls Dukes on Sunset [The Feast]
Big Audio Dynamite @ The Roxy [LA Weekly]
Sheila Swift turns up all the knobs, rocks out on the Sunset Strip [Beatweek]
4.11.2011: Ceviche en El Standard de Hollywood [Standard Culture]
Updates on Duke's, Jim Morrison Lounge Under Construction [Eater LA]
G. Love & Special Sauce at House of Blues [Examiner]
Detroit-style Coney Island hot dogs go Hollywood [San Jose Mercury News]
L.A.'s New Power Restaurants (Il Sole) [Hollywood Reporter]
Mondrian outposts in LA and Miami [Wallpaper*]
Condé Nast Traveler Hot List Party Sizzled at Soho House in L.A. [International Business Times]
"Drew Barrymore and Fergie come out for the book launch party for The Beauty Detox Solution held at the London Hotel on Wednesday (April 13) in West Hollywood, Calif." [Just Jared]
"Jude Law enjoys a sunny afternoon on Tuesday (April 5) in Los Angeles. The 38-year-old British actor dropped by local pub The Village Idiot to watch a soccer game before heading to Book Soup with his two sons, Rafferty and Rudy." [Just Jared]
"Jerry O'Connell and Rebecca Romijn stopped by Everleigh restaurant in West Hollywood for the JustFabulous shoe event, hosted by celebrity stylist Jessica Paster." [People]
"Brandy celebrated her best friend Winter's birthday at Boa steakhouse in Beverly Hills Tuesday night…" [Entertainment Tonight]
"Dancing with the Stars pro Mark Ballas and recent American Idol castoff Pia Toscano stepped out together at Asia de Cuba inside West Hollywood's Mondrian Hotel." [People.com]
Top Tweets
FeaturingHunter: Spotted! Prius-driving hippie couple playing tambourine and triangle in time with their stereo on @TheSunsetStrip.
realjeffreyross: At the Roxy on the Sunset Strip rockin out to Mick Jones and Big Audio Dynamite live on stage. What year is this????
TheLondonWeHo: Last night on the rooftop: Fergie, Hilary & Drew – all here for the Beauty Detox Solution book celebration! http://bit.ly/dLhG8D
RHweho: Natl Grilled Cheese Day try prosciutto, fig, cheddar, mozzarella grlld wich, lunch only? 2night order for din! http://bit.ly/ntlgrlldchez
DuhKeeks: Looking forward to checking out the new #vegan options being offered @DukesWeho on @TheSunsetStrip. Let's see what Adam Newton is up to…
BookSoup: @JanetJackson @BookSoup soon! 3pm! Line & fans outside! Can we just say… Janet fans rock??? Big Janet love, all around today!
almightyduff: "@TheSunsetStrip: Hello, Friday! (via Andaz West Hollywood rooftop pool) fb.me/Zx25Gplw" I was a guest there for SSMF 2009. LOVED IT!!