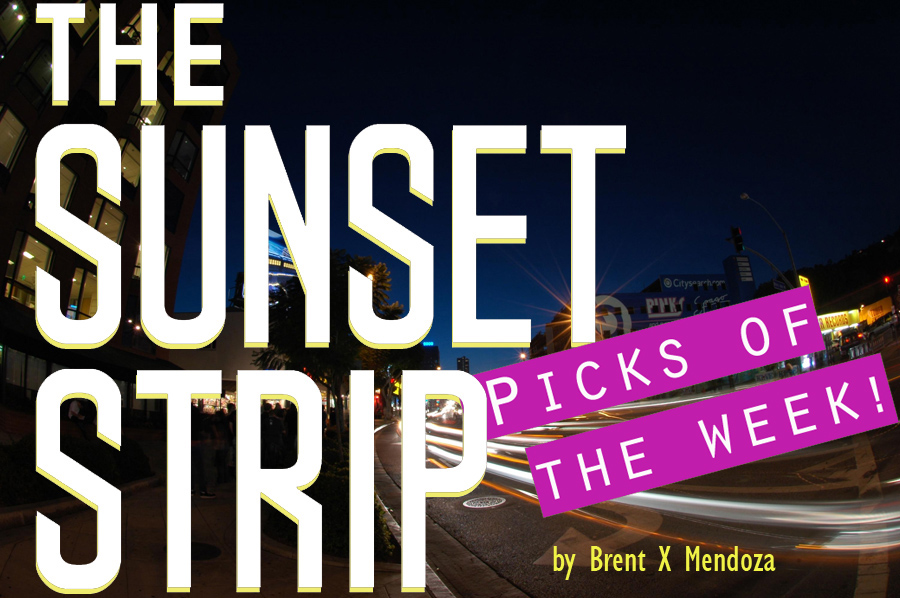 Photos of Warner Music and Bing 2011 Post-Grammy After Party (at Soho House) [Deadbolt]
Hayden Panettiere: Boa Steakhouse on Saturday [JustJared]
More New Banksy Street Art in LA – Charlie Brown (pt 1/2) [Melrose & Fairfax]
Learn how to make BLT Steak's modern take on traditional popovers, jazzed up with Gruyère cheese [Williams Sonoma]
1927 Spanish Above the Sunset Strip [LA Curbed]
"…Warner Music managed to lure some of music's biggest names to its Audi-sponsored party at the exclusive Soho House West Hollywood. Jay-Z and Beyonce dropped by and left on the early side, leaving Grammy performers such as Bruno Mars and Janelle Monae to enjoy the views from atop the posh rooftop members club, which overlooks the Sunset Strip. … Everyone from actress/singer Juliette Lewis to Cobra Starship vocalist Victoria Asher was mixing it up with Mars and Grammy winners the Black Keys at Warner's post-Grammy soiree. … The networking spilled over across Sunset Boulevard into early Monday morning for many musicians, as they made their way to hot club Trousdale, for Kings of Leon's intimate private party. Inside, everyone from Adam Lambert to multiple Grammy winners Lady Antebellum danced to Johnny Cash and The Cure." [CNN]
"Hip Hop royalty Jay-Z and Beyonce entertained a host of guests earlier today as part of high end fashion line Gucci's Pre Grammy brunch. Mr and Mrs. Carter weren't the only star power to fill the exclusive event at the Soho House West in Los Angeles. Other A-list celebs included Rihanna, Adrian Brody, Charlize Theron and Hov's Hollywood business partner Will Smith." [MTV.com]
"After Muse's Grammy win, Matthew Bellamy brought his girlfriend and mom-to-be Kate Hudson to Warner Music Group's post-Grammys party sponsered by Audi at Soho House in West Hollywood. Hudson toasted to her beau's success with water and had her olives without any martinis." [Parade]
"Kings of Leon Party at Trousdale (Sunday, Feb. 13)…The Grammys' best party was the one that had no guest list: just a secret password at the door and the promise of a good time for all by hosts Kings of Leon. Like last year, when they took over West Hollywood lounge Voyeur, the Followill boys did not disappoint on any level. Guests included the Black Keys, Bruno Mars, Juliette Lewis, Nick Swardson, Dierks Bentley and Miley Cyrus, who had her 18th birthday party at Trousdale and stayed until closing time. …Adam Lambert, having changed from his red carpet get-up to a more casual black T-shirt and fingerless gloves combination, held court with three male pals and sang along to rock classics like "Shook Me All Night Long" and "Do You Love Me." [Hollywood Reporter]
"After the 2011 Grammy Awards came to an end, recording artists Drake, Jamie Foxx, and Janelle Monae went out to dinner at Boa Steakhouse." [Celebrity Café]
"Mom-to-be Selma Blair, snuggling with Jason Bleick during an evening at Eveleigh in West Hollywood. …Justin Timberlake and Jessica Biel were having a date night at Soho House in L.A." [People]
"Back in L.A., model Alessandra Ambrosio did dinner at BOA Steakhouse with her husband…" [The Insider]
"Heading into 2010, the Dum Dum Girls, who will perform a free show Thursday at the Mondrian Hotel's Skybar, were often mentioned hand-in-hand with Best Coast as one of L.A.'s most promising talents." [Los Angeles Times]
Top Tweets:
@avoidingregret: Spotted last nite in #WeHo Sacha Baron Cohen @ The Eveleigh #sunsetstrip #celebritysighting #bruno #aliG #borat
@SamPageFitness: Just met Diane Warren at @CBTL on the #SunsetStrip. Loved the recent piece on her in Los Angeles Magazine.
@Jhigginbottom: Whisky A Go Go Tonight for Dave Lombardo's Birthday…. When did my life get this cool? lol. #whiskyagogo #sunsetstrip
@akkissmusic: @Rainbowlive Your pizza and my belly have a date tonight! @theVIPERroom and @TheSunsetStrip to follow
@DrLaughMore: Dave Chappelle has been dropping by @TheComedyStore & @danieltosh went to the @comedyjuice show Wed @ImprovComedyLA!!! #surprisedropins
@theroxy: Could it be the greatest Tattoo ever? http://roxy.la/yesitsreallywillferrell #ourfave
@jamiethedrake: Attention all you lovers of #thestrip, meet me in the MIDDLE @mollymalones MARCH 23rd. Me, with a band, rocking your sox off.