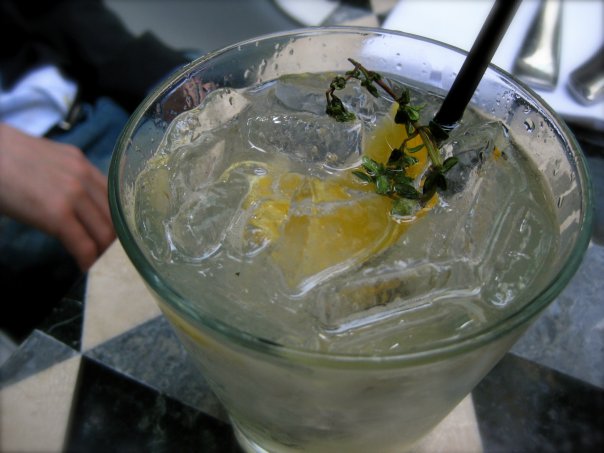 Brent Bolthouse Joins Il Sole Team, Resto Reopens Wednesday [Eater LA]
The Craft Beer Chronicles: Coney dogs come to town with beer in tow [Brand X]
Old Il Sole Is New Again [Daily Candy]
Brunching on Sunset: The tastes of Eveleigh's breakfast [Tasting Table]
Famous Sunset Blvd. Garden of Allah Model Up For Auction [Curbed LA]
"It's Oscars week, and Hollywood is suiting up. Last night at Eveleigh, a rustic-looking new restaurant on the Sunset Strip, those suits were by Brioni—the label joined Vanity Fair in sponsoring a cocktail party for Artists for Peace and Justice and outfitted the evening's host, Pierce Brosnan. The former 007 opted to linger coolly by the bar, leaving the Haiti charity's main mover, Paul Haggis, to do the heavy schmoozing. The Social Network's Armie Hammer, also in the crowd, will be attending the Academy Awards for the first time on Sunday. … The Fighter has much longer odds than The Social Network. "We are for sure the underdog," the film's director, David O. Russell, admitted at the dinner Interview magazine and Hugo Boss threw for him a few blocks down the Strip at the Mondrian. "But how can you lose? You got to be part of this thing." It's also hard to be much of a pessimist when the Moët is flowing and you've got Milla Jovovich and Paz de la Huerta tugging at you from both sides. [Style.com]
"…[Paul] Haggis, surrounded by celebrities at the Eveleigh in West Hollywood, including Moby, Jeremy Piven, Seth Green, Idris Elba and The Social Network's Armie Hammer…" [USA Today]
"The annual Hollywood Domino gala, hosted by founder Daya Fernandez and Bing, this year took over the Sunset Tower Hotel, welcoming a slew of young Hollywood things like Mila Kunis, Chris Evans, Kellan Lutz, Hayden Panettiere and Dave Annable with wife Odette Yustman. … After several rounds of Moet Chandon and mingling, "Family Guy" creator Seth MacFarlane performed jazz standards and plenty of Frank Sinatra tunes for the crowd, sipping Jack Daniels and crooning away in his tux. After his set, he seemed rapt in conversation with "Gossip Girl" actress Jessica Szohr, while the likes of Nicky Hilton, Ali Larter, model Chris Zylka, Cuba Gooding Jr., Jenna Elfman and host Maria Menounos mingled." [LA Times]
"…Penélope Cruz and Oscar-nominee hubby Javier Bardem still found time for a romantic dinner together at Gordon Ramsay at the London West Hollywood over the weekend. And the two couldn't keep their hands off each other! "They were kissing and feeding each other," an onlooker says." [People]
"If you're Frankie Muniz and Elycia Turnbow, you plan a date night to a Hollywood restaurant where paps frequently hang. Just last night, the couple was all smiles as they exited Boa Steakhouse in West Hollywood." [E! Online]
"Jeff Beck slouches on a couch in the cloistered enclave of Bar 1200, a fabled rock-star watering hole at the Sunset Marquis hotel.Glaring down from the wall behind him is Ozzy Osbourne, whose eyes pop menacingly from a massive black-and-white photo. 'Do I have to sit here?' Beck says with mock horror. Then he points to a seat across the room. 'That's my usual spot over there. I practically take root.'" [USA Today]
"Vanity Fair and Brioni honored Artists for Peace and Justice, along with the charity's founders, Paul Haggis and Pierce Brosnan, at WeHo's Eveleigh on Tuesday." [Variety]
Top Tweets:
@avoidingregret: Stripper pole, Twister, bikinigirls, and justin's face on my shorts @preciousweapons @ontheRox #glamour #sunsetstrip
@shellystarrr: http://twitpic.com/42dq30 #Peet's #Coffee & #Pastry #food #SunsetStrip #WeHo #LosAngeles
@Kellisilva: We love the Sunset Strip in LA!
@key_club: It's a beautiful day on @TheSunsetStrip… Come visit us 🙂
@JimDonnellyFoto: New Blog Post: Bobby Brown at the Key Club. Way better than you think… http://bit.ly/eFq3Gv
@theVIPERroom: FREE LUCINDA WILLIAMS TRACKS FOR OUR FANS ONLY. http://www.facebook.com/theVIPERroom for details. Serious. 4 songs not available anywhere.
@DenOfHollywood: We're open for brunch, bottomless mimosas and Oscar televiewing. We'll be watching the red-carpet arrivals and… http://fb.me/TE1PZfD5