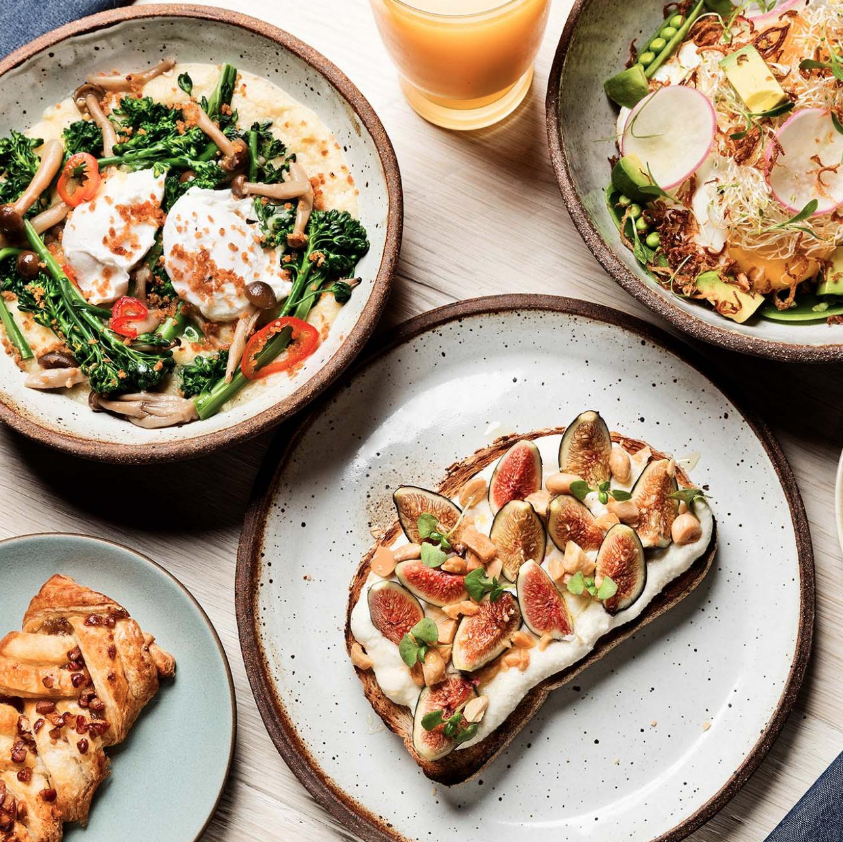 There may be no better place to enjoy brunch than the Sunset Strip. From the views to the vibes, not to mention the delicious dining and drink options- the choices are plentiful and the experiences that await are more pleasurable than you can imagine. Here, a dozen of the most delectable ways to start your days with great food and ambiance on The Strip.
The Den on Sunset
The Den is known for its raucous nights, but don't let that stop you from checking it out during the day. Highlights include the chicken and waffles and the brunch burger, which will satisfy any growling belly. And the bottomless mimosas spell all kinds of trouble. The Spicy Paloma, a mix of tequilas with an array of juices and a hint of spice will wake ya up after a night of party hijinks.
8226 Sunset Blvd.
323-656-0336
https://www.thedenonsunset.com/
The Eveleigh
The Eveleigh envelopes you in a way few brunch spots do. It's the type of restaurant that suspends your sense of place, making you think you've stepped into some far off land of farm to table. The open air setting is perfect for their array of eggs, cakes and breakfast sandwiches. The smoked trout is sublime, and there is plenty of vegan faire as well. A full bar helps you recover with the hair of the dog, and speaking of dogs, it's friendly towards them.
8752 Sunset Blvd.
424-239-1630
http://www.theeveleigh.com/
The Butcher, The Baker, The Cappuccino Maker
The Butcher, The Baker, The Cappuccino Maker has the kind of sun-drenched brunch patio where you can talk loudly about firing your agent or optioning your screenplay. Thusly, reservations are highly recommended. Favorites include ricotta pancakes and BBCM's croissant breakfast sandwich. Get the smoked salmon over the prosciutto and leave room for the amazing chia pudding. Helmed by chefs Ren Nisenbaum and Michelin-starred Craig Hopson, this whimsical spot is for those who take the sport of brunch seriously.
8653 Sunset Blvd.
310-360-6900
https://bbcmcafe.com/
Tesse
L.A. is after all a business town, and Tesse—which sits atop La Cienega at Sunset Plaza—means business when it comes to brunch. However, this shouldn't stop the casual civilian from making an entrance into the "Frenchish" establishment. An alliance of culinary rock stars, restaurateur Bill Chait, managing partner and wine director, Jordan Ogron, chef Raphael Francois and pastry chef Sally Camacho Mueller, the restaurant's design features clean lines that bely the complexity of the menu. Pair the limoncello pancakes with a chilled Bellini, or for something savory, try the smoked salmon eggs benedict, smothered with a wealthy amount of hollandaise.
8500 Sunset Blvd. Suite B
310-360-3866
https://www.tesserestaurant.com/
Ivory at The Mondrian Los Angeles
Wanna impress pals visiting from out of town? You could do a lot worse than the patio at Ivory, a real stunner in a city of stunners high atop the Mondrian. Chef Brian Malarkey's brunch menu is inventive when it comes to classics like Eggs Benedict and scrambles, working in smoked pork, crab cakes, lobster and soft French cheeses. The setting makes one want to lazily graze through several dishes for hours, and the bar, featuring various house infused elixirs, may keep you there longer than you plan.
8440 Sunset Blvd. West Hollywood, CA 90069.
323-650-8999
https://www.morganshotelgroup.com/mondrian/mondrian-los-angeles/eat-drink/ivory
Alice at 1 Hotel
Nestled inside 1 Hotel West Hollywood on Sunset, Alice restaurant is an adorable little eatery known for being Instagram worthy. Featuring a wide range of egg dishes and breakfast burritos, the cinnabuns in a cast iron skillet are to die for. There is something for everyone at this new American eatery. A roster of cocktails named after L.A.'s various farmer's markets fronts the full bar.
8490 Sunset Blvd.
424-281-1870
http://alicewesthollywood.com/
Croft Alley at the Standard, Hollywood
Long known within hipster circles near and far, Croft Alley at the Standard surpasses your standard (pun intended) hotel fare. Sit by the pool and order up the scrumptious salmon plate with all the necessary trimmings, the soft French scramble or the gruyere omelet. The full bar will keep you relaxed and happy while you lounge and engage in the sport of people watching.
8300 Sunset Blvd.
310-360-6800
https://www.standardhotels.com/la/features/croftalley
The Andaz
The former locale of the Riot House (the scene of much rock n' roll debauchery in times gone by) has been an elegant hotel for some time. The Andaz is also an elegant place for brunch dedicated to filling the bellies of locals and guests alike. Check out the breakfast table for fresh scrambled eggs and omelets, chef's daily batter, farmers market fruits, assorted pastries, and pretty much everything you could imagine. Try the Strata (a delicious but healthy scramble of peppers, mushrooms and sheep's feta) and then take stroll on the Strip to walk it off.
8401 Sunset Blvd.
323-356-1234
https://www.hyatt.com/en-US/hotel/california/andaz-west-hollywood/laxss/dining
Saddle Ranch Chop House
As you might imagine, The Saddle Ranch Chop House doesn't mess around when it comes to portion size. Should you be saddled with sufficient hunger, this might be the best place on the strip to get murdered with food. The Ranch Eggs Benny is a mountain of eggs, Canadian bacon and Hollandaise sauce that is calorie conscious, should you be attempting to consume as many as possible. The huevos rancheros and steak and eggs are also big fan favorites, as are their chicken cilantro omelets. The Texas Toast here is as good as you've ever had it, too. And yes, you can have breakfast for dinner as there's an all day Ranch Brunch menu.
8371 Sunset Blvd.
818-788-2239
http://www.thesaddleranch.com/
Le Petit Four
A favorite among those in the know, Le Petit Four is an elegant, vibrant French take on established American breakfast standards. Their heavenly french toast is made from their homemade brioche bread, while their quiche lorraine is a masterful take on fine cured pork and Swiss Cheese. The avocado tartine is an excellent choice for vegans. The ambiance here is magnifique, as the restaurant spills outwards onto sidewalk café seating that gives one a sense of being in bustling Paris.
8654 Sunset Blvd.
310-652-3863
http://www.lepetitfour.com/
Sunset Tower
Most certainly, brunch at the Sunset Tower is a memorable affair. Served along the terrace, all the classics are well represented with the most refined plating. But what sets the Tower apart is its inherent intimacy. You'd be hard pressed to find another Los Angeles location with this much history and gravitas. The radiant and airy terrace is designed for conversations, for elegant celebration, for romantic encounters, and quite simply, for discerning adults.
8358 Sunset Blvd.
323-654-7100
https://www.sunsettowerhotel.com/restaurants-and-bar/tower-bar