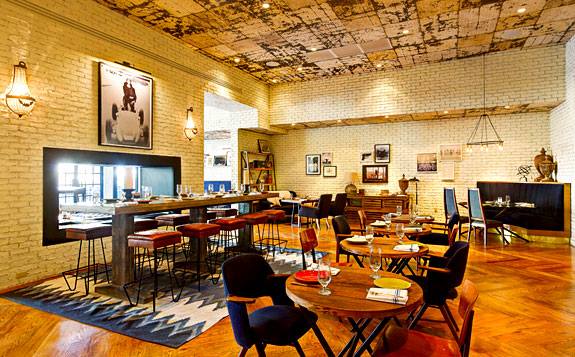 The Sunset Strip's newest dining establishment, The Church Key, opened earlier this month, bringing a host innovative and just plain fun menu items to the boulevard.
The restaurant features dim sum-style carts with "new American" treats, including pig ear "Cheetos," rabbit roulade and fresh parker house rolls with bacon jam. Some of the carts also feature a rolling cocktail bar. That's right: cocktails prepared table-side! Enjoy fun additions like dry ice frozen "odd-er pops" and house canned Negronis as well as classics like gin and housemade tonic.
The Church Key also offers a full non-mobile dinner menu with options including cannelini bean hummus, crispy pork belly, stuffed "Peking quail," Frog Hollow pear salad and banana split.
The restaurant is open for dinner Monday through Saturday, 5:30 p.m. – 2:00 a.m. It's the perfect place for festive gatherings and celebrations with friends! For more information, visit thechurchkeyla.com and www.facebook.com/ChurchkeyCA.
Photos courtesy of The Church Key