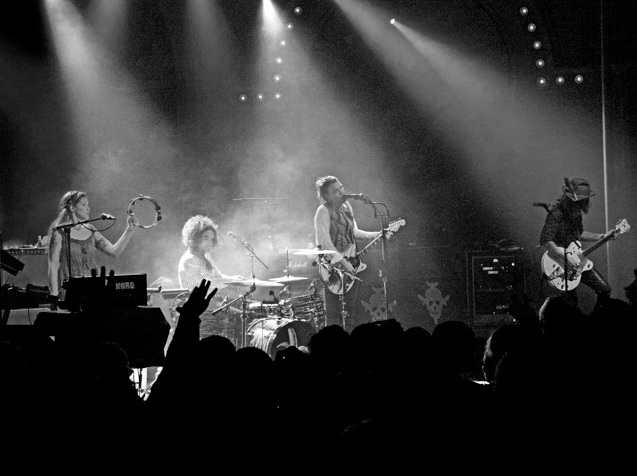 Celebrating 20 years and the recent release of their first ever live record, The Dandy Warhols are gearing up for what's looking to be an across the board, sold-out world tour – their first outing in more than a year.
With The Roxy Theatre slated as the third stop on this upcoming urban bohemian voyage, Dandy Warhols' frontman Courtney Taylor-Taylor took a moment out of his soon to be very busy schedule to speak with TSS.com about the new record, his enduring passion for the band's hits and gives props to possible "celebrity band name game" pioneers REO Speed Dealer.
The band is gearing up to release its first ever live record. What do you think listeners/fans will take away from this "live experience" that wasn't captured on the studio albums?
I'm guessing here, but I'd hope they will feel now that a lot of real sloppy-ass musicianship plus some real ratty-ass mixes can magically equal a dope-ass record. At least sometimes…
What's your favorite live album of all time?
Well, this one. Or KISS Alive!
Your mega hit "Bohemian Like You" has been used in so many TV shows, commercials, etc, etc… Has the song lost any meaning or impact for you over the years? How do you feel about bands that try to stray away from performing the song that made them famous?
I don't know of any bands with a hit who still think like that…but if there are, they probably also still throw temper tantrums and worry about what people think and all sorts of other goofy shit.
Not even one of our songs has lost any of its meaning or impact over the years for me. Even live. Well, unless our mix on stage is weak… Then they all lose it.
The Dandys were sort of pioneers in the celebrity band name, play on words thing. Any other up-and-coming likeminded named bands that you particularly enjoy?
Yes! There's this cool band called The Brian Jonestown…. Anyway yeah I see this kind of name all the time and I love 'em but I can't remember a one of them right now…
Speaking of, remember REO Speed Dealer? That was a good one! Maybe even came before us.
For the most part, the original band has stayed intact for the past 16-plus years. From your experience, what advice would you give newer artists about inner band relations and maintaining any sort of longevity as a cohesive unit in the music business?
You are tiny, insignificant, and deeply flawed. It's the music that can make you worthwhile, so humble yourselves to the job and things will go smoothly between all of you.
What does the rest of 2014 have in store for The Dandy Warhols? When can we expect some new material?
We've got a new single in the can and the next one should be done in a month or so. We've got all new help: managers, booking agents, etc., so we're gonna get out and see the world again. We haven't toured in almost a year and hopefully that's the last time we go that long.
———————–
Photo: Maxamillion Ray McDermott