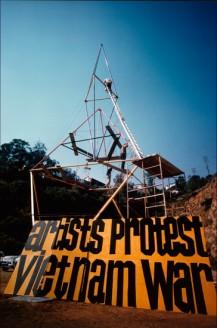 Are you ready to get your art on while also celebrating Los Angeles's history? Today marks the official launch of the Pacific Standard Time Public and Performance Art Festival presented by The Getty and LAXArt. The festival, which is part of the larger collaboration of Southern California galleries celebrating the birth of the L.A. art scene, specifically the years 1945-80, is an 11-day festival featuring special performances, ourdoor visual spectacles, art exhibits and events each day.
The Sunset Strip is part of the festival, hosting two amazing projects. "The Artists' Tower of Protest " will be constructed on an empty lot located at Sunset Boulevard and Hilldale Avenue. The original Tower was designed by sculptor Mark di Suvero and built on a lot located on the east side of The Sunset Strip in 1966 as a symbol of collective dissent against the Vietnam War. Di Suvero is involved with the reconstruction and design of the new Tower, which will focus o the current role of arts activism. As part of the piece, artists from around the world were invited to create panels expressing their own individual dissent. The tower is slated to open Jan. 21.
Just down the street, The Standard, Hollywood, is also getting involved with the festival by hosting a tongue-in-cheek art project in their parking lot. With parking spaces in L.A. being a prized possession, a group of artists will transform a selection of The Standard's parking spaces for the day, creating social sculpture that "invokes the anarchy and provocative essences of Los Angeles street culture." The "Art in the Parking Space" will be on display Tuesday, Jan. 24 from 7-9 p.m. at The Standard's upper parking deck.
In addition to the events and exhibits on The Sunset Strip, the city of West Hollywood is also hosting numerous events as part of their "PST…It All Started Here Campaign." The campaign celebrates the art, music and visionary thinkers who have made West Hollywood a cultural destination. Events include a Charles Bukowski poetry slam at Barney's Beanery on Feb. 16, political poster art exhibit the "Decade of Dissent: Democracy in Action 1965-1975" launching Feb. 4 at the West Hollywood Library, and the "Cruising the Archive: Queer Art and Culture in Los Angeles, 1945-1980" exhibit at ONE Gallery (626 N. Robertson), which exploring the relationship between artistic practices and LGBTQ histories through artworks, objects, and documents.
For more information about the PST Festival, including a map and daily list of events, please visit pacificstandardtimefestival.org.

Photos: (1 & 2) A scene from a previous "Art in the Parking Space" installation, Dance Here, Here Dance, 2011, by Anita Pace. Photo by Warren Neidich/courtesy of The Standard, Hollywood. (3) "The Artists' Tower of Protest," 1966, designed by Mark di Suvero. The Getty Research Institute, 2005.M.11. Photo by Charles Brittin.