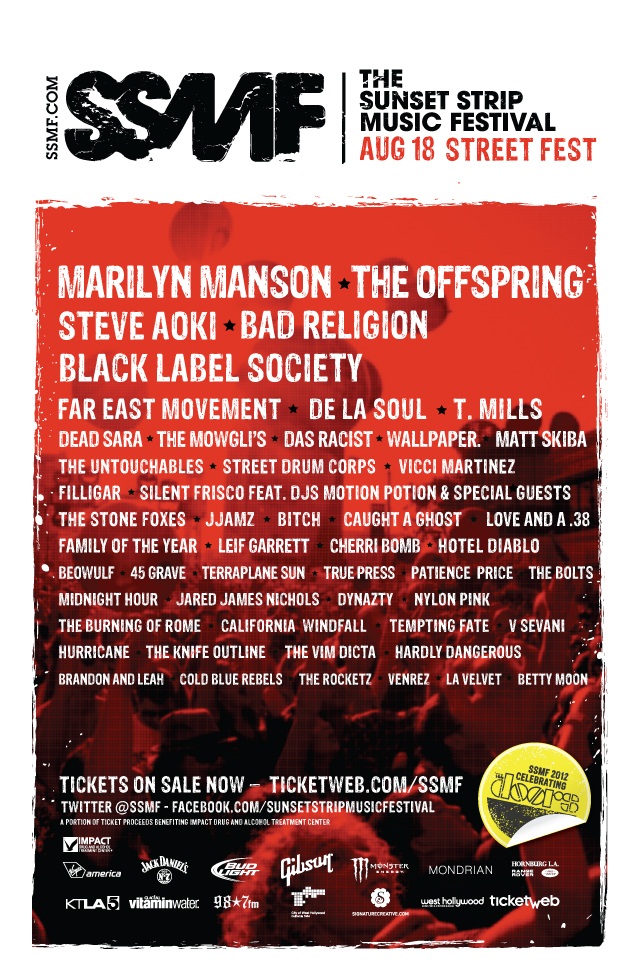 Are you ready to rock the 2012 Sunset Strip Music Festival?! In addition to August 18 street festival performances by Marilyn Manson, The Offspring, Steve Aoki, Bad Religion, Black Label Society, Far East Movement, De La Soul, T. Mills, Dead Sara and The Mowgli's on outdoor stages, the three-day festival has announced new additions to the venue lineups on August 16 and 17 as well as performances in the venues during the August 18 street fest. Without further hesitation….
Here's the full lineup for SSMF 2012!
THURSDAY, AUGUST 16

The Roxy Theatre
Peter Murphy
Ours

Viper Room
Future Villains
Lady Sinatra
The Black Marquee
Gunpowder Secrets
Diamonds Under Fire

Key Club
Quiet Riot

Whisky A Go-Go
Jack Russell's Great White
Faster Pussycat
Bulletboys
Pretty Boy Floyd
The Hard Way
Wizeguy Theory
Madysin Hatter
Everyday Feels Like Sunday
*Additionally, SSMF will celebrate the music and legacy of The Doors at an invitation-only event.
FRIDAY, AUGUST 17
House of Blues
Hank III + special guests

Key Club
RZA with full band

Viper Room (early show)
Unwritten Law
London Cries

Viper Room (late show)
Mickey Avalon
Little Miss Nasty

Whisky A Go-Go
James Ingram
Teddy Campbell Band
SATURDAY, AUGUST 18 – STREET FESTIVAL
Outdoor street festival stages
Marilyn Manson
The Offspring
Steve Aoki
Bad Religion
Black Label Society
Far East Movement
De La Soul
T. Mills
Dead Sara
The Mowgli's
The Roxy Theatre
Das Racist
Matt Skiba
Street Drum Corps
Burning Of Rome
Caught A Ghost
Filligar
Love And A .38
The Stone Foxes
The Knife Outline
Dim Mak after party with surprise performances
Whisky A Go-Go
Tempting Fate
The Untouchables
Hardly Dangerous
Dynazty
The Rocketz
Cold Blue Rebels
Leif Garrett
Hurricane
Hotel Diablo
Beowulf
Bitch
45 Grave
Key Club
V Sevani
Venrez
Suedehead
Moses Stone
Nylon Pink
California Windfall
Vicci Martinez
True Press
Patience Prince
Brandon and Leah
After party
98-7fm's "Close to Home" Roxy Lot Stage
JJamz
Family Of The Year
Terraplane Sun
Midnight Hour
The Vim Dicta
Jared James Nichols
Cherri Bomb
Silent Frisco
Saturday, August 18 AFTER STREET FEST (separate tickets required for entrance):
Viper Room (doors at 10 p.m.)
WAX
dumbfounded

House of Blues
Subhuman Tour (featuring Diesel Boy / Bare – dubstep DJ event)
Tickets are on sale now via TicketWeb.com/SSMF. Three-day VIP passes include access to all of the above events (pending capacity). August 18 street fest-only tickets are available as are individual venue tickets to the Aug. 16, 17 and select Aug. 18 shows (at Viper and House of Blues). A portion of the proceeds will benefit Impact Drug and Alcohol Treatment Center, which has been treating individuals struggling with the powerful force of addiction since 1969.
As in years past, Sunset Boulevard will be closed to traffic Saturday, August 18 between Doheny Drive and San Vicente Boulevard and transformed into a premier concert destination with two outdoor stages, beer gardens, an artist autograph tent, an outdoor VIP rooftop lounge, Silent Frisco's silent disco, VIP Lounge at On The Rox, food trucks and interactive experiences. The venues within the street festival closure–The Roxy Theatre, Whisky A Go-Go and Key Club–will also host full lineups from more than 50 bands throughout the day.
Stay informed of all SSMF news and announcements by following us on Twitter and Facebook! For more information, visit www.ssmf.com.