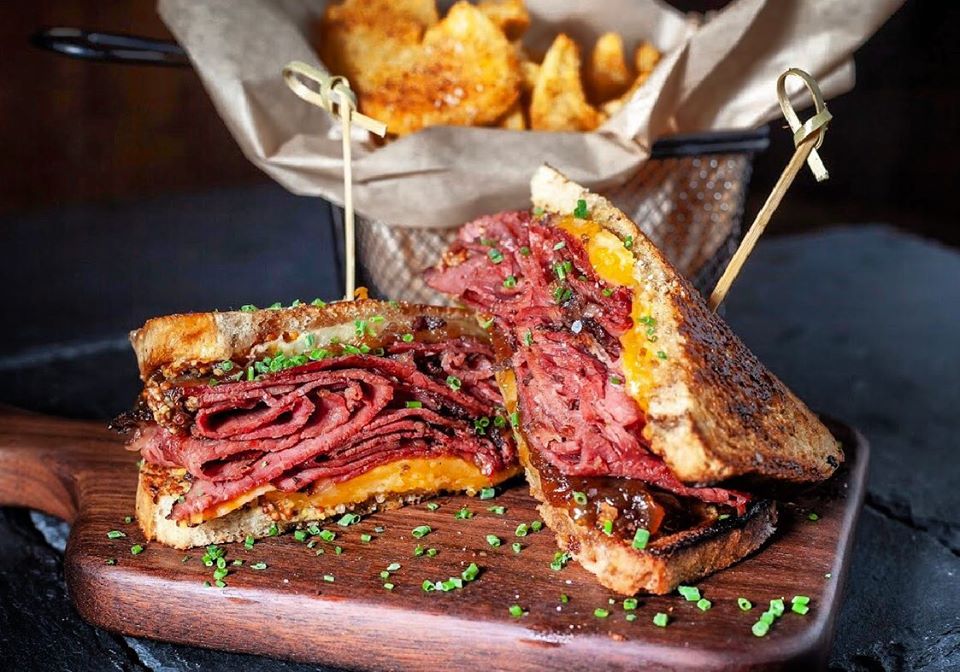 Lightning can strike more than once on the Sunset Strip, especially when it comes to successful restaurant, bar and club concepts.
Take for example, the lively Irish pub Rock & Reilly's. The popular drinking hole was bought by Justin Levine and partner Robbie Earl earlier this year and the changes have made the venue better than ever, with a more fun and more focused menu, and inviting decor updates.
But it wasn't the first time the venue had a raucous revamp. Before Reilly's became a beloved neighborhood pub and the go-to on the Strip for watching the big game, it was a music and mayhem-filled nightclub called The Cat Club owned by Slim Jim Phantom—drummer for rockabilly legends The Stray Cats. Going even further back, it was called London Fog in the 60s and was a favorite hang of Jim Morrison and the Doors, who served as house band before moving on to the bigger stage at the Whisky a Go Go next door.
Members of Guns N' Roses, Poison and Nine Inch Nails often played inside at the Cat Club in the 90s and early 2000s, especially during its epic jam nights. You never knew who might pop by in those days. But about 10 years ago, the room had started to lose its luster and it was remodeled into Reilly's, which was a huge hit off the bat, offering locals and visitors alike a place to sip the best beers and Irish whiskeys. Soon after Reilly's saw success, its owners also opened the space adjacent to the bar and upstairs, as the clubby eatery called Pearl's Rooftop.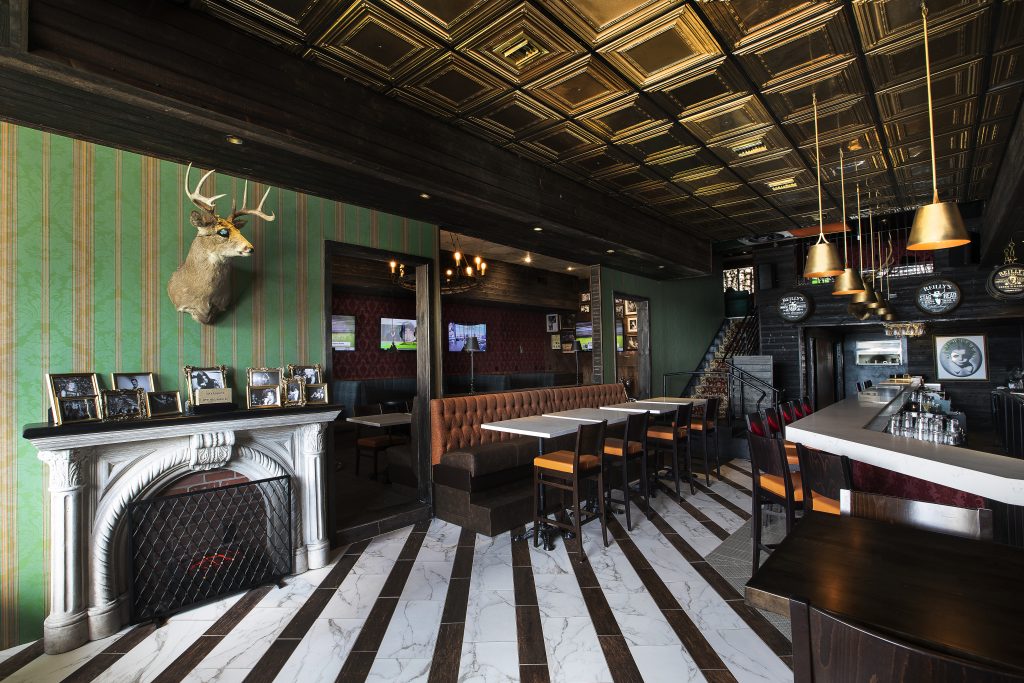 When Levine and Earl took over both spaces this year, they opted for minimal but necessary changes to Reilly's. "All good things come to an end, it was time to refresh the old design and look of the venue," says Levine, who is also a successful businessman involved with phone app development and a slew of popular subscription box services (such as Amber Rose's Slutbox). "There becomes a point where a local neighborhood dive bar needs a bit of a refresh to the local patrons and new fans too. We updated the interiors but kept the rock and roll theme aesthetic."
The new Reilly's look features a large white marble bar top blending into rustic wood furnishings, a stone fireplace flanking one wall backdropped by vibrant patterned wallpaper, zebra-like floor patterns made with interconnecting slabs of white marble and dark wood, and high-backed booths lit by an updated LED lighting system. The modern take on traditional pub has been a big hit at their other location in Las Vegas, and it's been a seamless transition in West Hollywood as well, with the venue welcoming both special star-studded events (Boy George recently deejayed a private party there) and Reilly's regulars with equal excitement.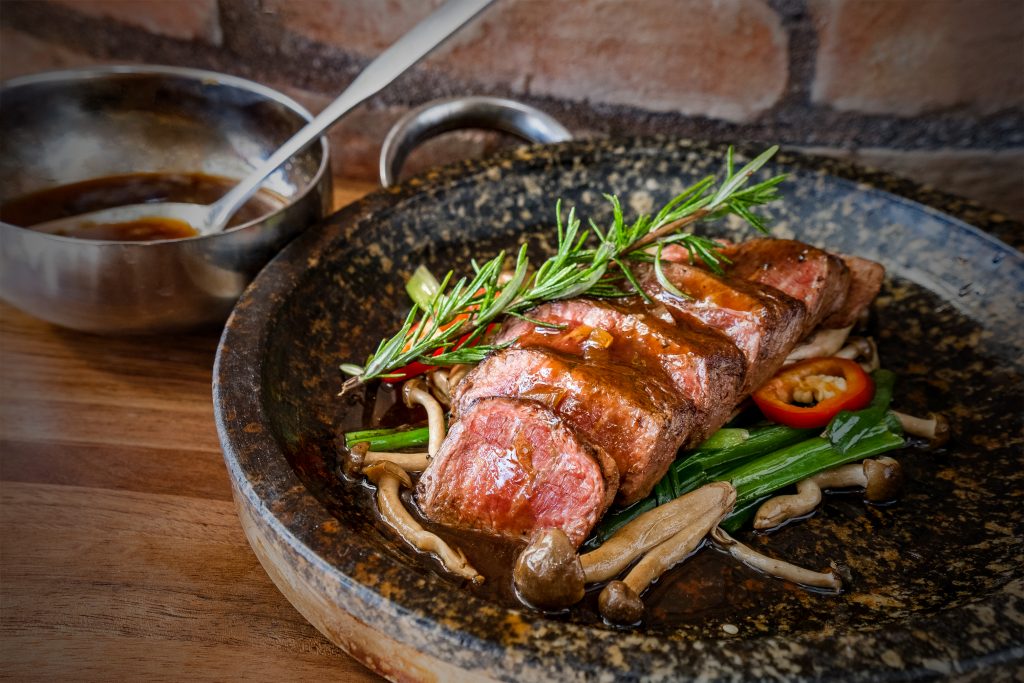 As for the space formerly known as Pearl's Rooftop, Levine's brand new Asian experience Warrior, has just taken over, and it's a stunning nightlife environment. "Warrior is a completely new and unique concept," touts Levine. "From its menu by award winning Chef Hung Huynh to its inventive cocktail program by Sweet & Chili. We also wanted attendees to provide an element of the unexpected. You expect masculine energy with a name like Warrior but instead you are greeted with a kick-ass female character and an Orient Express vibe downstairs at the Choo Choo room (bar). You kick it upstairs with a sexier ambiance, against a fireplace watching the Sunset Strip. "
Warrior's indoor/outdoor ambiance meshes sensual touches in a charming way that makes it a great date night option. Candelabras, floral touches, 70s wallpaper and a restaurant "mascot" that the owner describes as "representative of the L.A. girl who slays it at her job and crushes any notion of what society expects a female to be" make the restaurant unique and inviting.
The "L.A. woman" might be the warrior here, but Huynh (a past winner on Top Chef) has created a fun and flavorful Asian fusion menu that complements the sultry and inviting energy. On a recent visit, we tried the appetizer selection (most plates here are meant for sharing) and standouts include avocado tempura (pure crispy bliss), and a sweet and savory take on Brussels sprouts.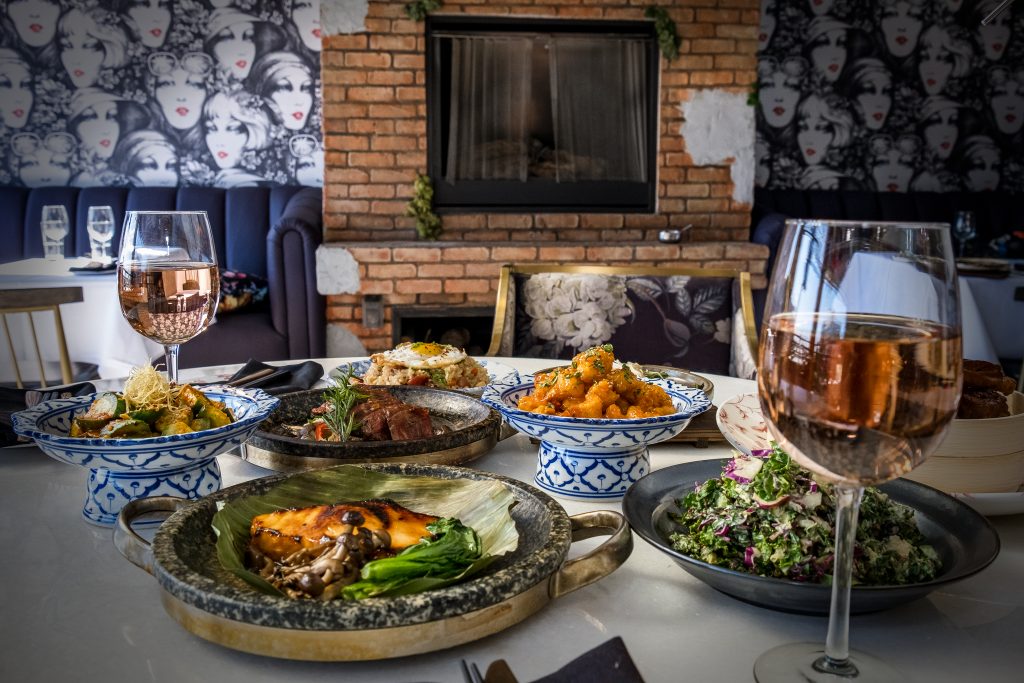 Levine says his company's longstanding friendship with Huynh led to the partnership at Warrior. "When it came time to figure out who would helm our kitchen for this concept, we couldn't think of a better fit," he says. "He's pushed himself and delivered new and exciting dishes that we know will become instant Sunset Blvd. favorites. "
Sweet and Chili—a specialist drinks agency that creates tailored services for the hospitality industry—has created a solid cocktail program, too. They really know how to "speak to L.A. sensitivities but also push the boundaries of what a cocktail experience is," according to Levine. This mindset is perfect for the area, that's for sure.
"The Sunset Strip is iconic and virtually everybody worldwide has heard of the location," enthuses Levine. "Our challenge was to add on to the area's history and DNA. We accomplished just that with our reinvention of Rock & Reilly's (and now Warrior), offering locals and visitors a great time. You can enjoy a drink next to your favorite celebrity or nab a table with your friends while you celebrate a birthday. How much more L.A. can you get than that?"
Rock & Reilly's
8911 W. Sunset Blvd.
West Hollywood, CA 90069
(310) 360-1400
Warrior
8909 W. Sunset Blvd.
West Hollywood, CA 90069
310) 999-0403