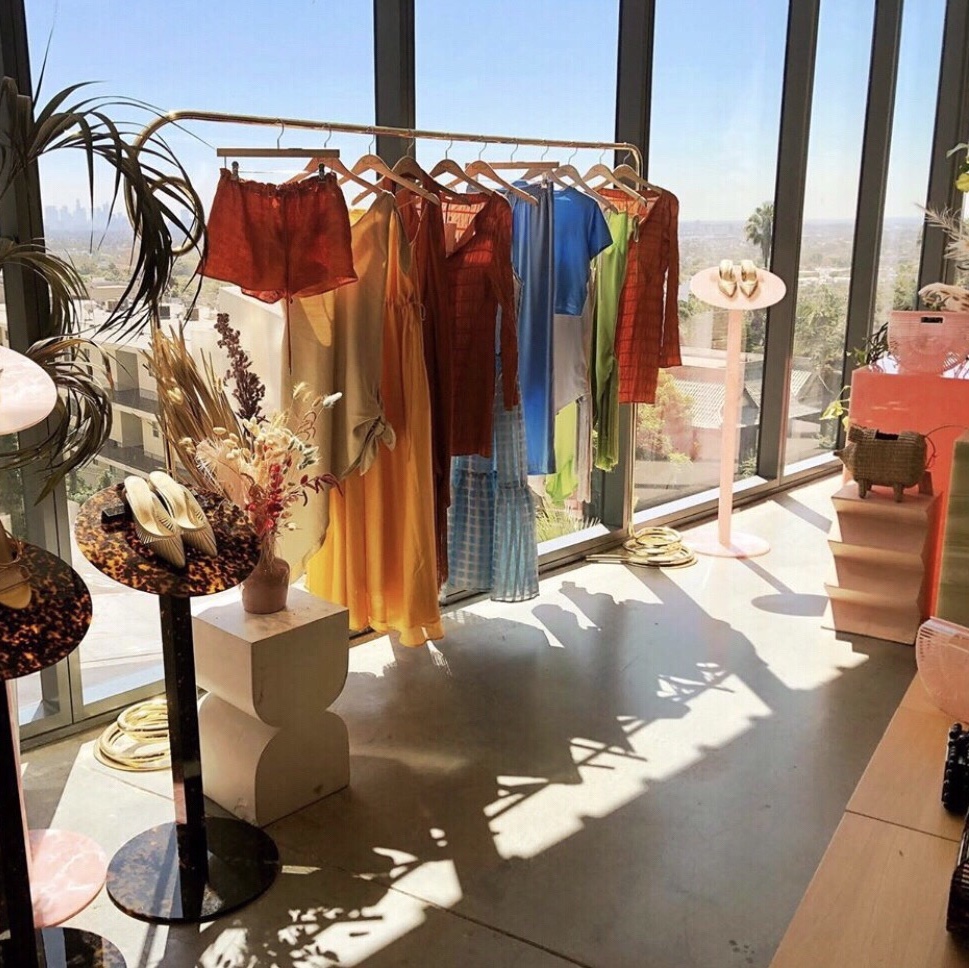 When it comes to shopping, the Sunset Strip might not be the first neighborhood that comes to mind, but it should be. There is a bounty of unique items to purchase for one's self and loved ones here; from stylish clothing and accessories, to books and fun novelties to music-minded stuff to gifts that reflect L.A. culture like no where else. Here's a guide to the best buys on the Strip
Sunset Plaza
The upscale shopping area known as Sunset Plaza offers designer goods filled with chic clothing pieces- gala worthy dresses, dapper suits, footwear and children's fashions. Nothing like your average mall, this charming outdoor shopping area that has been around since 1924, attracting tourists from around the globe for nearly that long and locales who want to glamour it offers and want to avoid the hectic hordes of Rodeo Drive in nearby Beverly Hills.
Snagging a pair Calleen Cordero shoes should be a must-do for anyone visting the plaza. The Los Angeles-based California native known for her creative designs and craftsmanship, offers sexy designs worn by all the "It" girls in town. Similarly, the edgy sunnies and comfy casual looks -heavy on the sweats- at Wildfox rep the "Cali look" like maybe no other boutique in L.A. Youthful, fun, and always cool whether the day brings strong rays or clouds and chill.
Also, make sure to check out the legendary H. Lorenzo if strolling through. With over 40 years in the fashion industry, Lorenzo has cemented itself as an arbiter of avant-garde fashion. The cutting-edge chain features men's and women's pieces that make a statement, and are therefore worth their higher pricetags. The flagship store on Sunset Plaza houses the majority of their menswear pieces, with revered brands like Boris Bidjan Saberi, Guidi and Comme Des Garçons. Though not officially in the "plaza," shoppers looking for lower price point looks should be sure to check out the Sunset Blvd. H&M store, which is one of the chain's most beautiful locations and is often stocked with styles hard to find at their traditional mall locations.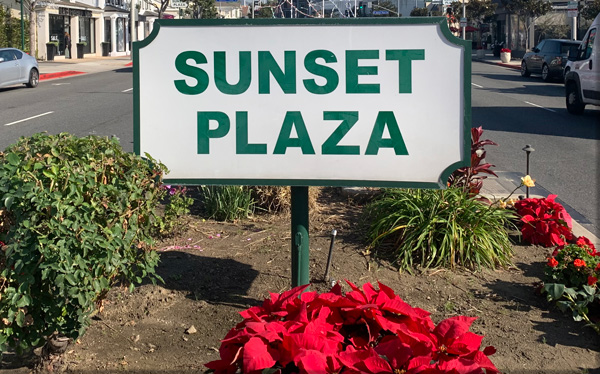 Fred Segal
An L.A. institution when it comes to hip, stylish designer goods, you're likely to run into a celebrity or two, picking up clothing, decor, books, or accessories at Fred Segal. Stylists "pull" looks for TV shows here often too, so their items are pretty much always on-trend and many ties ahead of them. Segal's denim selection is a top seller to this day. When the namesake store owner opened his first West Hollywood space over five decades ago, 85 percent of the inventory in the 350‑square‑foot store was jeans, displayed alongside shirts and pants in fabrics from velvet to flannels. Segal created the concept of a "jeans bar," not to mention boutique as a lifestyle hub first- making shopping for clothing and more a full experience. Today, Segal's Sunset Blvd. store stocks its own lines and pieces from brands such as Proenza Schouler, Beams, Polo, Simon Miller and more.
8500 Sunset Blvd.
310-432-0560
fredsegal.com
Book Soup
Considered one of the most special book stores in all of Los Angeles, Book Soup offers everything you could possibly imagine from the worlds of fiction, non-fiction, classic literature, hip new indie press titles and on and on. In addition to books the store carries tons of fun gift items, from enamel pins to stickers to pop culture inspired socks, jewelry, home decor, candles, mugs, and stuff like book marks, magazines, and stationary.
8818 Sunset Blvd.
310-659-3110
booksoup.com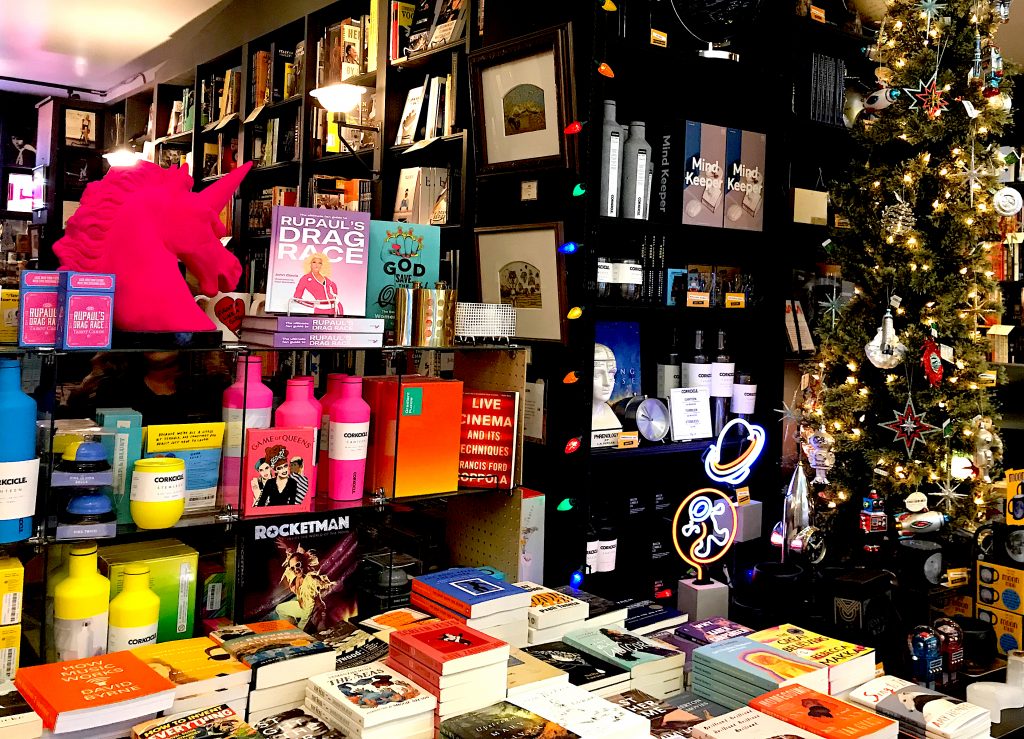 Goodthings
Hotels are no longer about bed and breakfast, not they're bonafide boutique havens. The new shop inside the 1 Hotel West Hollywood has great gift spot called Goodthings featuring consciously curated goods via Twilight actress Nikki Reed and L.A. ceramicist Elizabeth Di Prinzio. Reed's eco-friendly jewelry line, called Bayou With Love, and Di Prinzio's artful decor pieces anchor the merch here, all of which has an earthy, organic feel. They carry mostly female-founded, Los Angeles-based companies including vintage-style dresses by Venice's Christy Dawn, natural skin care by Santa Monica-based Beautycounter and pet accessories from Found My Animal, to name a few.
8490 W Sunset Blvd.
424-281-1885
1hotels.com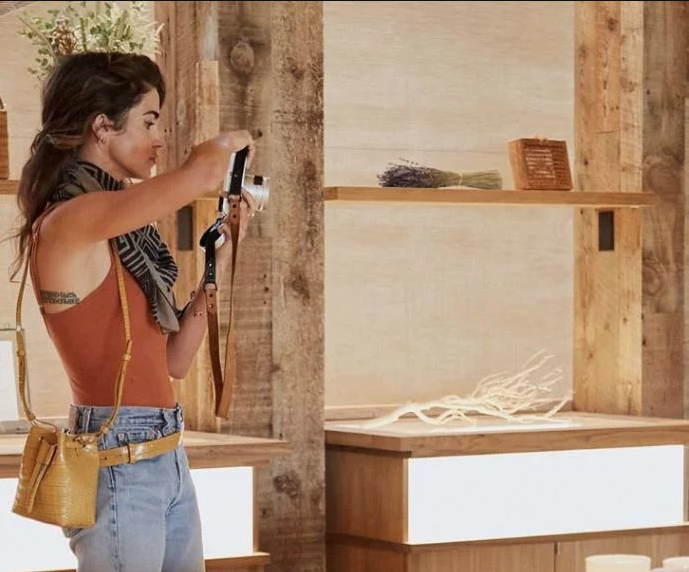 The Standard Pop-Up Shop
Another hotel boutique where great gifts await, The Shop at The Standard Hollywood carries everything from exotic beauty products to quirky gifts (crystal embellished troll dolls anyone?) and fierce streetwear and couture from local designers. Currently, vintage favorite Decades has taken over with a pop-up shop featuring recycled glam from the '50s-'80s.
8300 Sunset Blvd.
323-650-9090
standardhotels.com/la/happenings/decades-thestandard-hollywood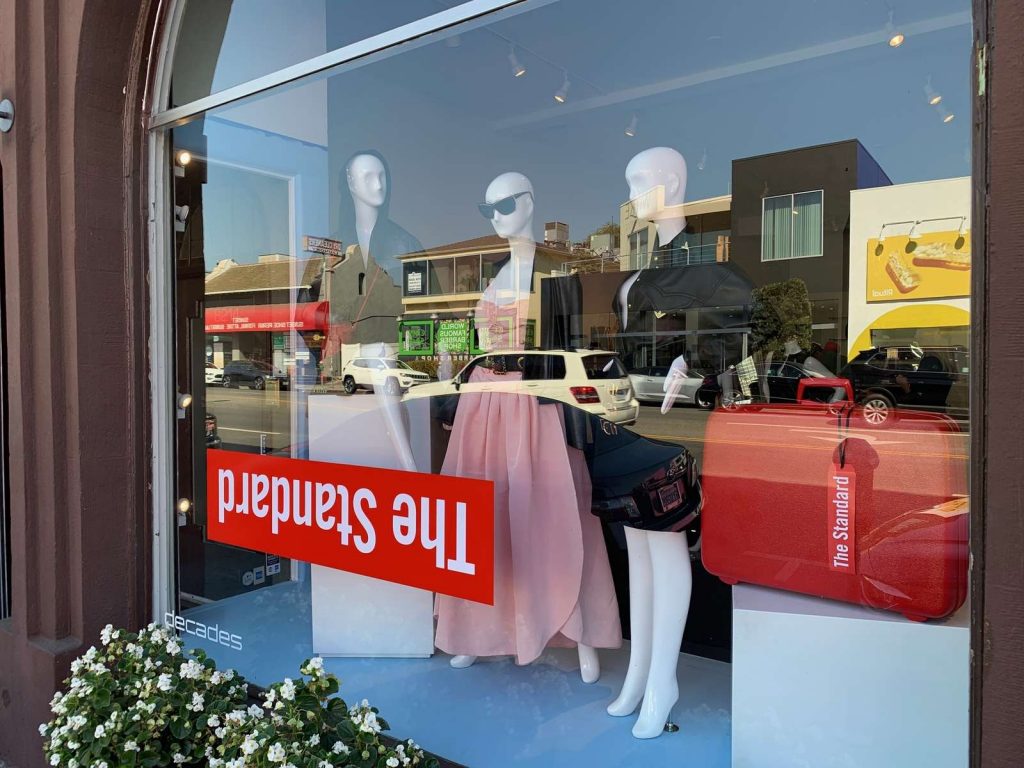 Sunset Strip Club Wear
Perhaps the best gifts on the Strip are those which celebrate it's iconic imagery and history. Thanks to the boulevard's best known music venues and hot spots, you can actually shop and club hop at the same time too! The famed Whisky A Go Go has a bounty of buys with its famed logo and groovy 60's style go go girl image, including t-shirts, hats, key chains, shot glasses, coasters and even a figurine of the legendary building itself. You can buy these at the club or online at whiskyagogo.com.
At The Viper Room, an impressive selection of t-shirts emblazoned with the club's neon logo and famous snake designs are displayed behind the bar. Online, there's even more, including trucker caps, hoodies and the logo beanie former owner Johnny Depp used to don regularly. See more at https://shopviperroom.com/.
While The Roxy Theatre doesn't have a web store, you can hit any gig there and you'll find both the headliner for the evening's merchandise and the club's- with the Roxy logo available in pink metallic lettering or classic white on black cotton tees and tanks. The venue's merch is usually found via a purchase window from a closet-like room the right of the stage. https://www.theroxy.com.