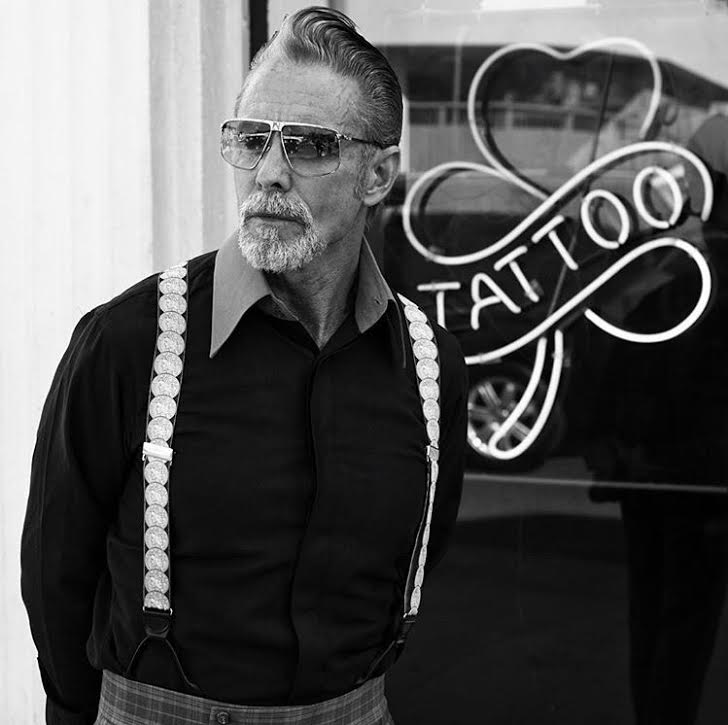 When it comes to the art of tattoo, Los Angeles, and specifically the Sunset Strip, is a hotbed of history offering the best of the best artists and shops.
Tattoo Mania
has seen countless rockstars under the gun over the past few decades and has been home to many top names in the ink biz.
Shamrock Social Club which will celebrate its 20th anniversary on the Strip next year, remains a landmark, both for its celebrity clientele and for its legends in residence, including owner Mark Mahoney and native Angeleno Freddy Negrete, both world-renowned and considered pioneers of the popular "black and grey" style tattoo.
Mahoney has gotten his share of press (Johnny Depp, David Beckham, Tupac Shakur and Cher all wear his work on their skin forever) and he remains one of the most revered names in tattooing, particularly for the no-color style, which utilizes a single needle and is the preferred technique for portraits, landscapes, scripts and iconography. Originating in the L.A. prison system, Mahoney and Negrete's mix of dark and light, detailed work was and is a reflection of Chicano culture and aesthetics, but it has evolved and expanded too.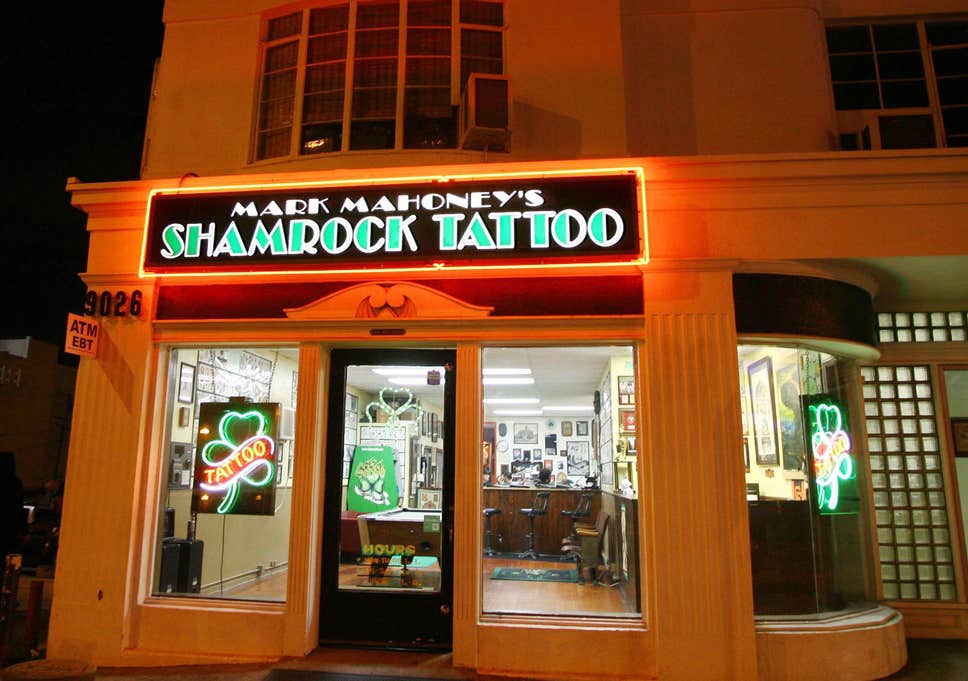 Originally from Boston, Mahoney got his start at the legendary Long Beach locale called The Pike in the late '60s. When body art was burgeoning, The Pike was the place to get it, with colorful, thick-outlined drawings known as "flash" providing an array of different designs popular service men, bikers and outsiders. These flash designs, known as "traditional American," were pre-drawn and ready to transfer on skin, and if you walk into any tattoo shop today you can still see them on the walls-hearts, sparrows, pin-up girls and roses to name a few favorites. This style was also popularized by artists including Ed Hardy and Sailor Jerry, both of whom are recognized today via brands in the fashion and spirits industries, respectively.
But it was the more stylized black and grey work that appealed to Mahoney from the start. "I went to tattoo on Whittier Blvd in East L.A. when it was just starting to take off there," Mahoney says of the style. "As soon as I saw the first black and gray tattoo I was all in. It was the way I always drew. If I got a box of crayons when I was a kid, the black one would be a half an inch long and the other ones would be untouched."
From Long Beach to Whittier Blvd. to other parts of L.A. Mahoney made a name for himself in the tattoo world, his dapper style and classy cool demeanor, not to mention incredible skills with a tattoo gun standing out wherever he went. But he found his true home on the Strip, attracted by its energy, history and mystique.
"All God's children end up on the Sunset Strip at some point," says Mahoney. "It seems like, living in the greater Los Angeles area, part of your rite of passage is to go the Strip at least one night. And I like that. You know, everybody gets to do it- rich or poor, black or white… everybody goes to the Strip at some point, to check it out. So I just like the history of it too. You know, Bugsy Segal, Nat King Cole and all that stuff. It's fascinating to me."
Mahoney is referring to the storied past of the Strip, when mob figures and movie stars were regulars, and nightclubs and restaurants were bustling with big name entertainers.
"Bing Crosby owned this building," he says of the spot where Shamrock calls home. "It housed a publishing company and he had an apartment on the top floor where he'd hang out with his jazz friends, and people like Louis Armstrong. He couldn't hang out with him in the clubs because of segregation. So this was a place where everybody could come hang out after hours."
Today the space remains a "Social Club," attracting people from all walks of life – tourists from all around the world, locals who respect his shop and its artists' rich history, rockers and actors, doctors and lawyers, and people young and old (in fact, Mahoney says he's noticed a marked increase in more mature clients, people who always wanted ink and are finally going for it now that it's more mainstream).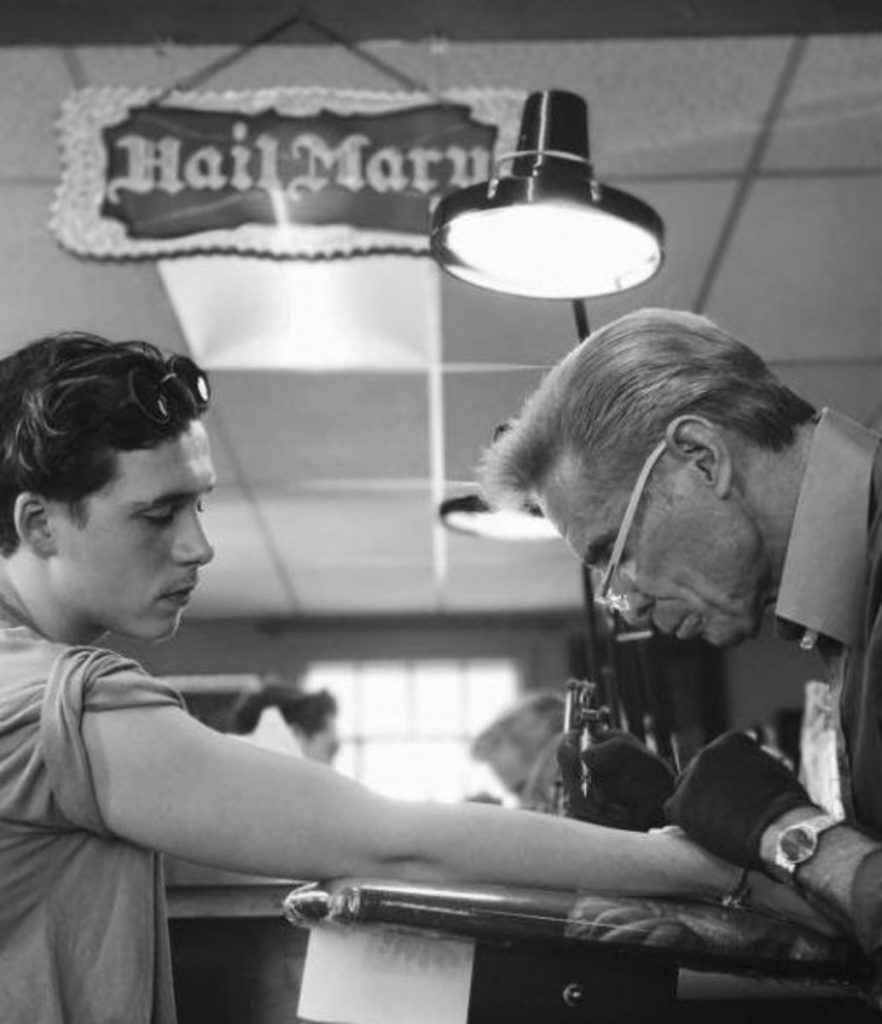 Of course the acceptability is due to a myriad of factors. TV shows are a big reason. LA Ink starring Kat Von D is no longer on the air but her shop High Voltage on La Brea Ave. not far from the Strip is still going strong. And in LA Ink's wake, there are still many programs celebrating tattoo— Inked, Black Ink Crew, and Ink Master, to name a few.
Of course, Mahoney has been asked many times to do a TV show himself, but he always declines. He also doesn't have any personal social media accounts (though his shop does). He acknowledges that sites like Instagram have become a necessary part of the job for today's budding artists, but his background precedes him enough not to need them. He's content to simply do fine work in his famed shop, continuing the old school traditions that attracted him to the business in the first place.
"Social media gets it out there [but] people manipulate their photos so much, there's a problem with tattoos looking perfect on Instagram and not so much in real life," he points out. "Old school word of mouth is still the best way to go."
And while tattoos have become more accepted, their permanence, not to mention the pain involved ("Good thing they hurt!" Mahoney notes), makes getting one a very personal form of expression and the process itself a special experience. Nearly two decades on the Strip and still buzzing, Mahoney's Shamrock Social Club provides the best place in town to do both.
Shamrock Social Club
9026 Sunset Blvd.
West Hollywood, CA 90069.
310-271-9664
More Top Tattoo Shops on The Strip and in Nearby West Hollywood:
Sunset Strip Tattoo– 7524 Sunset Blvd, Los Angeles, CA 90046. (323) 874-4596. www.sunsetstriptattoo.com
Tattoo Mania- 8861 Sunset Blvd, West Hollywood, CA 90069. (310) 657-8282.www.facebook.com/Tattoo-Mania-Hollywood-102661446438514
The Warren– 8776 Sunset Blvd, West Hollywood, CA 90069. (310) 659-3502. www.thewarrentattoo.com
The Honorable Society– 8424 Santa Monica Blvd # B, West Hollywood, CA 90069. (323) 654-2440. www.thehonorablesociety.com
Black Haus– 7713 Santa Monica Blvd, West Hollywood, CA 90046. (213) 418-2008. https://www.blxckhaustattoo.com/
10 Thousand Foxes– 648 N Doheny Dr, West Hollywood, CA 90069. (310) 734-7263. www.10thousandfoxestattoo.com.
High Voltage– 1259 N La Brea Ave, West Hollywood, CA 90038. (323) 969-9820. www.highvoltagetattoo.com