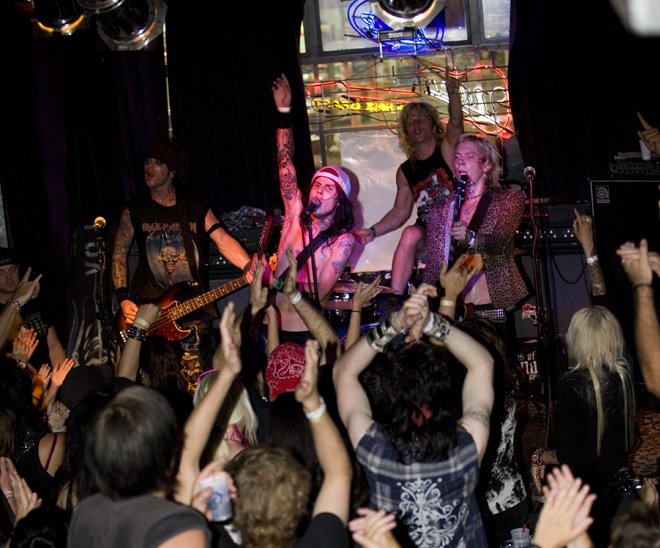 Sunset Strip staple the Cat Club is entering summer with some new and exciting updates. Veteran Hollywood booker Dayle Gloria, best known for breaking bands like Jane's Addiction at her notorious Scream Club, is set to take the reigns as the Cat Club's new talent buyer this month. Gloria will work alongside current talent booker Ian Weber and longtime owner Slim Jim Phantom as the club undergoes some changes that include a back patio makeover, and at long last, a website.
"I want it to be like Camden or SoHo," noted Gloria, a neighborhood spot where people know the doorman and the bartenders, and stop in knowing that there's going to be quality bands playing.
To accomplish this "local's pub" vibe, Gloria plans to experiment with a revolving door staff system which would allow local celebrity bartenders, musicians and scenesters to periodically pick up nights behind the bar, or at the door, while being able to tour and/or pursue other endeavors. (In fact, rumor has it that a certain Sunset Strip reporter may even be making an appearance somewhere in the mix).
Gloria has also promised to take a hard-line stance against so-called "pay to play" practices. "I want this to be a place where [local] bands can actually make money… The Roxy is doing nationals, and the Viper is a bit larger; this is going to be a place for bands to try out new material, do CD release parties, and for bigger bands to do warm up shows before heading out on tour."
Beginning in July, Gloria will take over booking for Friday and Sunday nights, eventually expanding to other days of the week. Her first show slated for Friday, July 9, features a jam packed bill of solid locals, including The Paper Dolls, The Brave Ones (featuring Gene Louis of Bullets and Octane), Symbol Six (featuring Taz Rudd from Aces N Eights), all grrrl rock outfit the Riot Brides, and Viper house band Lady Sinatra. Also, Sunday, July 11, kicks off the return of Pitcher Perfect Sundays. Soon to be a weekly staple on The Strip, Sunday nights will host local bands, as well as a backyard barbecue and cheap pitchers of ice cold beer.
Cat Club is located at 8911 W. Sunset Blvd., www.myspace.com/thecatclub
Photo: Vains Of Jenna perform at the Cat Club. Photo courtesy Erik Voake.
–Brent X Mendoza