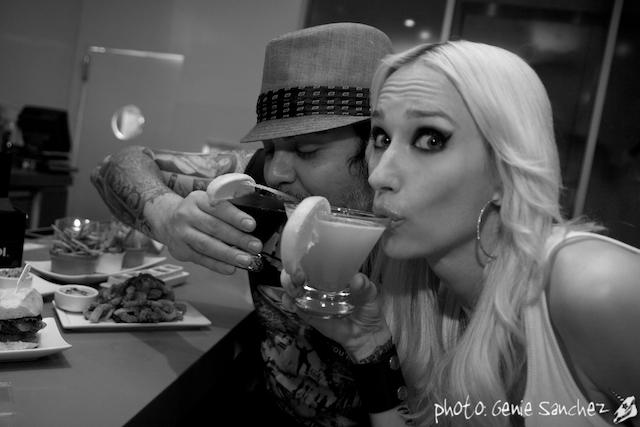 Being Bev Hills adjacent and known for some of the best shopping, dining and entertainment in the world has led some to the false conclusion that The Sunset Strip is strictly a playground for the wealthy and well-to-do. Au contraire! Happy hours, meal deals and cheap cocktails abound at some of The Strip's most happening hot spots every night of the week.
For a little camera pleasing eye candy, and mainly because she knows how to party, Chelsea Girls vocal goddess and professional party girl Tuesdae spent the night walking, dining, drinking and partying on The Sunset Strip with notorious blogger Brent X Mendoza and photographer Genie Sanchez, showing the world that there are discounted cocktails and top-notch cheap eats to be found and that you don't have to pay to play on The Strip.
First Stop (photos 2-3): Before her big night out, Tuesdae hits Jeffrey-Kara Salon (8590 Sunset) for a quick once-over with stylist-to-the-stars Kara Silverman. www.jeffreykarasalon.com
Second Stop (photos 4-7): Poolside at the always hip hotspot The Standard, Hollywood (8300 Sunset) to sample their new "The Fallback" menu, featuring your choice of an appetizer and a select drink for $10. We opted for The Standard's spin on mom's classic mac n cheese, yum! www.thestandardhotels.com/hollywood
Third Stop (photo 8): Never missing an opportunity to promote, Tuesdae hits the Xerox machine at Fedex/Kinkos (8539 Sunset) to make flyers for one of her promotions — because nothing says rock n' roll like old school (internet, what?) word-of-mouth promotion.
Fourth Stop (photos 1, 9-13): Taking in a bird's eye view of The Sunset Strip at diner-with-an-upscale-twist, Ketchup (8590 Sunset). Gorging ourselves on a feast of half-priced apps and desserts, not a crumb was left on our plates after devouring round after round of tasty samplings that included mini chicken tacos, truffle fries with housemade signature ketchups, calamari, shrimp ceviche, and campfire s'mores. Thank the almighty that we had plenty of $8 original martinis to wash down our grub. Hands down favorite was the grape crush, an adult twist on the childhood classic grape Kool-Aid. www.dolcegroup.com
Fifth Stop (photos 15-18): Hanging out with the locals at The Sunset Strip's favorite watering hole, Red Rock (8782 Sunset). Featuring half-priced drinks and a $6 food menu, we cozied up to the bar for some after-dinner drinks served by celebrity bartender Carolina Eastwood of "Survivor" fame. www.redrocksunset.com
Final Destination (photos 19-20): After a long night of light-on-the-wallet libations, we finally reached our destination at The Cat Club (8911 Sunset) where Tuesdae warmed up her vocal cords before heading off to Chelsea Girls' rehearsal. www.thecatclubonsunset.com
For up-to-date info on all of Tuesdae's happenings check out www.tuesdae.com
Photos by rockstar photographer Genie Sanchez of www.totallylikeduh.com

Please remember to always drink responsibly and don't drink and drive.
–Brent X Mendoza