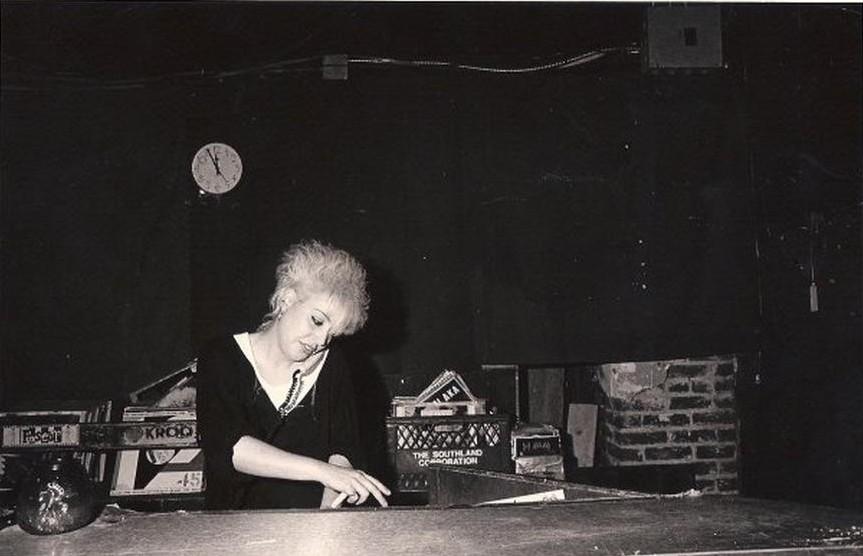 Veteran Hollywood booker Dayle Gloria has given "first shows" to some of the most important bands of the last two decades. The in-house talent buyer for Johnny Depp's Viper Room in the early formative years, Gloria is back with partner-in-crime/fellow booker Tom Hoppa to reclaim the room and bring the talent level up to a standard worthy of the Viper's worldwide name.
Catch up with the notoriously outspoken, self-proclaimed "Queen of The Sunset Strip" as she discusses her storied early days, biggest shows, cucumber contests, her formula for success and the new bands you should have on your radar.
So you first moved to L.A. in…?
1977.
And when did you start booking?
July of 1986 was the first show I ever booked.
Who played for you?
My first show was with Jane's Addiction at my club Scream, which was at the Ebony Theater [on Hollywood Boulevard]. A month later, August 15 of '86, we did Guns N' Roses. I still have the calendars to prove it!
So fast forward: When did you first start working at the Viper Room?
Well, I reopened Scream in '99 at The Probe, which at the time was at The Playroom…and then I started promoting over here [at the Viper Room].
So the first show I ever booked at the Viper was Melody Black, which was [Scott Weiland's bassist] Tommy Black's band.

So how did you end up at Viper?
Well originally they brought me in to promote this new night they were doing called "Camero," where Metal Shop [an early incarnation of Steel Panther] got their start.
They used to do this whole thing where they would put chain link fencing around the stage, and around the bar – that was also when they were doing the shower contest thing on stage, and girls would go in there and shower – and they were also doing weird things, like handing out cucumbers (use your imagination)…
In fact, this one girl, one night, I was just like, "Look, I'll give you the $200 but just take that f*ckin' thing out of there!" I was horrified!
Anyways, I eventually took over the night and we got rid of the whole shower thing. We put the band [Metal Shop] on last, and they would play longer… I was also booking the openers, and I was the one calling all the celebrities to come down and see the show.
That was when we got the three-page calendar spread in the L.A. Times, with the cover and all that… We were booking bands like Loaded [Duff McKagen]; we did their first show.
… But I still wasn't [at the Viper Room] as a booker. I was only doing Mondays. They were asking me to be the booker and I didn't want to do it. I told them, "I don't play well with others!" [laughter]
But the staff really wanted me to do it 'cause every time I would do my nights, the place would be packed. And I remember I came in [the Viper Room] one weekend on a Saturday night and it was just dead! And the staff and the bartenders were all looking at me like, "please take the job!" So that's when I did. I think around 2000/2001.
And I was here until Johnny [Depp] left.
I tried to stay because they offered me an ungodly amount of money, but I couldn't; I just couldn't do it. I was getting death threats, for real, and everyone was just so unhappy. Things immediately felt different.

In your tenure as an in-house booker, what were some of the biggest shows you booked?
The Strokes, Kings of Leon, Jurassic 5, Maroon 5, Keane, Jerry Lee Lewis, The Pussycat Dolls – the real Pussycat Dolls – and the first residency when Juliette Lewis started her band. So many bands… too many to remember!
And now that you're back, what are your goals? What are you hoping to change, accomplish being that you know the Viper so well?
The most important thing to me is that the club has that community feel again. I've always said that the Viper Room is a neighborhood bar that huge bands play at. I want the bands to feel like they are a part of something, and I want people to be able to come down here on any given night of the week and know that the bands are quality over quantity.
For me it's all about community… I mean there's magic in this place… I'm here now to [bring the magic back] alongside my partner in crime, head talent buyer Tom Hoppa. It's about bringing great music back to this venue, being on the cutting edge of new talent, helping bands get discovered, and letting the industry know that we are relevant here again.
It really should be the way it used to be, where if you got a show here, you were really excited to play because that meant that we thought you were really talented and that you were good enough to play here.
And if you don't get a show here…well, then you know what that means.
And it's also important to have huge bands play here in a very intimate setting; which is great for the club, great for the artist, and great for the fans who are lucky enough to get in. When these bigger bands let us book openers for them, it's a great opportunity for up-and-coming bands to get some attention, and a way for these big bands to sort of give back for when we gave them a chance to play a show back in the day — sort of returning the favor.

What are the top bands on your radar right now that people need to know about?
Well I love that band Battle Tapes…Irontom, Badwater, Digital Daggers and I love Sabrosa Purr, even though they aren't a new band. I mean, forget Barry White…Sabrosa Purr is the band to f*ck to! And you can quote me on that!
…The bottom line is that I think the live music scene is really healthy right now. I think there's a lot of good bands out there; a lot of different genres.
I'm all about supporting local music. Even when I DJ, I play tons of local bands and people always come up and ask, "Hey, who is that?" Los Angeles has always been the Mecca of local music and still is!
Finally, what's your sort of mission statement? What should people know about what you're trying to accomplish?
I like to think that when people hear that I'm booking a night, or a club, or whatever I'm doing, that it always represents quality. That whenever people hear that I'm doing something, that they trust me enough, after years of bringing amazing music to the masses, to come in on any given night.
I want people to know that they can come in any night of the week, and the bands are going to be good, and it will be worth whatever they had to pay at the door because every single band is going to be more amazing than the last one.
Photos:
(1) Dayle Gloria DJing, (2) with Steven Adler, (3) with Joey Ramone, (4) with Jane's Addiction
Booking inquires viperdayle@gmail.com
www.viperroom.com

— Brent X Mendoza (Follow @brentXmendoza)