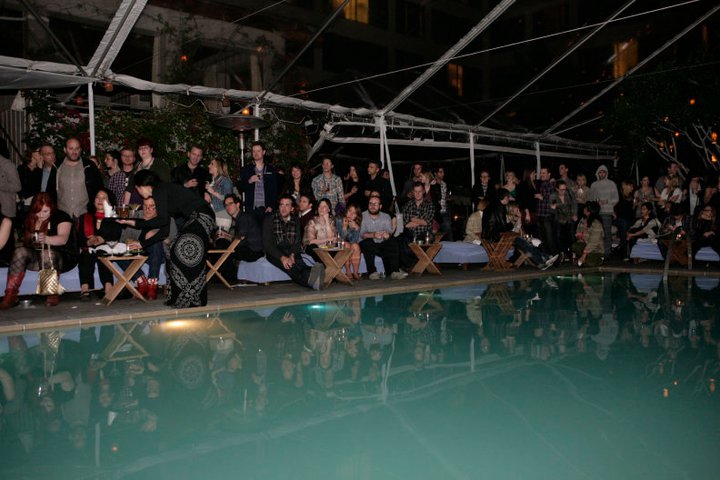 The Skybar pool deck may seem like an unlikely music venue for most, but a crowd of well-mannered, indie music devotees were packed poolside on Jan. 14 to enjoy a great night of music with New York-based '80s throwback band Francis And The Lights as part of Mondrian Sessions live music series.
Francis And The Lights, who recently toured with pals MGMT, jump-started the 2011 series appropriately with songs like "In a Limousine" and "Get in the Car." The crowd was into it – swaying along to every note. Mojitos, an unseasonably hot winter night and sweeping views of the city added to the swanky late night pool party scene.
The series continues Friday, Feb. 11 when L.A. natives Fool's Gold perform, weaving together Western pop aesthetics with African rhymes and melodies. That performance is then followed by Ted Leo, Dum Dum Girls, Lykke Li and more!
Check our the Mondrian's Facebook page for more info: http://on.fb.me/e0mlvn
Mondrian Sessions is a partnership between the hotel and IAMSOUND records to provide free, live performances from some of the indie scene's hottest acts. RSVP is required to attend, so be sure to send in your name – like right now – so you'll be able to sip and dance the night away (RSVP to mondrianLAsessions@morganshotelgroup.com). Are you ballin'? Call for table reservations, 323.848.6027. All Mondrian Sessions are for those 21 years of age or older (sorry kiddies).

Photos courtesy Sonny Gerasimowicz.
–Kika Davis