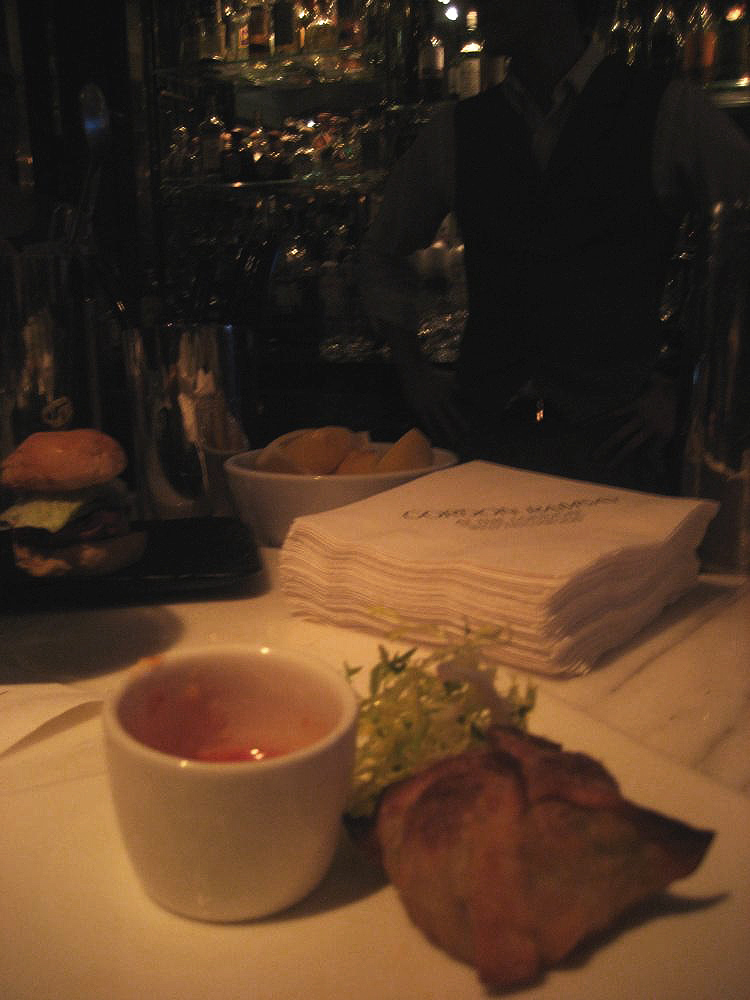 We recently stopped by The London Bar to partake in their "London After Five" happy hour, which takes place every Monday through Friday from 5-7 p.m. You can enjoy a menu of $5 cocktails and appetizers, which rotates monthly. The current cocktails include holiday-inspired libations with tastes for the sweet tooth, such as a pecan pie martini (Absolut Vodka Vanilla, Frangelico hazelnut liqueur, crushed toasted pecan), eggnog Alexander (eggnog, Xanté cognac) and a BBC (Captain Morgan rum, basil, raspberries and a splash of champagne).
Small bar bites are also offered at $5 each, including mini turkey sliders with a cranberry relish, skewered chicken with chestnuts and a peanut sauce, and our personal favorites, curried vegetable turnovers. You can also take advantage of the $5 valet parking Monday through Friday, but we highly suggest stopping by on either Tuesday, Thursday or Friday nights when you can also enjoy live jazz performances from 6-9 p.m.
If the bar scene isn't for you, and you want to get outside and take a gander at the city lights with that special someone, cozy up by the rooftop fire pit for stunning views of the Los Angeles skyline while enjoying a special menu of desserts and hot beverages. The fireside bites menu includes pumpkin soufflé with gingerbread, marshmallow and chocolate truffles with graham cracker sauce, peanut brittle cookies and baked brie cheese for two. Sure to warm any Scrooge, the rooftop cocktails include spiked fall cider, choco-mint toddy (Kahlua Mocha, Bailey's chocolate mint, whipped cream and semi sweet chocolate shavings), and hot buttered apple cider.
And if that isn't enough, The London is also offering up "12 Days of Desserts," a holiday-inspired dessert menu showcasing a new dessert each day leading up to Christmas. This year, the daily dessert represents a specific country's holiday favorite, like lizner torte with hazelnut and raspberry jam (Austria) and layered almond cake with honey (Russia).
Grab your passport and indulge in this week's "12 Days" desserts, offered at $14 each:
Dec. 20: Sweet tamales with mangoes and dulce de leche (Mexico).
Dec. 21: Rice pudding with currants, raisins and cinnamon (Denmark).
Dec. 22: Candy cane soufflé with peppermint and chocolate ice cream (Switzerland).
Dec. 23: Baked meringue snowman (Belgium).
Dec. 24: Apple pie with caramelized apples and vanilla bean ice cream (United States).
Dec. 25: Stollen with rum, raisin and dried fruits (Germany).
For more information about The London West Hollywood's drink specials and events, visit www.facebook.com/thelondonwesthollywood or follow them @thelondonweho.
–Kika Davis