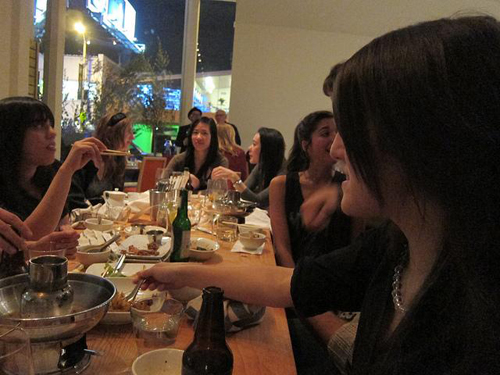 Last Thursday, Dec. 2, Night + Market debuted on The Sunset Strip to a packed, and very vibrant, crowd. The newly opened Thai street food restaurant from owner and chef Kris Yenbamroong is the sister to an already standing Talesai, which opened in 1982 by his parents. Yenbamroong took the helm of the Sunset Strip staple a few years ago, and when the space next door to Talesai became available, he knew it would be the ideal location for a new venture.
Night + Market is a late night communal dining spot boasting tapas style plates based on Thai street food items. The menu features favorites like crispy catfish, pork stew and fried chicken wings, all accompanied by a selection of beers from Southeast Asia and wine that can be ordered in "taste" size as well as by the glass or bottle.
The décor is very minimal, with white walls and large communal wooden tables in the center and several smaller tables along the edges nestled to large windows overlooking The Sunset Strip. The space also features a projector displaying old subtitled Thai movies against one wall, and the opposite wall is currently home to some of Yenbamroong's own photography, although we've been told that the art will rotate regularly. Also regularly changing will be the menu, but it will always have between 10 and 15 items.
"For me, it's not enough that Night + Market serve the best Thai street food around – that has to be a given," noted Yenbamroong. "I want people to show up as much for the music on the stereo, the curated art exhibitions, the girl punk bands that will be playing in the back room, and at the core – the fact that they might meet their future husband or wife eating at one of the communal tables."
Currently, Night + Market is open Thursday through Sunday, from 6 p.m. – midnight, and is exploring the possibilities of expanding to additional days and hours to accommodate stragglers from the various venues on the block.
Yenbamroong hopes to open a back patio for dining at Night + Market and is planning to use the patio to grow their own herbs for the restaurant, ala the recently opened Eveleigh restaurant located down the boulevard.
For Night + Market's current menu, please visit Nightmarket.Blogspot.com. And for regular updates on Night + Market, you can "like" them on Facebook and/or follow them on Twitter @NtMRKT. Night + Market is located at 9041 Sunset Boulevard.

–Kika Davis
Photos courtesy Kika Davis and Night + Market.