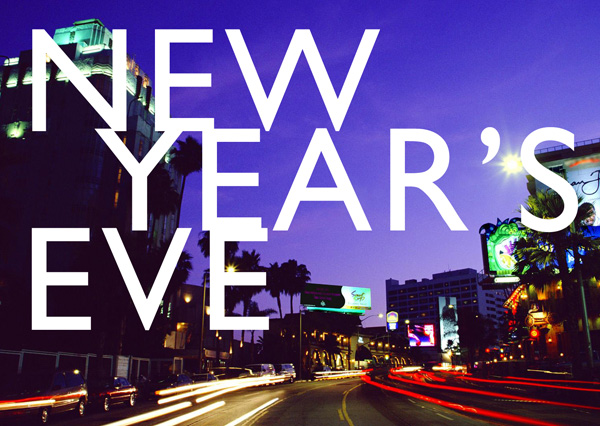 Before you make resolutions you know you won't keep, venture to The Sunset Strip for a night of champagne-popping good fun as we ring in 2011!
MUSIC, LIVE ENTERTAINMENT & PARTIES
The Raveonettes + Autoluxe at The Standard, Hollywood
KCRW presents Danish duo The Raveonettes and Autoluxe. Doors open at 8 p.m. and pre-sale tickets are $50. Need more info?
Neon New Years at Skybar
Skybar hosts ultimate New Wave '80s rockers the Spazmatics on New Year's Eve. Guests can also enjoy an open bar from 8 p.m. – 2 a.m. Entrance is $175 ($125 for Mondrian hotel guests). For reservations, call 323.848.6025. www.mondrianhotel.com
Lucinda Williams at the Viper Room
The Viper Room presents Americana singer/songwriter Lucinda Williams with special guest Jackshit. Individual tickets are $100 and VIP packages are available. www.viperroom.com
The Pharcyde at Key Club
Influential LA rap quartet The Pharcyde takes over the Key Club with the Lowkeys. Tickets are $40-$70. Doors open at 8 p.m. This show is ages 18 and older. For tickets, call 310-274-5800 or visit www.keyclub.com.
"House Party" at Night + Market
The best NYE house party not at a house. DJs, dance party and feasting. Small plates of Thai street food and traditional plates plus drink specials all night. Enjoy music from Mapi (KXLU), Bianca O'Blivion (KXLU) and The Bruce (NYC). The night also features video projections, the classic Dick Clark NYE countdown, and a futon and bean bag room (snuggies encouraged). Free before 10 p.m. and $5 after. $5 valet parking also available. www.thenightmarket.blogspot.com
Camp Freddy + Juke Kartel at The Roxy Theatre
Three options and prices for NYE at The Roxy. $50 GA ticket, or upgrade to $100 ticket that includes an open bar with well, wine and beer choices, or splurge on the $200 ticket and enjoy open bar with premium liquor, wine and beer. Tickets that include open bar are only available for purchase at The Roxy box office. www.theroxyonsunset.com
Steel Panther at House of Blues
Break out the spandex and hairspray as Steel Panther prepares to rock you into 2011. General admission tickets are $37 in advance, or upgrade to a VIP ticket for $77 and enjoy Foundation Room access and a bar package. Bottle service is also available.
For tickets or questions, call 323-848-5100 or visit our website www.houseofblues.com.
Ring In 2011 at The Comedy Store
The Comedy Store has created a win/win package that includes a full lineup of comics, champagne toast at midnight and a $40 gift certificate to The Comedy Store. Tickets are $50 for the Main Room and $40 for Original Room shows. Main Room lineup includes Shawn Pelofsky, Charles Fleischer, Nick Youssef, Freddy Lockhart, Dom Irrera, Dov Davidoff, Chris D'Elia, Ian Edwards, Ari Shaffir, Rusty Dooley, Rick Ingrapham and Berry Diamond. Doors open at 9 p.m. www.thecomedystore.com
Saddle Ranch
Annual New Year's celebration from 7 p.m. – 2 a.m. Cover is $30 and includes a champagne toast and party favors. For more information, call 323-822-3850.
NYE DINING & DRINKS
Asia de Cuba
Asia de Cuba is offering a multi-course menu on New Year's Eve. Dinner is $89 per person before 8 p.m. and $109 per person after 8 p.m. Entrée selections include miso cured Alaskan butterfish with Cuban black bean and edamame salad, tempura shisito peppers; Char Sui beef short ribs with conger tostones and chili orange mojo; and Royal Blue Hawaiian prawns and chili lime grilled filet of beef with miso lobster sauce. For more information or reservations, please call 323.848.6000. www.mondrianhotel.com
BLT Steak
On New Year's Eve, BLT Steak will offer diners a special menu in addition to the regular offerings. Open from 6 p.m. – 11:30 p.m., BLT Steak is the perfect stop before an evening on The Sunset Strip.
Maine Lobster Bisque / Riesling / Winter Black Truffles / Herb Croutons $21
Foie Gras Agnolotti / Sweet Potato / Caramelized Quince / Hazelnuts $18
Chanterelle & Porcini Risotto / Mushroom Cappuccino / Truffle Essence $22
* * *
Roasted Venison Loin / Cabbage / Chestnuts / Huckleberry-Juniper Sauce $42
Pan-Roasted Local Halibut / Herb Crust / Swiss Chard / Citrus Crab Broth $35
Truffle Studded Filet Mignon / Wild Mushroom Whipped Potato / Cabernet Demijus $40
* * *
Green & Yellow Wax Beans / Blood Oranges / Almonds $9
Maple Glazed Spaghetti Squash / Sage Brown Butter / Candied Hazelnuts $9
Pommes Dauphines / Parmesan / Truffle / Chive $12
* * *
Mandarin-Vanilla Baked Alaska / Kirsch / Raspberries $10
Warm Cranberry Pie / Tangerine Ice Cream / Grand Marnier Caramel $10
Caramel Chocolate Tart / Maraschino-Peppermint Swirl Ice Cream $10
www.bltsteak.com
BOA Steakhouse
Enjoy a DJ and prix fixe menu. First seating available 6:30-7 p.m. for $95 and second seating available at 9-9:30 p.m. for $165 per person. www.boasteak.com
Cabo Cantina
Start the night off right by taking advantage of the best happy hour on The Strip. All drinks are two-for-one prices from 4-8 p.m. Cabo will be open extended hours, from noon – 2 a.m., and offering our NEW late night happy hour from 10 p.m.-close. Stop by for a champagne toast, Cabo style! www.thecabocantina.com
Gordon Ramsay at The London West Hollywood
Celebrate with one of two dining options. The first seating is from 5-8 p.m. and features a three-course menu for $85. The second seating is at 8 p.m. and includes a five-course menu and champagne toast at midnight for $145 per person. www.thelondonwesthollywood.com
Katana
Enjoy a DJ, dancing, party favors and views overlooking The Sunset Strip as you ring in 2011. First seating from 6-8:45 p.m. includes regular menu. Second seating from 9-9:30 p.m. includes a prix fixe menu and champagne toast for $125 per person. www.katanarobata.com
Ketchup
Ketchup will offer two menus on NYE, a limited a la carte Menu and a $60 chef's special menu, which includes starter and chef's appetizer trio, choice of salad, choice of main course and trio of desserts. Entrée choices include teriyaki glazed flank steak with roasted mashed potatoes, braised radicchio and an apple and plum chutney; seared scallops with white wine sauce and sautéed brussel sprouts and shaved corn; fresh spinach and rosemary infused stuffed chicken breast with rosemary potatoes and steamed baby carrots; or seasame tofu with grilled zucchini, yellow squash and walnut maple cream sauce. Ketchup opens at 5:30 p.m. for dinner. www.dolcegroup.com
Restaurant at Sunset Marquis
Enjoy a four-course dinner and champagne toast. Presented by chef Guillaume Burlion, the menu features Langoustine and white truffle bisque en croute; butter lettuce with candied pecans over a wild leek tart with pomegranate vinaigrette; intermezzo of champagne granite; choice of Kobe beef "Perigourdine" or black truffle crusted Brittany dover sole; and a Godiva chocolate soufflé. Price is $125 per person. www.sunsetmarquis.com
RH at Andaz
RH's executive chef Sebastien Archambault will serve a special five-course feast that showcases his signature seasonal, market-to-table Southwestern French cuisine. Price for the first seating at 5 p.m. is $65 per person. Second seating at 8 p.m. is $75 per person and includes a champagne toast at midnight. The menu includes:
Aperitif: Kumamoto and Fanny Bay oysters, shallot vinegar, roasted pork sausage.
1st Course: Roasted Boothbay Harbor lobster, braised celery, garlic confit, bisque vinaigrette.
2nd Course: Seared diver scallops, girolami farm chestnut and celery ragout, black truffle.
3rd Course: Black angus filet mignon "Rossini", seared foie gras, black truffle sauce.
Dessert: Chestnut and Valrhona chocolate pie, frozen praline bar.
Reservations required 323.785.6090. www.rhwesthollywood.com
Sunset Trocadero
Join the Trocadero friends & family as we serve our full food and drink menu until 2 a.m. Come in early to take advantage of our happy hour, with all drinks (including champagne) and appetizers priced 50% off from 6-8 p.m.
HOTEL PACKAGES
Celebrate New Year's Eve at The London West Hollywood
Ring in the New Year with style at The London West Hollywood. Our New Year's Eve Celebration package offers you the ultimate year-end highlight with luxurious suite accommodations and award-winning cuisine from famed Chef Gordon Ramsay.
-Champagne toast in the privacy of your own suite upon arrival.
-Dinner for two at Gordon Ramsay at The London West Hollywood restaurant.
-Five-course menu seating between 8 p.m. – midnight
-Champagne toast at midnight.
-Overnight accommodations in a luxurious suite.
-Breakfast for two the following morning in the privacy of your suite..
-Overnight valet parking for one vehicle.
www.thelondonwesthollywood.com
Corking Good Time Champagne Packate at The Grafton on Sunset
Book the Grafton's Corking Good Time Champagne Package to party like a rock star and sleep in late on New Year's Day. Book by Dec. 28 online at www.graftononsunset.com or by phone at 323-654-4600.
NEW YEAR'S DAY
Brunch at Gordon Ramsay at The London West Hollywood
Celebrate the first day of 2011 with brunch at Gordon Ramsay at The London West Hollywood. Served from 11 a.m. – 3 p.m., the brunch features an a-la-carte menu. Add on trips to the Recovery Bar for $23. www.thelondonwesthollywood.com
Brunch at RH at Andaz
Brunch highlights include French-style Scrambled Eggs with smoked salmon and dill; breakfast salad; homemade crispy duck confit; and slow braised beef cheek alongside seasonal cocktails. Served 11 a.m. – 5 p.m. www.rhwesthollywood.com
Nurse Your Hangover at Cabo Cantina
Nurse that NYE hangover with bottomless mimosas and Bloody Marys for only $9.95 from noon until 3 p.m. Also offering a $1.99 "hangover burrito," in addition to our Mexican brunch menu. All Bowl Games will be shown on our HD Flat Screen TVs. Two-for-one happy hour from 4-8p.m. and again from 10 p.m.-midnight. www.thecabocantina.com