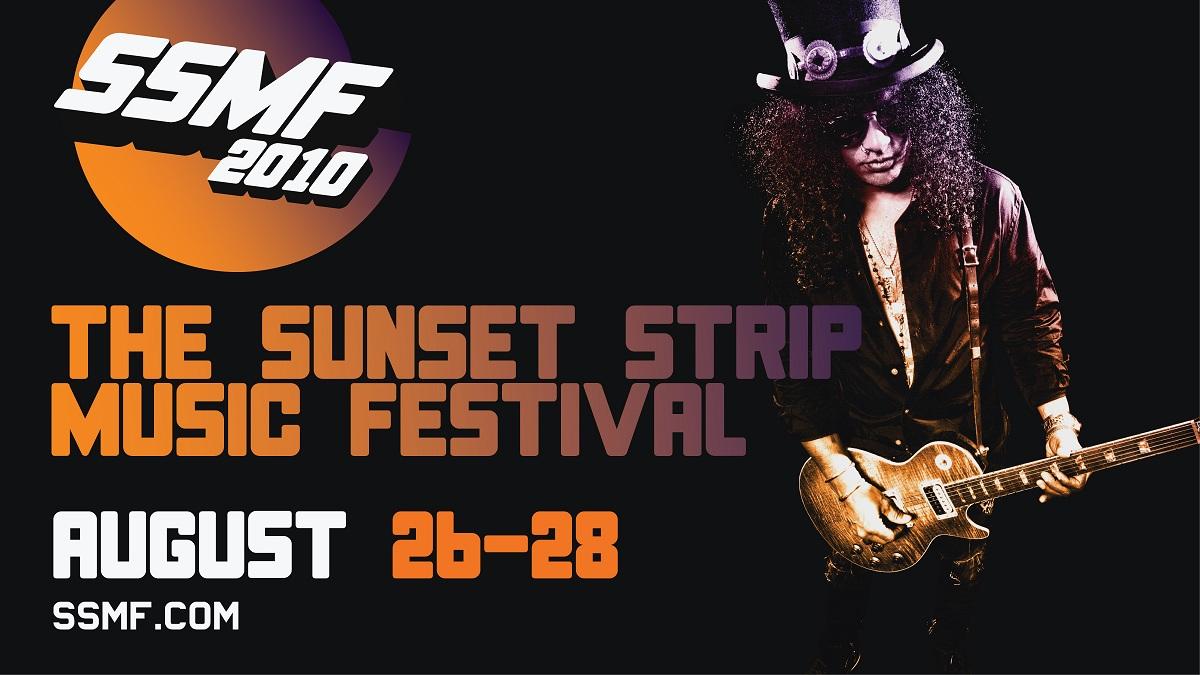 There's more to the Sunset Strip Music Festival than just great music. Check out the may special events and promotions happening along the boulevard during the three day fest, including exclusive deals for SSMF ticket and passholders. For the full Sunset Strip Music Festival lineup, schedule of events and ticket information, visit www.ssmf.com.
Explore the boulevard!
EVENTS
Week of Music-Related Events at The Comedy Store
8433 Sunset Blvd. www.thecomedystore.com
Tuesday, Aug. 24: Smartasses Trivia Night [SSMF Special Edition]:
Your typical Trivia Night takes a turn for the funny as four comics join in on the fun. Your team is paired up with one of our notoriously cerebral comedians as you all battle for prizes and glory. Beware however, wrong answers can cost you. It's comedy, trivia, a drinking game, and a thematic night of learning and best of all, it's free.
Thursday, Aug. 26: Karaoke Killed The Cat presents BOOTYOKE!
Shred Savage brings you New York 's Karaoke Killed the Cat for one night only and it's BOOTYOKE all over again! This party has been featured on VH1 and Spin.com for being the most outrageous karaoke extravaganza on this planet! Chris Goldteeth and Lord Easy, who performed with The Comedy Store Crew at the SXSW festival in Austin, are ready to pull you and your friends on stage to show off some thigh and SING, rumpshakers! Bootyoke is an event for the asses, so it is $10 at the door and $5 if you are wearing shorts!
LOL-Apalooza: Friday, Aug. 27
A somewhat rockin' evening of music and comedy…The World Famous Comedy Store in conjunction with the Sunset Strip Music Festival presents LoL-Apalooza. The shared border of music and comedy is not limited to Broadway shows laden with prancing, bejeweled chanteurs and showstoppers. The world of standup has its fair share of music acts that straddle that line to great success. In the grand tradition of Andy Kaufman, Spike Jones and Flight Of The Conchords, we are pleased to present an amazing evening of laughs and musicality starring some of the country's best double threats. Join BKO, Alicyn Packard, Tartar Control, MC Mr. Napkins, Julia Lillis, Casual Mafia, J. Chris Newberg and more for a musical night of fun as we ease into the Sunset Strip Music Festival.
Whiskey Tasting Dinner at The Den: Thursday, Aug. 26
8226 Sunset Blvd. www.thedenofhollywood.com
In spirit and in honor of the Sunset Strip Music Festival, The Den will host an evening featuring signature whiskey cocktails paired with an exclusive whiskey-inspired five course dinner. Please RSVP for this evening of music, unforgettable cocktails and food. Multiple seatings available, starting at 6:30 p.m., but space is limited. Evening is $50 per person. 323.656.0336
SSMF Photo Exhibit: Friday, Aug. 27
8570 Sunset Boulevard
SSMF presents the "Sunset Photo Strip "on Friday Aug 27 from 7-11 pm at the Sunset (8570 Sunset Boulevard). The exhibit features the works of six local music and celebrity photographers who have dedicated their lives to capturing everything that happens on The Strip. Featured photographers include Erik Voake, Tim Gaylord, Andrew Herrold, Nate Christenson, Genie Sanchez and Wendy Gonzalez. Parking is available on site and beverages will be available. Come down, see some art, listen to some music and be there to kick off the biggest weekend on The Strip!
Foundation Room at House of Blues: Friday, Aug. 27
8430 Sunset Blvd. www.hob.com
The Codega presents live music on Friday, Aug. 27. Show you SSMF ticket to the Foundation Room podium host and receive free entry to the room.
Pool Party at The Standard: Saturday, Aug. 28
8300 Sunset Blvd. www.standardhotels.com/hollywood
Stop by The Standard on Saturday, Aug. 28 and enjoy an all-day pool party from 1 p.m.-midnight. There will be barbecue on the pool deck and a ping pong contest. Cocktail and beer specials include $4 PBR, $6 Guitar Gimlet and $6 Sunset Stripped.
RESTAURANTS / BARS
The Standard
8300 Sunset Blvd. www.standardhotels.com/hollywood
Special extended happy hour on Aug. 26 and 27. Cocktail and beer specials include $4 PBR, $6 Sunset Stripped cocktail and $6 Guitar Gimlet. During this time The Standard will also offer their happy hour Sunsetter menu with food and drink specials.
Buttercake Bakery
8616 Sunset Blvd. www.buttercakebakery
During SSMF Aug. 26-28, when you buy one cupcake, you'll receive one for free.
Red Rock
8782 Sunset Blvd. www.redrocksunset.com
Drink specials include $3 Miller Light, Coors Light and MGD Draft beer as well as $6 Pelagrosso Tequila shots and $7 Pelagrosso Margaritas. Aug. 26-28.
Joe's Pizza
8539 Sunset Blvd. www.joespizza.com
SSMF badge holders (VIPs, artists) can enjoy a buy one slice get one free special Aug. 26-28.
House of Blues Restaurant
8430 Sunset Blvd. www.hob.com
Aug. 26-28, show your SSMF ticket or pass and receive a free appetizer.
The Olive Kitchen + Bar
8462 Sunset Blvd. www.theolivekitchenbar.com
SSMF street fest attendees receive happy hour prices all day and night on Saturday, Aug. 28. Present your wristband, ticket or pass and receive 50% off beer, wine by the glass and well drinks.
Cabo Cantina
8301 Sunset Blvd. www.thecabocantina.com
Home of The Strip's most famous Happy Hour, in which ALL DRINKS are two-for-one prices from 4-8 p.m., we now offer a new late night happy hour from 10 p.m.-close, with the same two-for-one prices you have grown to love! As usual, we are the spot to quench your thirst with ice cold cervezas and mega-sized frothy margaritas in any flavor! Also serving up a newly revised menu with more of our delicious specialty items to choose from! The perfect accompaniment to our classic rock playlists is our special "Sunset Strip Margarita" for SSMF fans!
Sunset Trocadero
8278 Sunset Blvd. www.myspace.com/sunsettrocadero
Celebrate The Strip in old-school glamour – Troc style. Offering SSMF fans 50% off all appetizers and all drinks, including our original Sunset Strip Martini!
RETAIL
Dan Deutsch Optical
8555-A Sunset Blvd. www.dandeutschopticaloutlook.com
SSMF ticket and passholders will receive 10% off all sunglass purchases during Aug. 26-28. Dan Deutsch will also host a gallery of rock and roll memorabilia during the festival.
Catherine Malandrino Sample Sale
8644 Sunset Blvd. www.catherinemalandrino.com
Receive up to 80% off items, Aug. 26-29.
Tattoo Mania
8861 Sunset Blvd. www.myspace.com/tattoomaniahollywood
Tattoo Mania will offer $20 piercings (some exclusions apply) and $40 off any tattoo. You must mention Sunset Strip Music Festival promotion or show your ticket to receive the discounts.
House of Blues
8430 Sunset Blvd. www.hob.com
Show your SSMF ticket and receive 10% off purchases.