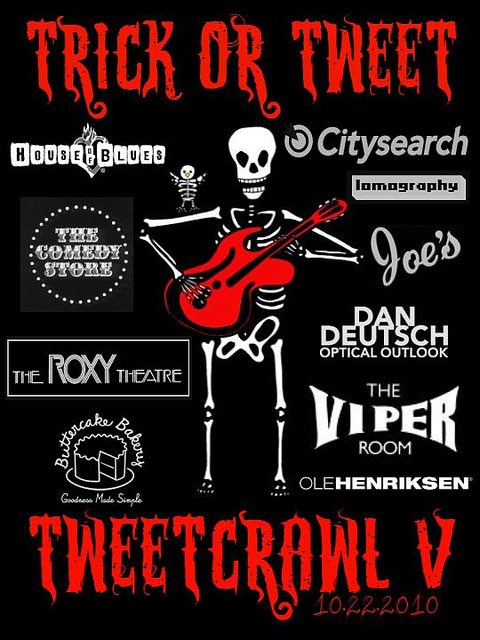 As All Hallows' Eve inches closer and closer, we invite you to enjoy events that will make you scream with delight. Grab a devilish cocktail at "London After Dark", check out "The Lost Boys" with Corey Feldman and trick or treat on The Sunset Strip with TweetCrawl V. And don't forget your costume. Skybar, Rainbow Bar & Grill, the Viper Room, Key Club and Cat Club are hosting Halloween parties, too.
October
"London After Dark" $5 Cocktails
The London West Hollywood's "London After Five" happy hour menu is getting a spooky twist this month. Renamed "London After Dark," the $5 happy hour menu includes some devilishly good libations, including Black Martini (Ketel One vodka and blackberry brandy); Zombie (light rum, dark rum, apricot brandy and pineapple juice); Devil's Brew (Blue Curacao, crème de cassis topped with a champagne floater); and a Bloodtini (Veev Acai and lemonade with a champagne floater and Chambord). "London After Dark" also includes a $5 appetizer menu with skewered shrimp and hot chili sauce, crab cakes with bloody orange sauce, oven roasted ribs slider and roasted chicken with apple sauce. Happy hour cocktails and appetizers served from 5-7 p.m. on weekdays. www.thelondonwesthollywood.com
October
Halloween Treats at Buttercake Bakery
Buttercake Bakery is cooking up some spooky and delicious treats throughout the month. Try their Halloween cupcakes, pumpkin, ghost and black cat sugar cookies, pumpkin cupcakes and pumpkin whoopie pies. www.buttercakebakery.com
October
Lopez Ranch Pumpkin Patch (8950 Sunset Boulevard)
This year The Sunset Strip is home to a real pumpkin patch – complete with scarecrows, hay and things that go bump in the night. Open Monday – Friday and Sunday from 10 a.m. to 9 p.m. and Saturday from 9 a.m. to 9 p.m. For more information, call 323-804-5618. Find Lopez Ranch Pumpkin Patch on Facebook.
October 8, 15, 22 and 29
Haunted Midnights at The Comedy Store
Join Comedy Store staff, paranormal researchers, performers and special guests for an evening of séances, haunted tales, videos, paranormal research and proof. The night culminates in a flashlight tour of Hollywood's most haunted building! $20 per person, ages 21 and older. (Not familiar with The Comedy Store's haunted past? Read all about it.)
October 22
TweetCrawl V: "Trick Or Tweet" on The Sunset Strip
Ghouls, boys and the occasional creep will gather for this spooky version of The Sunset Strip's signature event! Put on your costumes and come knock on the doors of your favorite establishments to see what libations, grub, goodies and prizes they'll be treating you to. The night kicks off with pumpkin carving and Halloween cocktails at The Roxy Theatre at 7 p.m. Other participating businesses along the TweetCrawl include the Viper Room, Citysearch LA, Joe's New York Pizza, Dan Deutsch Optical, Buttercake Bakery, Ole Henriksen and House of Blues Sunset Strip. The night ends at The Comedy Store with guests enjoying Haunted Midnights and a flashlight tour of the most haunted building in Hollywood. Check out the full list of events and schedule.
October 24
"The Lost Boys Ball" with Corey Feldman and his band Truth Movement at House of Blues
The night includes a screening of the classic Lost Boys film, costume contest, themed dinner, a live Q&A session with Corey Feldman and other special guests and a performance by Feldman's band, Truth Movement. Tickets range from $23 for GA, $45 for GA plus dinner, and $105 for a VIP package. This event is ages 18 and older only. www.houseofblues.com
October 27 & 28
Costume Party at The Rainbow Bar & Grill
The Rainbow Bar & Grill will host two nights of Halloween parties with costume contests and prizes. Party kicks off 8 p.m. each night. www.rainbowbarandgrill.com
October 28-31
"Isla Wonderland" Halloween Celebration
The Cheshire Cat awaits your arrival at the entrance for Isla's most magical weekend. Drink specials and four nights of parties. www.islacantina.com
October 29
"The Witch Hunt" featuring Nico Vega + Saint Motel at The Roxy Theatre
The night also features performances by Imagine Dragons and Queen Caveat. Doors at 8 p.m. Tickets are $13.50. www.theroxyonsunset.com
October 29
Halloween Weekend at the Whisky A Go-Go
The Whisky kicks off Halloween weekend with performances by The Wiseguys Big Band, Justin Kalk Orchestra, Substyle Experience, Radical Blood Orange and Ashes To Light. Tickets are $15 at the door. Doors open at 8 p.m. www.whiskyagogo.com
October 30
Halloween Party with Lonely Drunks Club Band at the Cat Club
Sunset Strip all-star band the Lonely Drunks Club takes over The Cat Club with Bolt Action Thrill and Sluggo. Get there early and enjoy happy hour from 7-8 p.m. with half-priced drinks. Ages 21 and older. (Insider tip: visit The Cat Club's website and download a flyer for $5 entry). www.thecatclubonsunset.com
October 30
Halloween Weekend at the Whisky A Go-Go
The Whisky celebrates Halloween with performances by Gilby Clarke featuring Halloween Jack, Black Brew, N.O.N., Hotwired, Princess Dye, Bunny Monroe, Artemas and Calvin. Doors open at 7 p.m. www.whiskyagogo.com
October 30 & 31
Halloween Brunch at Boxwood Café by Gordon Ramsay
Boxwood Café serves up a frightfully delicious weekend brunch. The menu includes Jack's Pumpkin Hotcakes, "One-Eyed Susan" (poached egg with hollandaise, spinach and crab), Bloody Steak & Eggs served with sweet piquillo pepper sauce, and Monster Hash (with duck confit and grilled sourdough toast). Spirit-filled cocktails are also on the menu, including The Bride Of Chucky (champagne, orange juice and Chambord), The Omen (Belvedere orange and Pama Liquer) and Devil's Punch (Patron Silver, Grand Marnier and lemoncello). www.thelondonwesthollywood.com
October 31
Halloween Dance Party at The Standard
Cork your fork, shine those cloven hooves and unlimber for your grand jeté or roger rabbit, because The Standard, Hollywood requires your presence under the disco ball this Hallows Eve. Bri & Brooke of J*Davey will entertain with a DJ set and live performance at midnight, while The LA Waackers will be throwing neo-vogue shapes and hosting the afterparty for the first annual waacking/punking dance festival. This is a free event! Call 323.650.9090 for table reservations. www.standardhotels.com/hollywood
October 31
DJ Shadow: Live From The Shadowsphere at House of Blues Sunset Strip
Influential DJ Shadow brings his signature sound to the House of Blues. Doors at 8 p.m. Tickets are $37.50 in advance. Ages 18 and older.
www.hob.com
October 31
Halloween Party at Skybar
Annual costume party featuring special guest DJs. RSVP to skybarla@morganshotelgroup.com. www.mondrianhotel.com
October 31
Costume Party with Purple Melon at the Viper Room
British rockers Purple Melon bring their classic-rock inspired sound to the Viper Room. Doors at 8 p.m. Tickets are $5. Ages 21 and older. www.viperroom.com
October 31
Murderdolls at The Roxy Theatre
Break out the goth for the fully-charged metal and punk sounds of Murderdoll. Doors open at 8 p.m. Tickets are $15. www.theroxyonsunset.com
October 31
The Spazmatics Halloween Bash at Key Club
The ultimate New Wave '80s show presents a Halloween celebration. All the awesome sounds, styles and way cool dance moves from the '80s you may say you'd like to forget, but you love to relive. Tickets are $10. Doors open at 9:30 p.m. Ages 18 and older. www.keyclub.com

Photos: Devil's Brew at The London Bar, sweet treats at Buttercake Bakery, TweetCrawl V: Trick or Tweet flyer