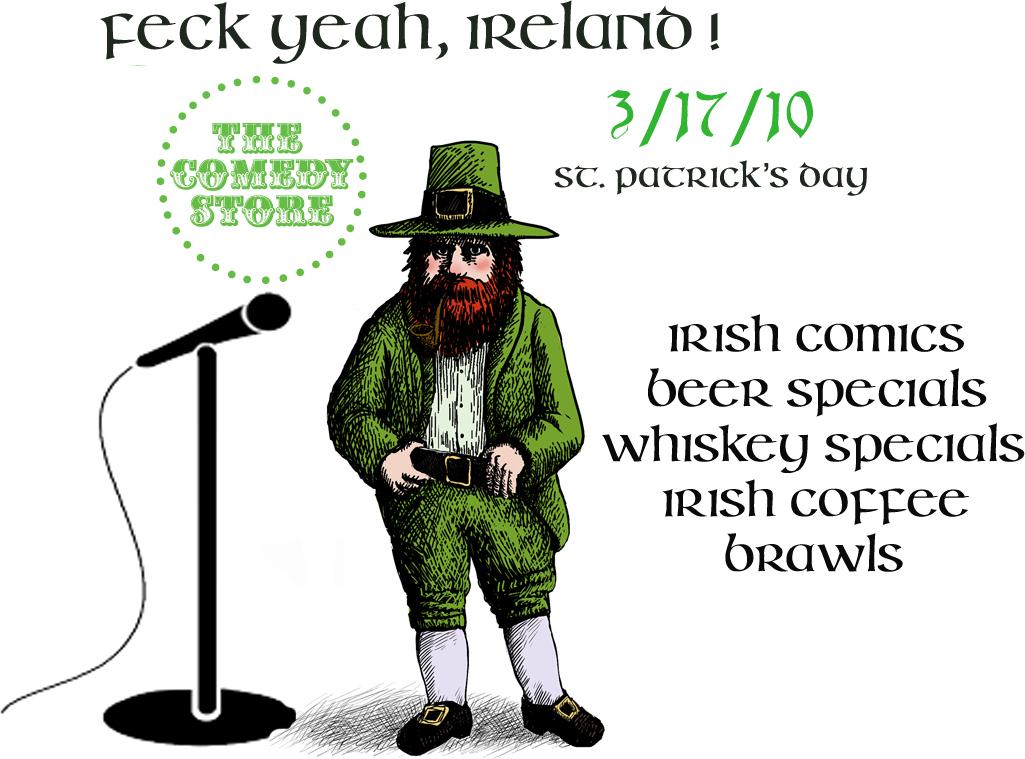 Live music, drink specials, Green Velvet Cake and $25 tattoos. The Sunset Strip is the only place to be — outside of Ireland — this St. Patrick's Day.
Live Entertainment:
Young Dubliners at House of Blues Sunset Strip
8430 Sunset Blvd. | 323.848.5100 | www.hob.com
House of Blues Sunset Strip is proud to present Celtic rock group the Young Dubliners with King Washington on St Patrick's Day. The night also includes Irish drink specials in the Foundation Room prior to the show. Tickets are $30 in advance and $32.50 day of show. This show is ages 21 and older only.
"Feck Yeah, Ireland" at The Comedy Store
8433 Sunset Blvd. | 323.650.6268 | www.thecomedystore.com
Irish comics, beer and whiskey specials and Irish coffee. Tickets are $15. The show begins at 9 p.m. and is ages 21 and older.
Mark Mahoney and the Shamrock Social Club's St. Patrick's Day Bash at The Roxy
9009 Sunset Blvd. | 310.278.9457 | www.theroxyonsunset.com
Legendary Sunset Strip tattoo artist Mark Mahoney and the Shamrock Social Club host their infamous St. Patrick's Day Bash. This year's event features a killer lineup of old school punk legends including, TSOL, D.I., The Stains, Agression and Cold Blue Rebels. Doors at The Roxy open at 8 p.m. Tickets are $15 at the door. This event is 18+.
Special Deals:
$25 Shamrock Tattoos
9026 Sunset Blvd. | 310.271.9664 | www.shamrocktattoo.com
Want to remember St. Patrick's Day year-round? Stop by Shamrock Social Club on Wednesday as artists at the shop will offer $25 shamrock tattoos all night long.
Ole Henriksen
8622 Sunset Blvd. | 310.854.7700 | www.olehenriksen.com
Wear your green on St. Patrick's Day! Receive a complimentary jar of Ole Henriksen's all purpose aloe vera gel and avoid getting pinched. Bring in a copy of the spa's March Ole Henriksen Face/Body newsletter to redeem.
Green Velvet Cakes and Shamrock Cookies
8616 Sunset Blvd. | 310.855.0770 | www.buttercakebakery.com
Buttercake Bakery gets in the spirit this week with Green Velvet Cakes – a twist on the traditional Red Velvet Cake ($15-$35). Shamrock petit fours ($2.25), Shamrock sugar cookies ($1.75) and holiday-themed cupcakes ($2.75) are also available.
Drink Specials:
The Standard, Hollywood
8300 Sunset Boulevard | www.standardhotels.com
Offering two specialty cocktails: The Leprechaun featuring a 'Bit 'o Bailey's and Bushmills with creme-de-menthe green and cream, and The Shamrock-'n-Rolla, a special house recipe, with a splash of Irish! The Standard is also hosting an acoustic night. So grab a drink and enjoy!
Ketchup
8590 Sunset Blvd, West Hollywood | 310-289-8590 | www.dolcegroup.com
Half-priced beer on St. Patrick's Day.
Cabo Cantina
8301 Sunset Boulevard | 323.822.7820 | www.thecabocantina.com
Have an Irish fiesta with Cabo Cantina, offering 99-cent Coronitas, Mega Irish Margaritas, $5 burritos and of course our famous two-for-one happy hour from 4 -8 p.m.
The Den Of Hollywood
8226 Sunset Blvd. | 323.656.0336 | www.thedenofhollywood.com
Offering $2 Coors Light and $5 Irish Car Bombs. And traditional corned beef and cabbage on the menu.
BLT Steak 5 After 5
8720 Sunset Blvd. | 310.360.1950 | www.bltsteak.com
Enjoy $5 draught beer, cocktail and wine selections from 5-7 p.m., as well as decadent $5 appetizers including Gruyere mac and cheese and steak sliders.
The London After Five
1020 N. San Vicente | 310.854.1111 | www.thelondonwesthollywood.com
From 5-7 p.m. enjoy $5 glasses of champagne or sake. Also on the menu: $5 bar bites and $5 valet parking with validation.