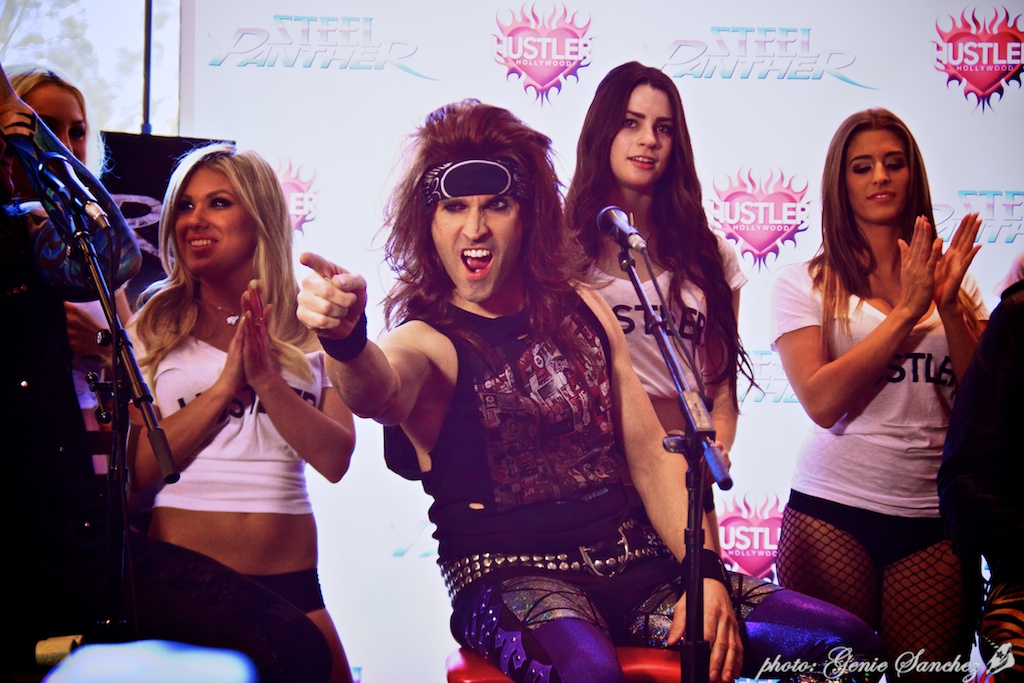 The Sunset Strip's own spandex sheathed, hair-metal mainstays, Steel Panther, recently held a press conference of sorts at Hustler Hollywood, an oh so apropos location, to announce the release of their new sartorial opus, All You Can Eat.
The band, chaperoned by a bevy of booty shorts clad Hustler girls took questions from the "press" before launching into an acoustic set debuting songs from the new record, as well as fan favorites.
Later that evening, at the legendary Rainbow Bar and Grill, the guys took a short break from the afterparty to speak with TSS.com and reminisce a bit about the band's long and storied history with The Sunset Strip.
You guys started as Metal Shop at the Viper Room, then eventually moved to The Roxy as Metal Skool, then over to Key Club where you became Steel Panther, and now House of Blues. Give us a little personal reflection of your time on The Strip.
Michael Starr (lead vocalist): I don't know if you know this, but we have the longest running weekly show in the history of The Sunset Strip. No band's ever done it! The only time we took time off was when we got signed and started going on tour, but whenever we came off tour, even when recording a record, every Monday night we were here. And we think we should get a Hollywood star! Name any band… not even Wicked has gone as long as we have!
Was there any particular moment during that time where you were thinking, "This is really happening for us, we're going to make it?"
Starr: The moment that hit me was when our manager called us and said the president of Universal wants to have a meeting with you guys; he's been secretly watching you perform on Monday nights. 'Cause we had started playing our own original stuff…
So we had a meeting with him and he said, "I want to sign you guys to a major recording contract." And we were like, "Fuck you, no way!" 'Cause we were a cover band and we would just slip in "Fat Girl" or "Death to All But Metal" now and then, and then finally we got a deal. And at that point I didn't know it would turn into what it is today, but I knew that we were going somewhere else other than playing Bon Jovi and Ratt all the time.
A lot of crazy debauchery has happened at Steel Panther shows over the years, with girls joining you guys on stage. What's the absolute most insane, most shocking, most memorable thing that's happened in your memory thus far?
Starr: We were getting ready to go on stage at Key Club, the curtain was closed and these two chicks came through the backstage door and while our intro was going on they blew me! And then suddenly the curtain is going up, and I'm trying to pull my pants up… True story! It was the best show I ever had!
Lexxi Foxxx do you personally have a favorite X-rated moment on stage?
Foxxx (bass guitarist): Well Personally, I think it was Germany actually… So I have these things in my pants to protect my butt, like little butt pads that also make my butt look bitchin'… So a girl came up and found out that I had those, and tried to stick her hands down my pants to feel my real butt, and of course she missed it, and stuck her finger right in my butthole. It really woke me up!
Favorite celebrity to have on stage?
Foxxx: Steven Tyler. Also Billy Ray Cyrus was bad ass too.
And I know there's a fairly lengthy list of celebs you guys have pissed off, that will no longer come back to your shows…
Foxxx: The guys in Hoobastank…they won't come back to our shows anymore, 'cause we sorta make fun of them on stage sometimes when we riff on their song "The Reason."
———————