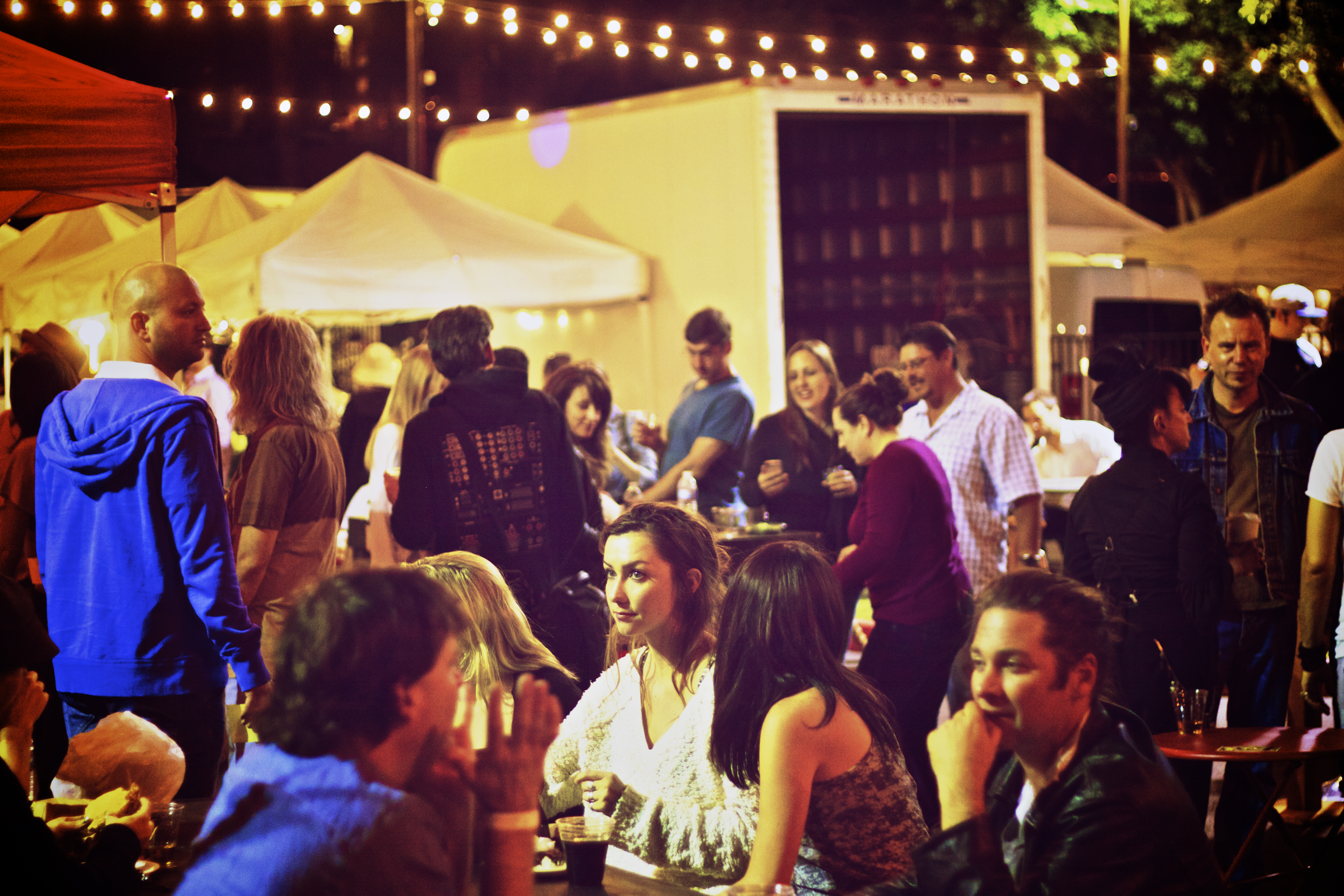 Good news for all fans of farmers' markets, food and fun. We are happy to announce that the Sunset Strip Market will begin its 2013 season on Thursday, May 2! The seasonal market will take place every Thursday night from May through October at the City of West Hollywood public parking lot located at 8755 Sunset Boulevard. The re-launched Market will also feature extended summer hours, operating from 6-10 p.m.
The Market will feature new and returning California farms and local food artisans as well as live music and cooking demonstrations. The Market will also host a craft beer and wine garden that exclusively features selections produced exclusively in California.
New additions to the Market include:
Bomba Paella: authentic, open fire paella
Denny's Organic Farm: organic strawberries, blackberries, blueberries, raspberries, asparagus, artichokes and other veggies from Nipoma, Calif., as well as organic juices made fresh at their Market juice bar
enFuso: specialty balsamics from Los Alamitos
Hepp's Salt: gourmet salts based in Venice, Calif.
T's California BBQ: farm-to-table Santa Maria style barbecue featuring Niman Ranch organic beef and farmers' market vegetables
Returning farms and vendors at the Sunset Strip Market include:
Ari's Natural Food: natural and homemade hummus, Greek yogurt, tzatziki and more
Cuyama Orchards: organic apples
Dairy Goddess: farmstead milk, chocolate milk and cheese
Dave's Gourmet Korean: Koreankimchi, tempeh, tofu, spring rolls, teas and more
Canela Empanadas: freshly made vegetarian and meat empanadas
Gourmet Crepes: fresh, made to order sweet and savory crepes
Gourmet Grillmaster: specialty rotisserie chicken with roasted garlic potatoes
Janae's Fillets: fresh-caught, wild Alaskan salmon
Kosher Palate: locally sourced, sustainably grown and ethically produced natural, organic and whole ingredients made under the strict supervision of the Rabbinical Council of California
Marsatta Chocolate: artisinal bean to bar chocolate, truffles and chocolate dipped strawberries
Milkman: California farmstead cheeses
Moist N Creamy: cakes and baked goods
Old Village Bakery: fresh bread and baked goods
Shear Rock Farm: heirloom tomatoes, baby greens and olive oil
Shuck's Oyster Bar: California oysters shucked at the market or to take home for later
Smart Fish: sustainable fish and seafood
Soledad Goats: farmstead goat cheese from Mojave
Summer Harvest: organic cherries, peaches, plums and nectarines
Suncoast Farms: asparagus, artichokes and beans (pinquitos, yellow beans, lima beans and lentils)
The Belgian Fry Shack: Belgian-style fries with dipping sauce
Additionally, the Market has expanded its
$5 validated parking options
, with parking also available in the former Tower Records parking lot (8801 Sunset Blvd.), providing easy access for guests who are driving. Additional $5 parking options are located within close walking distance of the Market as well, with a full list of options available at
www.sunsetstripmarket.com/parking
.
For more information about the Market, including upcoming live music performances, selections at the craft beer and wine garden and more, visit www.sunsetstripmarket.com and follow on
Facebook.com/SunsetStripMRKT
and Twitter
@SunsetStripMRKT
.
Photos courtesy of Genie Sanchez