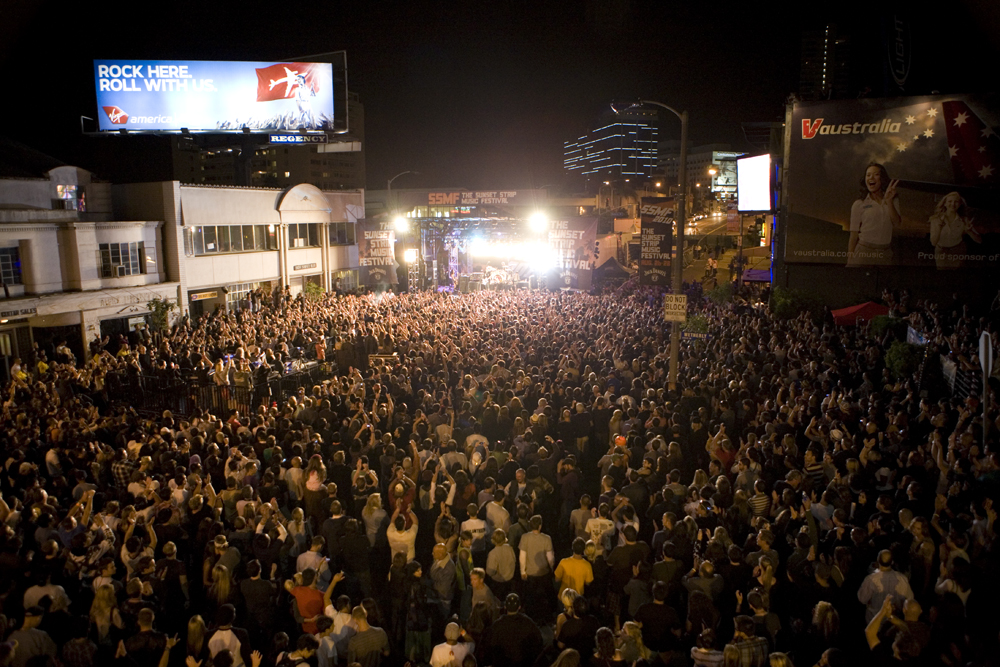 The third annual Sunset Strip Music Festival (SSMF) took over the legendary boulevard Aug. 26-28, 2010. The three-day event was a spectacular success, drawing 30,000 people to The Strip. Featuring full nights of music at The Strip's six legendary music venues, the festival culminated with an all-day street festival on Saturday, Aug. 28, with 13,000 attendees flocking to The Strip to see performances by The Smashing Pumpkins; Slash featuring Myles Kennedy and Fergie; Common; Kid Cudi; Travie McCoy; Neon Trees; Steel Panther; Semi Precious Weapons; Saint Motel; Big B; and a host of more than 70 local and national artists performing within the venues.
"I am ecstatic about the success of the Sunset Strip Music Festival," said West Hollywood Mayor John Heilman. "It is an amazing event which brings a diverse group of music lovers to the Sunset Strip to enjoy entertainment on one of the world's most iconic streets. With the hard work of our business community, we are bringing music back to Sunset Boulevard."
The festival kicked off on Thursday, Aug. 26 with a star-studded tribute to legendary guitarist Slash at the House of Blues. As in previous years, Slash was selected for his contributions to the history of The Sunset Strip and the music industry. KLOS' Jim Ladd hosted the event and fellow musicians and friends Nikki Sixx, Jerry Cantrell and Lemmy Kilmister were on hand to share stories, memories and congratulations for Slash.
The festival then continued with live performances by artists including Filter (The Roxy Theatre), P.O.D. (Whisky A Go-Go), Warner Drive (Viper Room), Nico Vega and Unwritten Law (Key Club), Golden State (Cat Club) and Kix (House of Blues) on Thursday and Friday nights. On Saturday, more than 50 bands, two outdoor stages and a full day of music took over the boulevard.
For the second time in The Strip's history, the boulevard was closed to traffic (between San Vicente Boulevard and Doheny Drive) to accommodate two full-scale stages, a beer garden, food and merchandise vendors, VIP lounges and interactive experiences. This year's street festival also featured towering 10-foot art guitar sculptures as part of Gibson GuitarTown on The Sunset Strip. The oversized Gibson guitar sculptures were created by local and nationally-acclaimed visual artists, with each guitar sculpture celebrating a musician, personality, or influential moment unique to The Sunset Strip's history and Gibson Guitar.
SSMF 2010 received local, national and international attention, including coverage in Rolling Stone, People, OK! Magazine, Los Angeles Times, Variety, O.C. Register, LA Weekly, LAist.com, Paper Magazine and New York Magazine, among others.
"The Sunset Strip Music Festival continues to draw local and national attention to The Sunset Strip and it lets the world see that this is a thriving, vital community," noted SSBA President Mikeal Maglieri. "The success of this event is a testament to the businesses and the community that continues to support it each year."
Early critical acclaim for SSMF 2010:
"…Corgan alternated fresh tunes with old favorites during the 90-minute show, which Smashing Pumpkins performed on an outdoor stage near the intersection of Sunset Boulevard and Doheny Drive. (Sunset was closed to traffic Saturday between Doheny and San Vicente Boulevard.)" —Mikael Wood, Los Angeles Times
"On Saturday, Slash performed new songs and hits from Guns N' Roses and Velvet Revolver. He unfurled GNR's 'Sweet Child O' Mine,' firing off the closing riffs with his signature Les Paul behind his head. Fergie joined him for a surprisingly heavy encore, falling to her knees and then doing actual cartwheels during Slash's solo on Heart's 'Barracuda.'… On the opposite end of the street, Semi Precious Weapons uncorked spiky hard rock as singer Justin Tranter strutted through the crowd in glittery high heels before demanding fans join him onstage…Travie McCoy performed songs from his first solo album, Lazarus, with live beats from Gym Class Heroes drummer Matt McGinley. The result was a mash-up of styles that Roxy co-owner Nic Adler said 'is really where the Strip is today — with someone who came from a hip-hop background, has very catchy hooks, but knows how to rock a bunch of people.' Common likewise introduced warm, playful grooves with his three-piece band, rapping lover-man rhymes on 'I Want You' and a teasing 'Punch Drunk Love.' –Steve Appleford, Rolling Stone
"…Smashing Pumpkins frontman Billy Corgan, who eloquently tied the festival's eclectic lineup to the genre-spanning fellowship of influential artists throughout the decades who have made their presence felt within the venues of this historic Hollywood district. 'The Doors … the Strawberry Alarm Clock, the Beach Boys, Buffalo Springfield, the Go-Go's, the Bangles, Guns N' Roses, X, Jane's Addiction — one of the best bands ever — all started here. What an amazing legacy, and what an amazing place to be a part of,' Corgan gushed before dedicating 'Cherub Rock' to the wildly cheering masses…"
— Dave Hall, Orange County Register
"Whether you're 20, 40 or 60 years old, grew up in Los Angeles or hopped right off the bus ala Axl Rose in 'Welcome to the Jungle,' if you're a music fan, the Sunset Strip's legacy and continuing eminence as a rock n' roll nucleus is and has been an undeniable draw…The 3rd annual Sunset Strip Music Fest, which took over the Strip this past weekend (with street closures and stages on Saturday), served to punctuate the 'Strip is back' message while honoring its past…With events like SSMF keeping The Strip vital and fresh, here's hoping the current clubs on the street never get a RIP tee." –Lina Lecaro, LA Weekly
"…a user-friendly and really fun experience that provides a very satisfying bang for your concert dollar. Start marking your 2011 calendars now." –Scott Sterling, Shockhound.com
"For the third year in a row, the Sunset Strip Music Festival has celebrated the vibrant local music scene with an oversized nod to the city's decadent glory days…" –Jose Martinez, Blurt-Online.com
"With the longstanding renovations to the legendary Sunset Strip now complete, the Renaissance has officially begun, and there was no better way to celebrate…The festival itself has now become an important part of not only The Sunset Strip's musical rebirth, but also for our city itself. It brought together thousands of unique and spirited souls, from those that were getting their first taste of the musical power that is found on The Strip to all those that regularly call this magical place home. As Slash's epic guitar solos echoed out towards the night, there was no greater proof that rock and roll is once again alive and well on The Sunset Strip." –Ryan Simoneau, SinninginLA.com
SSMF 2010's proud supporting sponsors include Virgin America, V Australia, Jack Daniel's, Bud Light, Southern California MINI Dealers, Ticketmaster, Vitaminwater, Gibson Guitar, Honest Tea, 98.7fm, Andaz West Hollywood, Brand X, Monte Carlo Music, Whole Foods West Hollywood, City of West Hollywood, West Hollywood Marketing & Visitors Bureau's WEHO Key and Signature Creative. Street fest production was provided by Swing House Hollywood.
For more information about the Sunset Strip Music Festival, including photo galleries, please visit www.ssmf.com.
Photos: Erik Voake, Andrew Herrold and Nate Christenson.