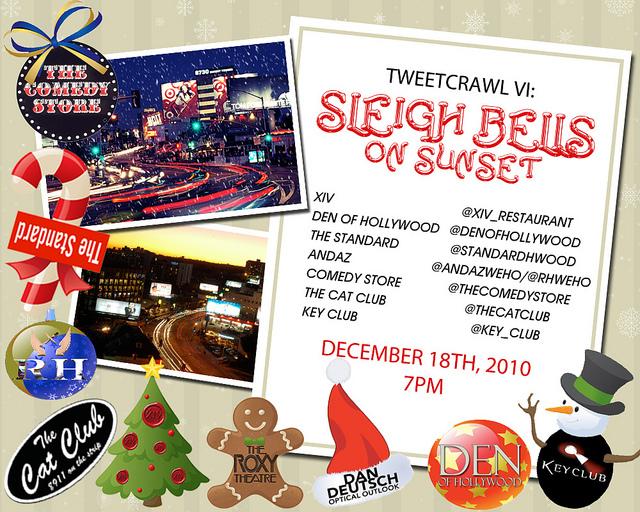 You've decked the halls and spiced the cider, now it's time to walk in a not so wintery wonderland as The Sunset Strip's restaurants and bars host TweetCrawl VI: Sleigh Bells on Sunset! The signature venue-crawl-meets-social-networking event is taking over the boulevard – jingle bells and all – on Dec. 18.
Participants are encouraged to don their tackiest, most festive holiday sweater as the group carols down The Strip spreading cheer and visiting some favorite spots. Indulge in very merry libations, food and goodies – not to mention a chance to win a bounty of awesome prizes from participating businesses as well as The Roxy Theatre (@theroxy) and Dan Deutsch Optical (@dandeutschoo). (Be sure to follow them all for chances to win.)
TweetCrawl VI will kick off at 7 p.m. at XIV restaurant and concludes at The Comedy Store at 11 p.m., but the party doesn't end there. The Cat Club and Key Club are opening their doors to host the official "after parties" for TweetCrawlers, offering free entrance to all. So grab your portable emailing device and meet us on The Strip for a night of adventure that is sure to score you some points on the naughty list.
The full schedule:
7 – 7:45 p.m. at XIV (@XIV_Restaurant)
Kicking things off a block outside The Sunset Strip, XIV restaurant is happy to get TweetCrawlers in the holiday spirit with half-priced drink specials as well as $6 sliders and fries. Extra bonus: everyone who checks-in on Foursquare between 7 and 7:30 p.m. will be entered into a raffle for an ultra swanky prize. (Please note: winner must be present at XIV during the raffle drawing to claim their prize.)
8 – 8:30 p.m. at The Den of Hollywood (@denofhollywood)
Board games will abound and drink specials like $3 PBR tall cans and $5 whiskey cokes will be sure to help bring out the holiday cheer.
8:45 – 9:15 p.m. at The Standard (@standardhwood)
The Standard, Hollywood will offer up their usual goodies and treats. Be sure to follow them on Twitter, as they are known to have a pretty large red sack full of presents. (Did we hear something about a free night stay?). And as an added bonus, The Standard has offered parking in their lot for the special price of $8 to all TweetCrawlers.
9:30 – 10:15 p.m. at RH Bar at the Andaz Hotel (@andazweho / @RHweho)
Happy golden days of yore await at RH, a spot well known for creating some of the most delicious cocktails on The Strip, and they don't disappoint this season with a fresh eggnog martini specially priced at $9. Care to take a deeper look at the RH? Follow them on Twitter for a chance to win $100 gift certificate!
10:30 – 11 p.m. at The Comedy Store (@TheComedyStore)
Tie the mistletoe with your favorite comedians at The World Famous Comedy Store, where crawlers will receive free entry to the Main Room show along with several drink specials sure to make Rudolph's nose twinkle all night.
11 p.m. – 2 a.m. Cat Club (@thecatclub) & Key Club (@key_club) after parties
Both venues will play host to the official after parties on the west end of The Sunset Strip and are offering free entry to any TweetCrawlers who still have some steam at the end of the crawl. (DJ Quik performing at Key Club, while the Cat Club hosts The Lonely Drunks Club Band.)
As always, you should have a designated driver or plan to utilize public transportation if drinking. Please drink responsibly and don't drink and drive.