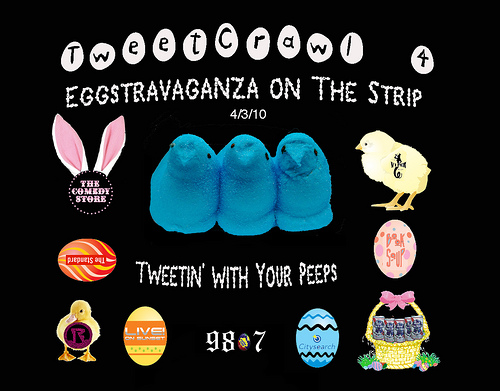 Spring – and pollen — is in the air, and what better way to celebrate than with a Sunset Strip Tweetcrawl! The fourth edition of this walkable, drinkable social-media enhanced tour of The Strip is set for Saturday, April 3, and is kicking off earlier in the day, at 3 p.m., to ensure an action-packed day of memorable fun.

Tweetcrawl 4: Eggstravaganza features stops at The Standard, The Comedy Store, LIVE! On Sunset, Book Soup, Citysearch LA, Viper Room and The Roxy Theatre with drink specials, a ping pong competition and an egg hunt along the way with special prizes from participating venues and 98.7 LA. The Tweetcrawl is open to guests ages 21 and older, and you must follow the online tweets for prizes and free access to the venues.
The game plan includes:

3 p.m.
The crawl kicks off at The Standard, Hollywood (@standardhwood) with a good old fashioned ping pong tournament on the pool deck. The champion will win respect, bragging rights and a free night stay at The Standard, Hollywood! Food and drink specials are also on tap, and special prizes will be awarded to those wearing head-to-toe bunny costumes. As an added bonus, the hotel is offering $8 parking for participants.

5 p.m.
The Comedy Store (@thecomedystore) hosts comics, excellent prizes and drink specials. VERY SPECIAL drink specials.

5:45 p.m.
Tweetcrawlers will hop up The Strip as 98.7 (@987LA) gives away some of the best Bunny Prizes yet whilst we crawl to retailer LIVE! On Sunset (@liveonsunset). LIVE! will play part in the egg hunt as well as open up their back bar for delicious libations.

6:15 p.m.
We are off to Book Soup (@Booksoup) as our friends from PBR (@PBR_LA) help them get groovy, Lit-Style. Be on the lookout for everyone's tweets for special prizes as we make this stop.

6:45 p.m.
Bring on the grub! Citysearch (@CitysearchLA) provides an awesome stop with local foodstuffs for everyone.

7:45 p.m.
Rally to the world famous Viper Room (@theVIPERroom) to enjoy rock-solid drink specials including $3 Easter Egg Cocktails and $1bartender's choice shots. Along the way, and around the club, look for eggs filled with prizes including merchandise, free show entries and much more. As long as you follow the bunny (@berkorules) you won't get lost.
8:45 p.m.
The Roxy (@TheRoxy) is about to make your night. With egg decorating, drink specials and as always incredible music, finish out the crawl here.

For more information, and additional details as announced, visit http://bit.ly/aDclpk
Questions? E-mail Tweetcrawl organizer Alf: alf (@) thecomedystore.net