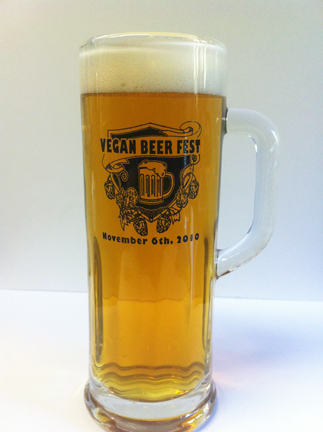 It's November, and you, my friend, are wearing shorts. What better way to fully indulge in this extended summer than with a beer festival? This Saturday, The Roxy Theatre grants you that wish as they partner with blog Quarry Girl and Tony's Darts Away to serve up frosty mugs of the cool, refreshing libation all afternoon. But this isn't your standard beer festival. Tomorrow's event features an animal-friendly twist with vegan bands, vegan beers and vegan food trucks.
As for the selection, attendees can enjoy unlimited pours of more than 50 beers from craft breweries, including Stone Brewing Company, Eagle Rock Brewery, Ballast Point, Bootleggers Brewery, Lagunitas, Sierra Nevada, Strand, Ballast Point, Eel River, New Belgium, Deschutes and Firestone, among others, in The Roxy's outdoor beer garden.
Indoors, festival attendees will be treated to a host of genres from country soul to ska with performances by The Paul Chesne Band, Owl Acid, Holland Greco Trio, Ease Up and The Makepeace Brothers.
General admission tickets, which include live performances and unlimited pours of beer, are $35 in advance and $45 the day of the event. VIP tickets are $45 in advance and include an extra hour of tasting and access to a VIP area. Tickets are available now through The Roxy box office and can be purchased over the phone by calling 310-278-9457. They are also available online via Ticketmaster. Proceeds from the fest benefit nonprofit Animal Rescue Media Education, which rescues homeless animals and educates the public about animal cruelty. So you can feel extra good about that daytime drinking.
Doors for the L.A. Vegan Beer Fest open at 1 p.m. (noon for VIP ticket holders) and the event lasts throughout the afternoon until 5 p.m. For more information, including a list of participating food vendors, please visit TheRoxyOnSunset.com.
–C. Kemp