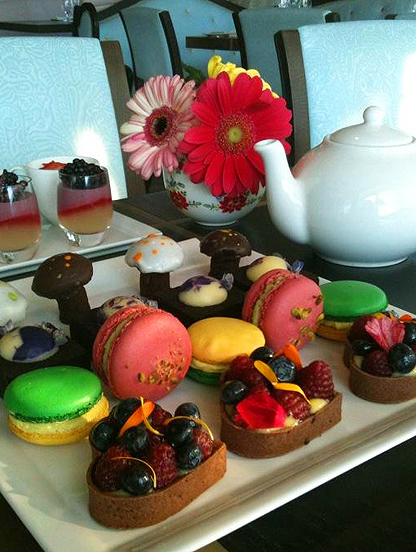 The London West Hollywood invites you (and you and you!) to celebrate the whimsical and trippy fun of Alice In Wonderland with a Mad Hatter Tea Party lasting throughout the month of March.
Don't be late for this very important date. Starting March 1, the delicious and delightful tea party will be available daily from 3-5 p.m.
The creatively styled menu brings the beyond-your-wildest-dreams story to life and includes traditional treats with a twist.
Selection of teas: Earl grey, English breakfast, green tea, chamomile, Darjeeling, organic peppermint, cassis, mountain berry, floral jasmine, life through water, harmonie, tangerine, fresh mint.
Freshly cut sandwiches: Tomato-cherry jam with aged English Cheddar, red onion marmalade with smoked ham, sour cream with smoked salmon and lemon and horseradish crème fraiche with roast beef.
Pastries: Caterpillar Caps – polka-dot frosted, mini-chocolate and vanilla cupcakes, Dum-Dee-Dum Macaroons, Blackberry Panna Cotta in champagne flutes, Demitasse cups with poached strawberries and coconut foam, Queen of Heart fruit tarts, Un-birthday Cake – chocolate decadence cake with fresh lavender flowers and Jam Tomorrow Scones – plain and blackcurrant scones with colored whipped cream and compotes.
Finish your afternoon tea with a "Drink Me" champagne toast. A bottle of champagne and selection of colorful mixers for the table is available. Pick and brew your own specially flavored toast. Each mixer is priced at $5 per and includes pomegranate juice with Pama Liqueur, Triple Sec with orange juice and lemon, passion fruit puree with lemon and simple syrup, apple liqueur with lemon and pineapple juice, Blue Curacao with lemon, lime and cassis, framboise liquer and peace juice with peach liqueur and lemon.
The tea service is $28 per guest. Reservations can be made at 310-358-7788. Make sure you keep your eyes open for the white rabbit.

–C. Kemp