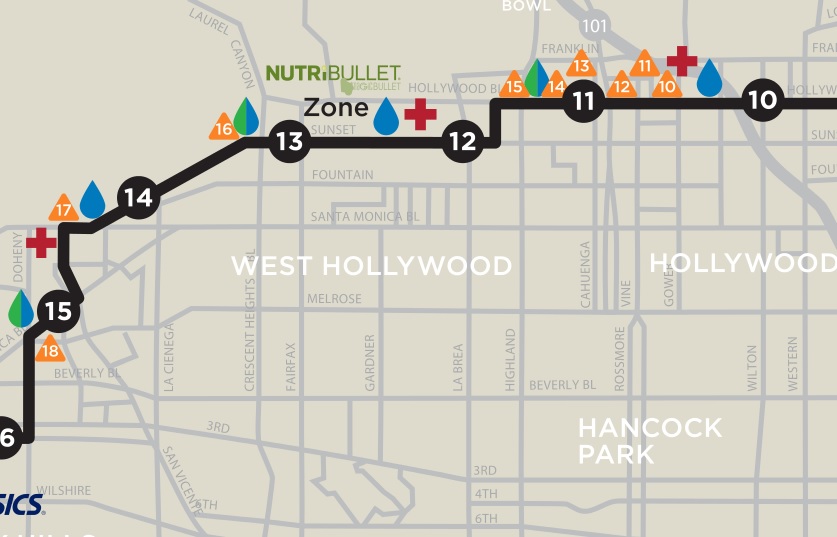 The City of West Hollywood and The Sunset Strip will welcome runners competing in the Los Angeles Marathon's "Stadium to the Sea" course this Sunday, March 17.
The marathon starts at Dodger Stadium and will finish at Ocean Avenue in Santa Monica, looping through Hollywood, West Hollywood and Beverly Hills in between. An estimated 25,000 runners will experience iconic landmarks on The Sunset Strip on miles 13-14 of the 26.2-mile course, including the Sunset Tower hotel, Whisky A Go-Go and Viper Room. After running The Sunset Strip, runners will turn left onto San Vicente Boulevard and onto Santa Monica Boulevard in West Hollywood.
To accommodate the 2013 Honda Los Angeles Marathon, Sunset Boulevard will be closed to traffic between North Havenhurst Drive and Clark Street/North San Vicente Boulevard on Sunday, March 17, between the hours of 4 a.m. and 2 p.m. Additional street closures in West Hollywood include:
North San Vicente Boulevard between Sunset Boulevard and Melrose Avenue
Santa Monica Boulevard between La Cienega Avenue and North Doheny Drive
North Doheny Drive between Santa Monica Boulevard and Beverly Boulevard
Please plan ahead if you are traveling to The Sunset Strip on Sunday morning. Parking will not be allowed along the race course. For more information about public parking available, please visit Weho.org.
For more information regarding the LA Marathon, including road closures and alternate access routes and maps, please call 213-542-3000, email info@lamarathon.com or visit LAMarathon.com.