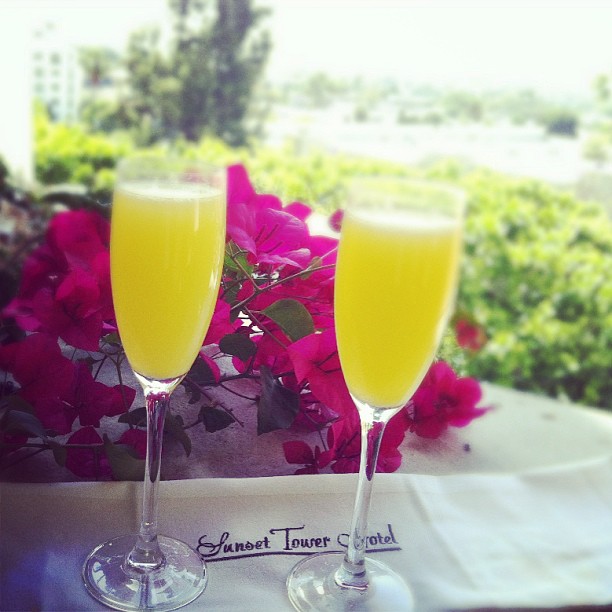 She supported your garage band and even purchased that pair of MC Hammer pants for you. Now it's time for you to return the love. Treat your mom to a fabulous brunch and afternoon on The Sunset Strip. Jazz and bottomless mimosas, rooftop views, caviar, cocktails – we've got you covered!
California-Fresh Brunch at RH at Andaz
Mother's Day brunch at RH includes an option for bottomless mimosas, bloody marys and a special Mother's Day cocktail. Brunch features a carving station with roasted rib eye, seabass casserole, farmers' market mixed vegetables, olive oil mashed potatoes, California quinoa with crushed tomatoes, Scarborough Farms baby spring mix salad, spring vegetable soup, smoked salmon display, organic egg station, waffles, cheeses, dessert station and more! Brunch is served from 10 a.m. – 3 p.m. and is $39 per person, $18 for kids and $12 for bottomless mimosa or bloody mary. A special kids menu is available as well. www.andazwesthollywood.com
Jazz and Bottomless Mimosas at Sunset Tower
Enjoy a jazz brunch buffet at the Sunset Tower this Mother's Day. Bottomless mimosas, pastries, baked goods, build your own salad, bacon, pancakes, omelette station, prime rib and roasted turkey carving station, chilled seafood and raw bar, pasta station and desert. Brunch is $85 per person and $40 for children under age 12. www.facebook.com/sunsettowerhotel
Perfect Patio Brunch at Riva Bella
Transport mom to a Tuscan, al fresco brunch at Riva Bella. Enjoy a classic brunch buffet, porchetta carving station, bellinis, specialty cocktails and live music. All moms will receive a gift as well. Brunch is served 11 a.m. – 4 p.m. and is $44 per person.
www.facebook.com/RivaBellaRestaurant
Brunch with Cocktails at Asia de Cuba
Brunch includes a build your own bao station, dim sum, ceviche, sushi rolls, yakitori grill, whole roasted caja china pig, desserts, three rounds of cocktails (plus something extra for mom). Choice of bloody marys, mimosas and mambo queens. Brunch is $59 per person and is served from 10 a.m. – 3 p.m. For reservations, call 323-848-6000.
www.facebook.com/AsiadeCubaLA
Italian Brunch at Nonna of Italy
What better place to celebrate
la festa della mamma
than at a restaurant whose name, Nonna, means "Grandma" in Italian? Come by and show that special lady in your life how much she means to you this Mother's Day over a relaxing brunch at Nonna of Italy. This is the only day out of the year that Nonna is open for brunch, 11:30 a.m. – 4 p.m.!
www.facebook.com/LANonnaofItaly
Al Fresco Rooftop Dining at The London West Hollywood
Brunch with a view at The London West Hollywood's The Rooftop by Gordon Ramsay. Enjoy pastries, artisanal and farmhouse cheeses, made to order omelettes, sushi bar, hot station with risotto, carving station, and pastry table. Bruch at The Rooftop is $85 per person and is served 10 a.m. – 2 p.m.
Or dine inside at Gordon Ramsay at The London West Hollywood and enjoy a three-course brunch for $55. Options include oatmeal brulee, English pea soup, baked quiche, burrata cheese and roasted beets, bacon and eggs, seared wild salmon and cucumber salad, butter poached Maine lobster and toasted brioche, roasted Liberty Farms duck and ratatouille, and pastry selections. Brunch is served from 10 a.m. – 4 p.m.
www.thelondonwesthollywood.com
Caviar Brunch at Restaurant at Sunset Marquis
Hors d'oeuvres, caviar, seafood, carving station, salads, entrees and full dessert station. Brunch is served 10 a.m. – 2 p.m. and is $75 for adults, $37 for kids ages 5-11 and free for children under age 5.
View the full menu
. www.sunsetmarquis.com
Dia de las Madres at Rosa Mexicano
Enjoy a special menu at Rosa Mexicano on Sunday, May 12. Special brunch items include tropical fruit bowl, nopales con huevo, stuffed French toast, breakfast tamale, Mexico City chilaquiles, Mex-a-mango juice, Mexican hot chocolate, coconut horchata and bloody maria. Entertainment for kids and a gift for mom. Full menu available as well. Brunch is served 11:30 a.m. – 4 p.m.
www.rosamexicano.com
Photo: Champagne brunch at Sunset Tower. Courtesy of Sunset Tower.