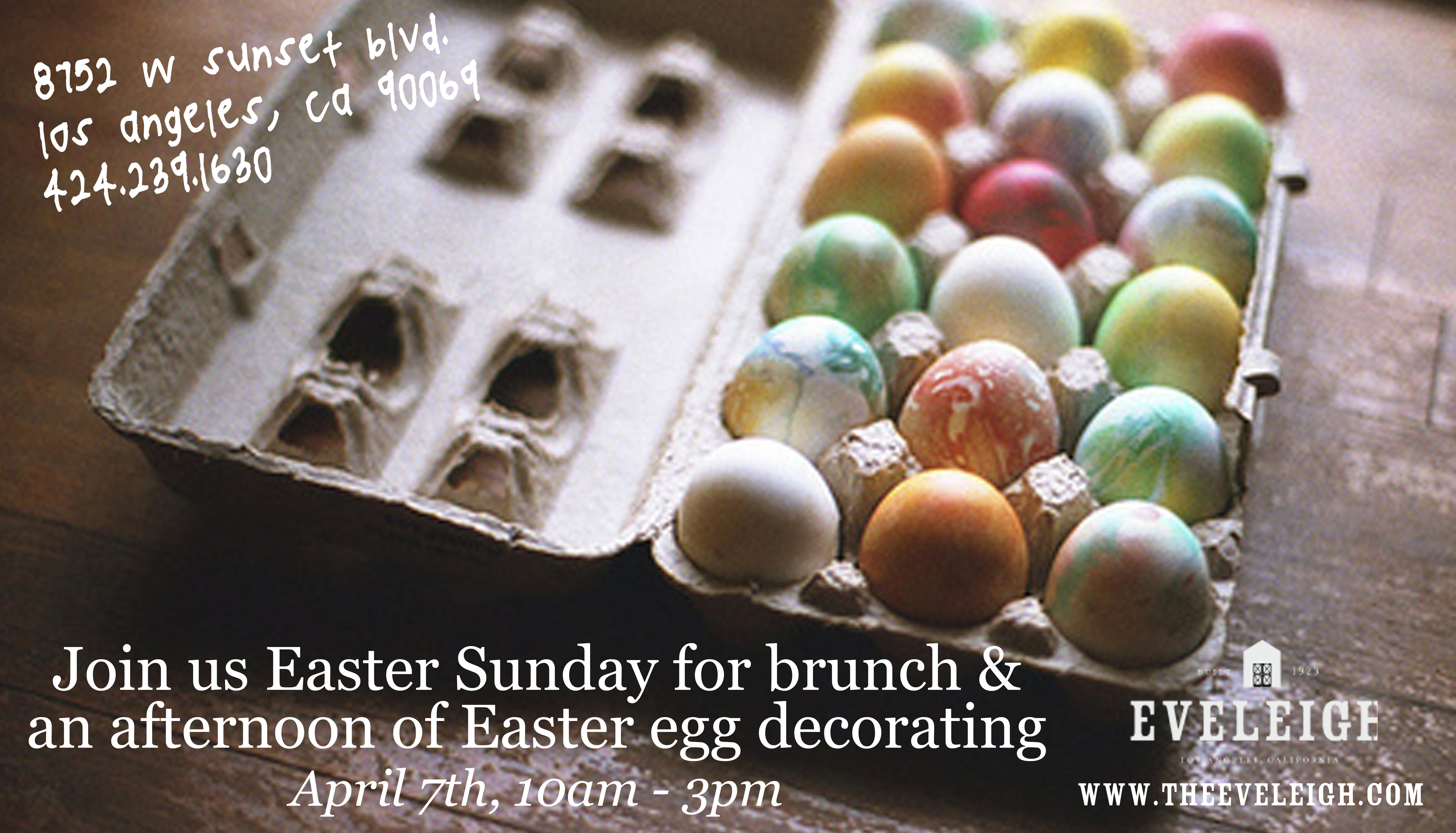 Sunset Strip restaurants are hosting an assortment of Easter Brunches and special Passover menus this weekend. Hop on over and check them out:
Gospel Brunch @ House of Blues
House of Blues' famous Gospel brunch brings the soul and soulful eating to your Easter Sunday. Enjoy an inspiring live performance and a Southern-influenced buffet featuring breakfast breads, peel and eat shrimp, pasta salad, biscuits and gravy, omelet station, smoked bacon and sausage, Cajun meatloaf, creole chicken jambalaya, macaroni and cheese, homemade waffles, Southern fried chicken, carving station and desserts. There are two seatings available, at 11:00 a.m. and 1:00 p.m. Price is $40.50 per adult, $19.00 for children ages 5-12 and $32.50 for seniors ages 65 and older. Call 323-848–5113 for more details. Full menu and ticket information.
Easter Egg Decorating @ Eveleigh
Eveleigh will host Easter brunch on Sunday along with Easter egg decorating from 10 a.m. – 3 p.m. Fresh, seasonal "Farmers Market" cocktails will also be available, featuring local produce. www.theeveleigh.com
El Dia de Pascua & Mexican Passover @ Rosa Mexicano
Rosa Mexicano offers two special menus. The Easter Sunday menu includes festive brunch additions huevos rancheros Rosa, ham and tortilla scramble, egg and lobster crepe, French toast, crab cakes with poached eggs, and a tequila and chile braised lamb shank. Rosa's Mexican Passover menu is available April 6-13 and includes special additions including red snapper Geflite fish with a habanero-tomato sauce, duck and beet borscht, Matzoh-breaded chicken breast, pulled beef brisket tacos and Passover sangria. www.rosamexicano.com
Champagne Brunch @ Sunset Marquis
Restaurant at Sunset Marquis is hosting its annual Easter Sunday champagne brunch. The brunch features a salad and cold seafood station, carving station, pasta station and desserts and cheese station. Price is $65 per adult and $25 for children ages 4-11 years old. Children younger than 4 are free. Brunch is served from 10 a.m. – 2 p.m.
See the full menu. www.sunsetmarquis.com
Easter Brunch & Dinner @ Gordon Ramsay at The London West Hollywood
Treat your family with brunch at Gordon Ramsay at The London West Hollywood. Enjoy a three-course brunch and signature dessert buffet from 11 a.m. – 3 p.m. $55 per person. Or enjoy Easter dinner with a five-course tasting menu from 4-10 p.m. at $95 per person. www.thelondonwesthollywood.com
Mad Hatters Tea @ Boxwood Cafe
Throughout the month of April, Boxwood Café at The London West Hollywood will serve a special "Mad Hatter" tea service. Offered daily from 2:30 – 4:30 p.m., the assortment of pastries and canapés are paired to match the creativity and fun found in "Alice's Adventures in Wonderland." The tea service includes an assortment of miniature savory canapés and tea sandwiches, freshly baked, traditional British scones with Devonshire cream and lemon curd, a collection of whimsical cakes and a selection of loose leaf teas and herbal infusions. The price is $28 per person, or $40 per person with addition of champagne. www.thelondonwesthollywood.com
Sunday Funday Brunch & Barbecue @ The Den
The warmer spring weather has signaled the return of Sunday Barbecues at The Den. Stop by earlier in the day for brunch from 11 a.m – 3 p.m. and stick around for an outdoor patio barbecue with grilled favorites. (Double bonus: happy hour priced drinks from 3-7 p.m.) www.thedenofhollywood.com
For a full listing of Sunset Strip restaurants, visit www.thesunsetstrip.com/dining