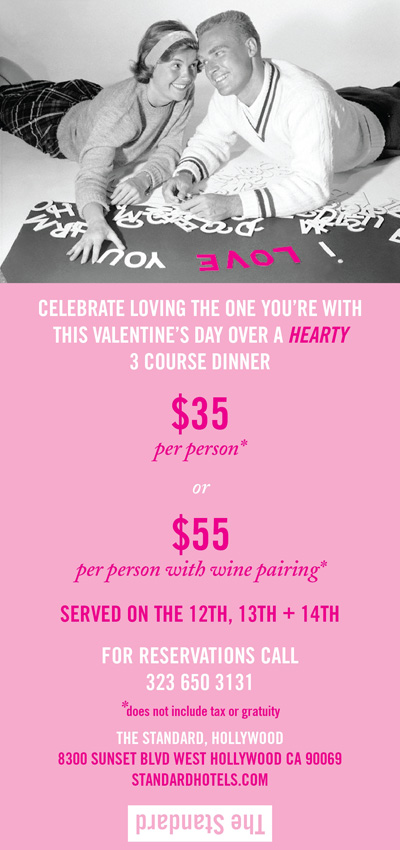 The countdown to the most beloved or hated holiday has begun. In the days leading up to Valentine's Day, we're highlighting The Sunset Strip's many unique offerings.
The Standard goes above and beyond to present a Valentine's Day that is as fun and funky as it is pocket-friendly.
Enjoy a three-course dinner for a very reasonably priced $35. The dinner is served with your choice of appetizer (hearts salad with hearts of romaine, palm, artichoke hearts, radishes, sundried tomatoes, herb goat cheese and green goddess dressing or shrimp tempura roll with wasabi, soy, ginger and sea weed salad), entrée (fennel-crusted grilled salmon with calamari "linguine," celery hearts, baby spinach in a saffron-tomato broth or chicken saltimbocca de coure with asparagus, polenta fries, crimini mushrooms and marsala sauce) and dessert (Italian banana split with vanilla gelato, bananas, candied hazelnuts, balsamic strawberries, chocolate-espresso sauce, whipped cream or vanilla mascarpone custard with mixed berries and heart shaped genoise cake).
Wine lovers will rejoice in the three course wine pairing, just an additional $20 per guest.
This three-course meal is so delicious The Standard is offering it all weekend long! Valentine's Day also features the tunes of DJ Aaron Castle, spinning in the lobby starting at 8 p.m.
And as an added bonus, The Standard now offers an amazing half-off drinks and appetizer menu 5-7 p.m. Monday – Friday, the perfect pre-dinner stop for those celebrating love Friday night.
Check out the complete listing of Valentine's Day events on The Strip.